We are reader-supported (thank you)! When you buy through links on our site, we may earn an affiliate commission.
You'll find no shortage of great restaurants in Boston during your visit.

On this page we've got a compilation of our family's and friends' favorite downtown Boston restaurants.

If you're looking specifically for authentic Italian food, you'll find a couple of great options here, but you might also want to consider checking out some of our top picks in the North End.

We hope these suggestions for great restaurants in Boston bring that little something extra to your experience of Beantown!
Restaurants in Boston's Back Bay, Beacon Hill,
Downtown, Faneuil Hall & South End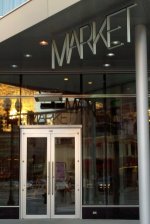 Market by Jean-Georges at the W Hotel
Restaurants in Boston: Theatre District
100 Stuart Street, Boston, MA 02116
617-310-6790

Whether you're looking for a great pre-theatre dinner option, or you simply want to eat in style during your time in Boston, Market by Jean-Georges in Boston's Theatre District is well worth a visit. Located only a block from the Boston Common it's also super-easy to get to by public transportation.

For a full review of our evening at Market, click here.
Grotto
Restaurants in Boston: Beacon Hill
37 Bowdoin Street, Boston, MA 02114
617-227-3434

This intimate Italian restaurant comes highly recommended to us by friends who live in Beacon Hill. While they described it to us as a low key, child friendly (and delicious) eatery, when we dropped by it looked like somewhere my husband and I would go for a special, relatively upscale night out. Unfortunately, they were beyond booked-out and our 2-year old was HUNGRY, so we couldn't wait for a table to possibly open up. The young trendy types with reservations, though, were all too ready to wait for this Boston dining experience… We will be back – probably without the toddler!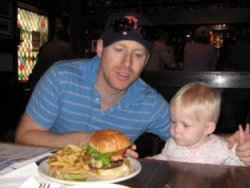 Cheers Boston
Restaurants in Boston: Beacon Hill & Faneuil Hall
Original: 84 Beacon Street, Boston, Massachusetts 02108
617-227-9605


Replica: Faneuil Hall Marketplace, Quincy Market, South Boston, Massachusetts 02109
617-227-0150


While there's no getting around the fact that Cheers is an honest-to-goodness tourist trap, it's still one of our favorite places to go when we're near Boston Common. The food's good, the beer's good, it's extremely family friendly, and the atmosphere is always fun. And, if nothing else, you can say you've had a beer at Cheers! FYI, last time we were there they said there was no way they could fit us in for a meal in a rush.

Finally we asked if we could just go to the bar area upstairs (kids are allowed). In a flash, we were upstairs, seated at the bar, ordering lunch! Siena got her cheesy french fries, our Aussie friend got his beer, I got my burger, and everyone was happy.
Bistro du Midi
Restaurants in Boston: Downtown
The Heritage on the Garden, 272 Boylston Street, Boston, MA
617-426-7878


If you're looking for a truly upscale dining option, Bistro du Midi provides a superb location with stunning food and wine. For more information and tips, check out this Bistro du Midi review.

Anna's Tacqueria
Restaurants in Boston: Beacon Hill
"Beacon Hill/MGH" 242 Cambridge Street, Boston, MA 02134
617-227-8822


If you're looking for casual, fast and delicious, Anna's is one of your best Boston dining options. They serve fresh, Mexican food, made right in front of you, at great prices. The Boston Globe even considers Anna's to be one of Boston's 10 most influential eateries. Their Beacon Hill location is open until 11pm everyday and offers breakfast from 7am. If you're taking public transportation, get off at the Red Line, Charles/MGH Station.
Finale
Restaurants in Boston: Downtown
1 Columbus Ave, Boston, MA 02116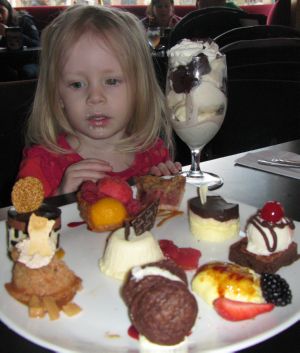 617-423-3184

If you have a serious sweet tooth and are always happy to eat dessert first, then you'll want give yourself the gift of a trip to Finale. Fortunately, they have two "desserteries" (Boston & Cambridge), so you hopefully won't have to travel too far for this special Boston dining experience. They do serve lunch, but the real focus is on their sweets (which can be accompanied by a variety of beverages ranging from a good coffee to a glass of champagne!). When I asked my mom about her most recent visit to Finale, she said, "We shared a small "ultimate chocolate" cake, with frosting made of almond paste. Delicious."
Boston Chowda Co
Restaurants in Boston: Back Bay (Copley) & Faneuil Hall

Prudential Center Food Court, Boston, MA 02199
617-859-5904
Faneuil Hall Market Place, Boston, MA 02109
617-742-4441
When my Australian Aunts, Evelyn and Sheila, came to Boston for my brother's wedding, we sent them off to Faneuil Hall for part of their sight-seeing adventure. It seems the highlight of their day was the haddock pie they found at the Boston Chowda Co. The Boston Chowda Co is a great place for a quick and casual New England style seafood lunch. No surprise, they're also very popular for their New England Clam Chowder. This is some of the truest Boston dining – seafood style!
Giacamo's Southend
Restaurants in Boston: South End/Back Bay
431 Columbus Ave, Boston, MA 02116
617-536-5723
While not everyone is clear if Giacamo's Southend actually sits in the South End or in the Back Bay, most do agree that they serve great Italian food at wallet friendly prices. The food is authentic and they serve all of the southern Italian favorites. A good tip – their "South End" location has less of a wait (if any) than their North End restaurant. Cash Only.
Parish Cafe and Bar
Restaurants in Boston: Back Bay
361 Boylston Street, Boston, 02116
617-247-4777
Just a block over from Newbury Street, Parish Cafe and Bar is a favorite lunch spot. In addition to unique sandwiches offerings (their tagline is "Sandwiches of the Chefs"), they have a great beer selection. And they have a patio which makes it fabulous for people watching! Again, it is a very popular spot, so be prepared to wait on the weekend.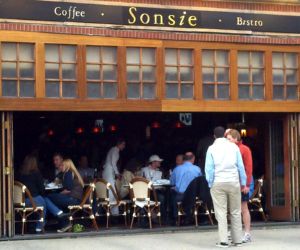 Sonsie
Restaurants in Boston: Back Bay (Newbury Street)
327 Newbury Street, Boston, MA 02115
617-351-2500

Opened from 7:00am to 1:00am, Sonsie Restaurant is a great place to stop for a classy, yet reasonably priced, pre-shopping brunch or a post-shopping dinner and cocktail. The front of the restaurant is made up of a row of beautiful French doors that open into a sidewalk cafe when weather permits, which makes it a wonderful spot for Newbury Street people watching."
Restaurants in Boston: Back Bay (Newbury Street) & South End
Back Bay: 190 Newbury Street, Boston, MA 02116
617-236-0990
South End: 571 Tremont Street, Boston, MA 02118
617-236-2063
Serving what they call "sophisticated comfort food", Stephanie's on Newbury is another great place to start your Newbury Street shopping day or to take a load off. The menu contains a little bit of everything, and they have great mimosas. Also a good place for people watching when they've got their sidewalk cafe is open. If you're in the South End, they've now opened a sister restaurant called Stephi's on Tremont.
Aquitaine
Restaurants in Boston: South End
569 Tremont Street, Boston, MA 02118
617-424-8577
Aquitaine Boston is the place to go if you want to experience a little Paris with your Boston dining. This award-winning Bistro offers beautiful French food and a great wine selection. And for an amazing brunch deal… All day Saturdays and 10-11am on Sundays, their prix fixe brunch includes a house-made cinnamon bun, your choice of four seriously stunning "omelettes", toast, potatoes, fresh squeezed OJ, and bottomless coffee for $9.95.
Planning to visit Boston and don't know where to stay? In this case the list of hotels near Fenway Park is right for you! Here you'll find your best accommodation.
More Great Dining Experiences: