About Boston Tourism Made Easy
We are reader-supported (thank you)! When you buy through links on our site, we may earn an affiliate commission.
Even though I loved growing up in Boston, when it came time for college, I was determined to get out (isn't that what 18 year olds are supposed to do?). I spent a great eight years in New York City, followed by a life-changing decade in Sydney, Australia.


During my time in Oz, my husband and I came home to Boston quite often for family weddings, significant birthdays and to meet new additions to the family (I come from a large family, so there's nearly always something on).


Because of our frequent trips, we started to play a game…
I had noticed over time that locals often miss out on the best stuff their hometown has to offer. We figured with our many Boston trips and, towards the end, the added incentive of needing to keep our little-one entertained, it would be much more fun to pretend we were tourists!
The great thing was that my husband, Ben, really *was* a tourist.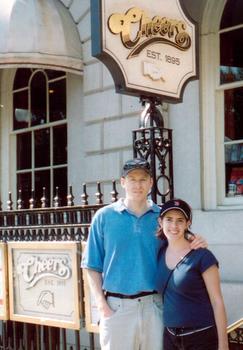 I had so much fun watching his "boy-like" excitement as he took his first steps into Fenway Park to see the Red Sox play. And on our first trip together to Harvard Yard he ran around trying to listen-in on the guided-tours, studying the architecture, and gawking at the statue of John Harvard. He was desperate not to miss anything!
And, of course, everything was new for our daughter, Siena. On her first trip to Boston she got to ride her first carousel, watch lightning being made, and try her first fenway frank. We were so inspired that we started to create a huge list of Boston experiences we could share with her on future visits.
Then, the craziest thing happened… We MOVED to Boston (thank you Safe Responsible Movers – you guys were so helpful)! I, seriously, never thought that would happen! But, now we're here and we have unlimited amounts of time to do all the Boston Tourism activities we could ever imagine!
But, there are already loads of great sites about Boston. Why add another?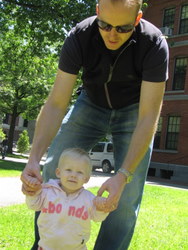 We noticed that everything that's out there is either put together by a "big-company" or by people who have only ever lived in Boston. It didn't seem like anyone writing these sites really knew what it was like to experience Boston (and Bostonians) for the first time – as a tourist!
We know that it can be exhausting to figure out a new city (especially when you have to "see it all" in a short time). What we've tried to do with Boston Tourism Made Easy is to give you enough info and personal experiences that planning your trip is super easy, while… making sure not to overwhelm you with too many facts and logistics.
As a family, we hope you learn to love Boston, and everything that comes with it, as much as we do!
Deborah, Ben & Siena
My Boston History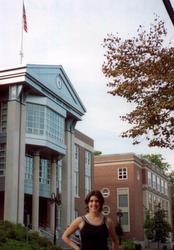 Aside from having grown up in Boston myself, my family has a long history there. To give you a sense of where I come from, here are a few fun facts about my family's Boston history:


My family has lived in a variety of towns in the Boston area including Weymouth, Quincy, Brookline, Newton and Somerville.
As a kid, my grandfather lived across the street from the Kennedy family (and even played ball with JFK and his brothers).
I even had a great-uncle who graduated from the same high-school as me back in 1916!
And, one side of my family has a proud and long-standing Harvard legacy which dates back to my great-grandfather.
My Relationship With Boston Sports
As a result of having such a long-standing Boston history, I was destined (or some would say doomed) to be a Boston sports fan. Our family is particularly passionate about the Boston Red Sox (although you're likely to find us equally excited – or stressed out – watching a Celtics, Patriots or Bruins game).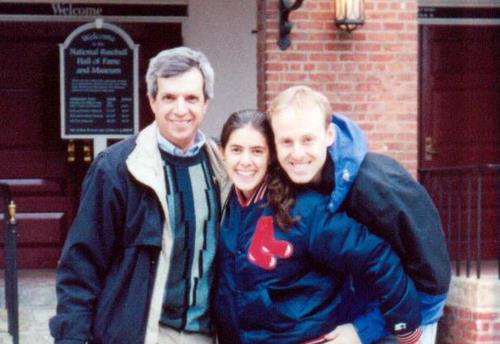 On Ben's *very first* trip to meet my family we took him to the Baseball Hall of Fame in Cooperstown, NY. Important initiation into the family :). Oh, and that's my dad in the picture – in case you couldn't tell!


One of my saving graces as someone who has lived so far from home (and our precious Red Sox) is that I seem to attract passionate Boston fans almost everywhere I go. To give you a taste, this is how I would have described my Red Sox world just before we left Sydney, "My next door neighbor is nuts about Boston sports teams (especially the Red Sox); As is my brother-in-law's business parter; As is the guy I met at the playground last week; As is the woman I met at a holiday party in December; And the list goes on. All here in Sydney, Australia – it's fabulous!"


And no matter what the situation, as soon as we discover our mutual-Boston-sports-admiration we're bonded for life. Doesn't matter what else we have (or don't have) in common, or who else might be around. Our beloved Boston teams are now the center of conversation, and a reminder that someone else understands… The world is still a safe place ;)!


My Favorite Boston Experiences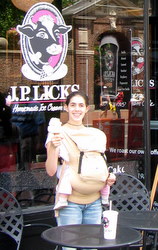 There are loads of great and unique things to experience in Boston. But if I had to pick my absolute top three, they'd be:
The old-school T's on the Green Line (oldest subway line in the country).
The Chocolate Chip Cookie Dough ice cream at JP Licks. Seriously the best I've ever tasted.
A game at Fenway Park, sitting in the bleachers with a beer and a fenway frank – you just can't beat it!
And, because I can't help myself, here are a few other favorites:
The buskers at Harvard Square on a beautiful summer night.
The rock candy (yes I'm still 10 years old at heart), shopping and entertainment at Faneuil Hall.
Crunching through the leaves on a stunning autumn day.
The feel of the crisp air on my cheeks after a fresh snowfall.