The Boston Science Museum
Hayden Planetarium, Lightning Exhibit (Electricity!)
We are reader-supported (thank you)! When you buy through links on our site, we may earn an affiliate commission.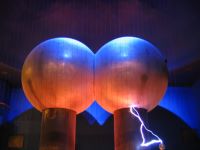 The Boston Science Museum is way more high-tech now than when I was a kid, but my three favorite exhibits are still there:


Watching chicks hatching right in front of your eyes. It was just as cool to see as an adult, and my one-year old thought it was fabulous!
The Lightning exhibit (or as the Science Museum calls it, Electricity!). Thought this might be a bit intense for Siena, but she was fascinated!
The Hayden Planetarium: After more than half a century of educating the public on the wonders of outer space, the Hayden Planetarium reopened in early 2011 after a $9 million renovation done to bring new appeal and inspiration to the next generation of Boston Science Museum visitors. The planetarium has a fancy new projector called a Zeiss Starmaster. At the time of its installation there's only one other Starmaster in operation in the U.S.
And whether you like to have your voice heard or prefer to simply sit and take it all in, the Boston Museum of Science has excellent forums and Lectures that you might want to plan into your visit. Basically, there's loads to do (even for non-science types), so it's worth scavenging their website before you go, so you don't miss out the things that interest you most!
Savvy Ways to do the MOS
While it's not for private groups, this one's too cool to leave out so just in case… They do sleepovers! If you have a school group in grades 1-7 of at least ten kids, you can actually spend the night in the museum. They also occasionally have family overnights for members. Here's more info: Overnight Program.
Stargazing at the Observatory: Friday nights from 8:30-10:00pm. Free (except parking), and you might want to attend The Sky Tonight at 7:00pm in the Hayden Planetarium beforehand to get yourself ready.
Travel Pass Tip: The Boston Go Card and CityPass both offer a Boston Museum of Science discount.
Logistics
Museum of Science Boston
1 Science Park

T Stops: Green Line E-train to Science Park Station.

Admission to Exhibit Halls: $25, $21 Seniors, $20 ages 3-11.
They have a variety of shows and special exhibits that cost extra, so you can buy combo tickets.