We are reader-supported (thank you)! When you buy through links on our site, we may earn an affiliate commission.
New Englanders, like anyone else, love a good bargain. TJX Companies—the parent company of Marshalls, T.J. Maxx, HomeGoods, and other discount stores—makes its home in Massachusetts, after all.
But if you're looking to score on big-name and luxury brands, outlets are the place to go. And while Massachusetts doesn't currently have a lot of outlet malls, the ones they do have are worth the visit. The state is also close to nearby premium outlets in New Hampshire, Maine, and Connecticut.
Here are the 6 best outlets in Massachusetts that are worth the trip. (Disclaimer: we're also including outlets in neighboring states.) Equipped with this list, you'll be ready to shop until you drop!
Quick Snapshot: The video below features all of the outlets on our list. Learn a bit about each of them below, then jump to the ones you're thinking about maxing your credit cards out on.
Best Outlets in Massachusetts (and Beyond)
Wrentham Village Premium Outlets – the king of the Bay State

Assembly Row – best outlets close to the city

Lee Premium Outlets – in the heart of the Berkshires

Merrimack Premium Outlets – tax-free paradise

Kittery Outlets – make a day out of it

Tanger Outlets – convenient stop on route to the mountains
#1 - The Biggest and Best Outlet Mall in Massachusetts
1 Premium Outlet Boulevard, Wrentham, MA
508-384-0600
Mon – Sat: 10 AM to 8 PM
Sun: 10 AM to 6 PM
(Special extended hours during holiday season)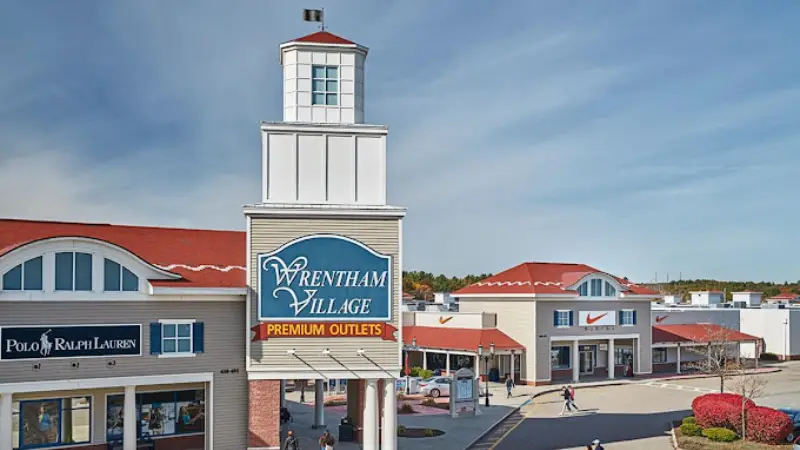 Since its opening in 1997, Wrentham Village Premium Outlets has expanded to now include over 170 stores. Its convenient location off I-495 and Route 1A in Wrentham and wide range of well-known names eventually led to the demise of two smaller outlet shopping centers in the state (Worcester Common Outlets and Cape Cod Factory Outlet Mall.)
Owned by the Simon Property Group, the open-air outlet shopping center boasts savings up to 65% off. Top designer stores such as Gucci, Armani, Versace, and Jimmy Choo share real estate with more mainstream mall brands including Banana Republic, Lululemon, and American Eagle Outfitters. If all the hunting for deals gives you hunger pains, there are plenty of dining options including Tavern in the Square, Cracker Barrel, Monster Burgers, Uno Pizzeria, and The Falafel Guy.
Amazingly, Simon isn't done expanding this awesome mall—which easily makes it currently the largest outlet plaza in Massachusetts.
#2 - Best Boston Area Outlet Mall
355 Artisan Way, Somerville, MA
508-384-0600
Mon – Thurs: 10 AM to 8 PM
Fri & Sat: 10 AM to 9 PM
Sun: 11 AM to 6 PM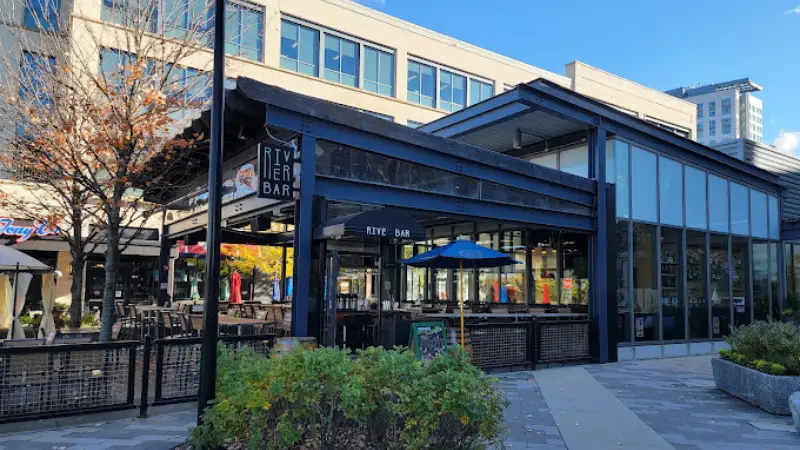 What was once a large unutilized field along the Mystic River in Somerville was transformed into a shopping oasis and neighborhood destination in 2005.
Technically, the property is a combination of outlet stores and regular full-priced retail storefronts. You can shop over 50 national brands including many discount outlet stores such as Columbia Factory Store, Banana Republic Factory Store, J.Crew Factory, Clarks Outlet, and more.
There are a lot of family-friendly activities to check out in Assembly Row such as Legoland Discovery Center, Selfie Wrld Boston (a cool museum where you can take photos of yourself in funky settings), and Muse Paint Bar. There's also an AMC theater and a Lucky Strike bowling alley.
This outlet in Massachusetts also hosts several events each year including the annual ice sculpture stroll and KISS 108's turkey toss. Go for an event, then get a jump on your holiday shopping.
#3 - Best Outlets in Western Mass
17 Premium Outlets Boulevard, Lee, MA
413-243-8186
Mon – Thurs: 10 AM to 6 PM
Fri & Sat: 10 AM to 8 PM
Sun: 10 AM to 6 PM
For those who want a taste of the Berkshires, Lee Premium Outlets (also managed by Simon) offer a selection of well-known brand stores surrounded by New England charm.
Located off Route 90, the property was designed to resemble a village and features over 60 stores. While there aren't as many luxury brands here as there are in Wrentham, you can expect to find some good deals at Coach, Ann Taylor Factory Store, Calvin Klein, Champion, Johnston & Murphy Factory Store, and more.
When you need to grab a bite to eat, burritos, pizza, wraps, and Asian fare await you on the second level. And don't forget to pick up some chocolates at the Lindt store.
#4 - Best New Hampshire Outlets
80 Premium Outlets Boulevard, Merrimack, NH
603-424-0500
Mon – Thurs: 10 AM to 8 PM
Fri & Sat: 10 AM to 9 PM
Sun: 10 AM to 6 PM
Just up Route 3 and not far from the Massachusetts border you'll find yet another Simon-managed property, the Merrimack Premium Outlets. Like its sister locations, this is another outdoor, open-air shopping mall with a good mix of sales and food.
Some of the outlets unique to this location include Barbour, Lucky Brand, Marc Jacobs, Vineyard Vines, Tory Burch, Bloomingdale's, UGG, Samsonite, and Swarovski. Dining options include Chicken Pro, Curry Bites, Villa Fresh Italian Kitchen, and Dairy Queen.
These outlets are located just down the street from the Budweiser brewery, where you can do a tour, sample some beer, or grab a German meal at the Biergarten restaurant.
We have another excellent article about malls in Massachusetts, where you can find an overview of famous shopping places like Burlington Mall, Natick Mall, Chestnut Hill Mall, South Shore Plaza, Liberty Tree Mall, and more. This article will definitely answer your question: "What is the best shopping mall near me?" So don't miss this useful post!
#5 - The Pick for Day Trippers
306 US Route 1, Kittery, ME
(No phone number; call a specific store for info)
Hours vary by store and outlet shopping plazas.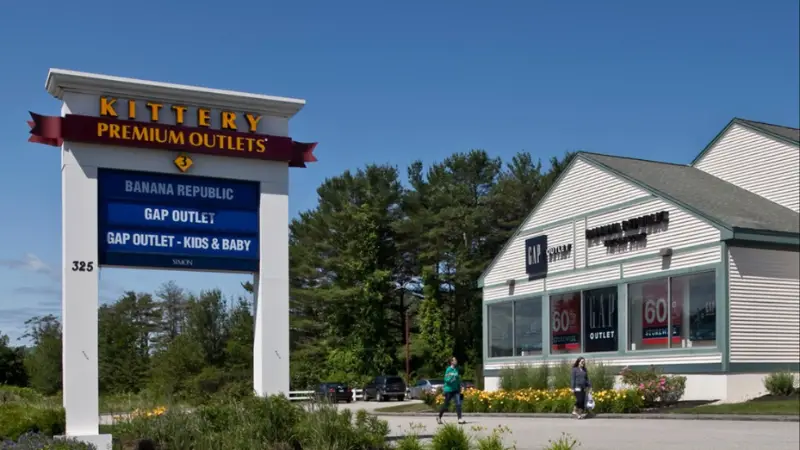 Technically, there are several smaller outlet malls that make up the collective "Kittery Outlets" spread out up and down Route 1 in Kittery. If it doesn't bother you to have to hop back in your car to get to the specific outlet you want, then visiting the coastal Maine town is well worth it.
Just a 90-minute drive from downtown Boston, Kittery is home to a few outlet stores not easily found in New England such as Crate and Barrel, Ecco, Hanes, Talbots, Le Creuset, Columbia Factory Store, and Movado Company Store. There are plenty of places to eat along US-1, but our pick is Robert's Maine Grill, which features farm-t0-table Maine cuisine and outdoor seating.
As a bonus, the beautiful neighboring town of York—home to Stonewall Kitchen, When Pigs Fly Bread, Lovebirds Doughnuts, and several shops, restaurants, and a photo-worthy coastline—is well worth exploring if you have the energy after your outlet excursion.
#6 - Gateway to the White Mountains
120 Laconia Road, Tilton, NH
603-286-7880
Mon – Sat: 10AM to 9 PM
Sun: 10 AM to 7 PM
Tanger Outlets are found sprinkled throughout the eastern U.S., and there are two located in New England: Tilton, New Hampshire, and Mashantucket, Connecticut. Since the latter is located in Foxwoods Casino, we're focusing on the Tilton location which delivers more of a traditional outlets experience.
Located just south of Lake Winnipesaukee, this outdoor outlet plaza features Champion, Coach, Famous Footwear, Eddie Bauer, Kate Spade New York, Polo Ralph Lauren, Skechers, Old Navy, and several other factory shops. Food court  options include Five Guys, Uno Pizzeria and Grill, and Jersey Mike's.
A Silver Bells craft fair takes place outdoors here every November featuring handcrafted goods from local artists. During the holiday season, kids can partake in the Elf On The Shelf Scavenger Hunt.
If you're looking for the answer to "What shopping outlets near me are the best?" then these six malls in Massachusetts are your top picks! Each of these Massachusetts outlets destinations has a little something to help distinguish it from the others, whether it's the variety of great store offerings or entertainment available in addition to shopping. But if you're looking for a bargain, you really can't go wrong with any of them!
Outlets Massachusetts FAQs
A. We hate to be the bearer of bad news, but the reason merchandise at outlets is often cheaper isn't because you're getting a great deal on brand products. It's because many of the clothing and items made for an outlet store are of (gasp!) lower quality.
This doesn't necessarily mean that you're getting a "bad" product. It usually means the product was made using cheaper fabric and techniques that cut corners in the manufacturing process. For example, a blazer made be made without a lining or a sweater may be made with a synthetic fabric and less intricate stitching.
You may have noticed many retailers have a separate "bargain" outlet for their brand. For example, Banana Republic's cheaper sister company is Banana Republic Factory. The styles are the same, but the merchandise is a lot cheaper because of the materials and manufacturing process used.
The largest outlet on the East coast of the U.S. isn't found in New England but in Woodbridge, Virginia. Potomac Mills is so large and has such a variety of brands that tourists have been known to book a hotel room nearby to do their shopping there.
We don't believe that anyone has determined what the largest outlets in New England are, but we'd say Wrentham Village, Merrimack, and the vast amounts of outlets in Kittery, ME are definitely contenders.
For the most part, yes—and if you visit during Black Friday and other times of the year when they're running seasonal sales, you can save even more.
More about Shopping in Massachusetts