Boston Public Transportation - What You Need To Know
The T, CharlieTickets, Subway Maps, Taxis
If you're exploring downtown Boston, walking may be the easiest way to get where you're going. But if you have a little farther to go (or kids with you who are getting tired), the Boston public transportation system, known as "The T" or the MBTA (you can also come across such names as Boston ma T, Boston metro or Boston mbta), is very comprehensive and generally quite reliable.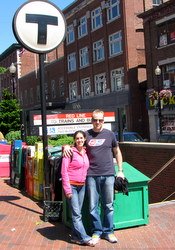 Boston's mass transportation system originated in 1631 and made history when it established the first subway in the U.S. (specifically, part of its Green Line, which happens to be the T line I grew up on :-).
In 2006, the Boston public transportation fare system, including mbta subway fare, moved from tickets and tokens to a smart card system of CharlieCards and CharlieTickets. Charlie was a fictional character in a song called "Charlie on the MTA". The song was written to protest the implementation of the 1948 exit fare, but was popularized as a folk song in 1959 by the Kingston Trio.
The only negative that I've personally come across with the Boston subway system is that it's not always great for families with strollers. Some trains do have single step entries which make it reasonable, but be ready to ask for help if one comes along that requires some major lifting.
What Type of Boston Transit Pass Will I Need?
Unless you're going to be in Boston for a significant amount of time and need multiple forms of public transportation, you have two main options of Boston mbta pass:
A stored-value T-Pass allows you to purchase a chosen dollar amount for single or multiple rides on the Boston public transportation system.
The Day/Week LinkPass gives you unlimited travel on the subway, local buses, the inner harbor ferry, and even part of the commuter rail. Realistically, you'll probably spend most of your time on the subway, so the Day/Week LinkPass will be great alternative to Boston metro pass. But depending on where you're staying or going, it's nice to have the options.
Purchasing your CharlieTicket
You can purchase a CharlieTicket (paper ticket) version of both the above options at in-station fare vending machines or various retail locations throughout the city. The vending machines accept cash (up to $20), credit/debit cards and even old T-tokens (in case you had saved them up from your last trip to Boston!).
You can also get the stored-value T-Passes online or at on-board fare boxes for above ground subway and bus stops. If you purchase online you'll receive a CharlieCard (plastic version), which are sold for as little as $5. For a Boston tourist, the main advantage of the CharlieCard is the CharlieCard Discount Book associated with it. If you're interested in this option, I have more info on CharlieCards here.
The only way to buy the Day/Week LinkPass in advance is if you're traveling as a group of six or more on Boston public transportation. If that's the case, look under the Visitor/Group section of this MBTA Fares and Passes page.
A couple of warnings when purchasing a t-pass at an on-board fare box:
1. The on-board fare boxes don't accept credit or debit cards (the in-station vending machines do).
2. If you need change of more than 50 cents at an on-board fare box, it will be given to you as a stored-value CharlieTicket for future use, so you'll want to have close-to exact change unless you're going to be in Boston for a while.
For Boston subway map (mbta subway map, Boston metro train map), CharlieCards and more useful facts on the Boston public transportation system, check out our Boston T page.
Or, if a taxi seems more your speed, you'll find what you need on our Boston Taxis page. Alternatively, you can visit the Uber&Lyft page for information on these taxi services available at Logan Airport.