Boston Common & Public Garden
Boston Swan Boats, Frog Pond, &
Make Way for Ducklings
We are reader-supported (thank you)! When you buy through links on our site, we may earn an affiliate commission.
Although the Boston Common and Boston Public Garden are technically separate entities, they're often clumped together as one attraction. I'll give you info on both here.
What's the difference between these two beautiful outdoor spaces?
Useful Note: There's a Visitor Center near the Park Street Station T Stop (147 Tremont Street, near West Street, Phone: 617-426-3115) that provides Boston maps and tourist info.
(sometimes incorrectly referred to as Boston Commons)
was developed in 1634 and has a colorful political history.
is mostly open grassy space.
is great for picnics, playing ball, entertaining kids on the tot lot.
has a "frog pond" with different activities depending on the time of year (see below).
is one of America's oldest parks (many say it's the world's first public urban park).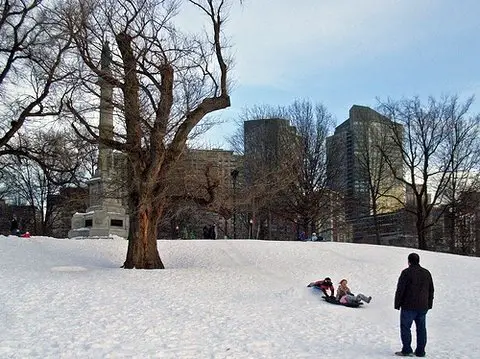 made history in 1837 as the first public botanical garden in the U.S.
is beautifully decorated with unique statues, stunning flowers beds, and a sizeable lagoon.
is home of the world's only swan boats.
houses the world's smallest suspension bridge.
has the statue of "Make Way For Ducklings" – fantastic photo op with kids.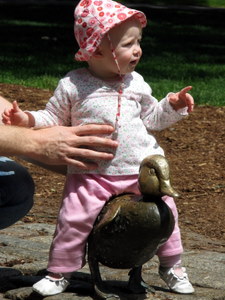 Together…
They're the anchor for the Emerald Necklace. The Emerald Necklace is made up of six connected parks and waterways that stretch from the Charles River to Dorchester. If you're a nature-type, enjoying each part of the Emerald Necklace could be an amazing trip to Boston in itself (might get a little cold in winter though).
Boston Common
T Stop: Red Line or Green Line to Park Street Station
Activities: In addition to the fantastic tot lot (see pictures below), there are different activities available depending on the season. They're all either on or right near the Boston Common Frog Pond (more info here!).

Boston Public Garden
T Stop: Green Line to Arlington Station
Activities: The main activity at the Public Garden is a ride on the Swan Boats. Basically they're ferry boats that get paddled around the lagoon for 15 minutes by someone sitting in a big "swan" at the back. Not for someone who has a need for speed, but unique, very pretty and relaxing.
The Swan Boats run seven days (except rainy, windy, or extremely hot days) and you can get tickets at the Swan Boat dock. Read our Swan Boats review here.
Tip for Parents
If you have young-ish kids, here's a way to make this an exciting adventure for them… Grab a copy of the book Make Way For Ducklings by Robert McCloskey (first published 1941). They'll feel totally cool when they see the frog pond in the Common and can sit on a "duckling" soon after they enter the Garden.


Have a Look
Just below is a map of where the Boston Common and Boston Public Garden sit in relation to the rest of downtown Boston. You can zoom in to see more detail of the parks themselves by using the '+' and '-' signs on the right side of the map.