We are reader-supported (thank you)! When you buy through links on our site, we may earn an affiliate commission.
Boston is such a busy and vibrant city that there is never a shortage of great Boston events to experience.
In this section, we have highlighted the most quintessential Boston events, most of which occur every year.
Boston hosts some of the world's most famous sporting events each year. Depending on how much time flexibility you have, it can be worth trying to schedule your trip around one of these events. They always make it extra-exciting to be in town!
Most well known are the Boston Marathon and the Head Of The Charles. For both of these events, people travel from around the globe to compete.
Given what a "college town" Boston is, it's no surprise that another one of our big sporting events is college sports specific. The Beanpot was originally a hockey tournament between four of Boston's most popular colleges. These days there are a variety of Beanpots which provide entertainment and excitement for students, locals and tourists alike.
Click here for information on these and more great sports related Boston events.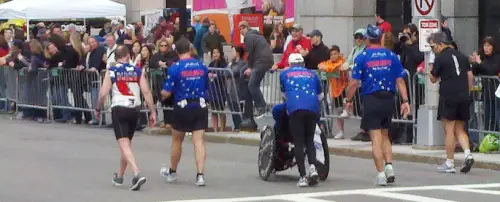 Holidays, Music, Movies and Food
Boston is, of course, known for its culture and we could provide an endless list of fantastic cultural events available throughout the year.
Instead of overwhelming you, however, I've picked out a handful of our favorites in case you want to plan your trip around them…
Restaurant Week occurs twice a year, in March and August. It's name is pretty self-explanatory, but let's just say that if eating well while keeping your wallet happy is a priority for you, this might be an ideal time to visit.
Boston Film Festival is a fun way to get in on the glamor of Hollywood with the down-to-earth company of some local Bostonians.
Berklee Beantown Jazz Festival is like an immense block party with fun for the whole family. It's held in early autumn and is run by the world renowned Berklee College of Music.
BLINK! At Faneuil Hall is a six-week long Christmas celebration that includes light shows, street entertainers, music from the Boston Pops and lots more, all based in Boston's unique and historically significant Faneuil Hall Marketplace.