Boston's Fenway Park, The Green Monster & Fenway Park Tours
Not Your Average Ballpark
We are reader-supported (thank you)! When you buy through links on our site, we may earn an affiliate commission.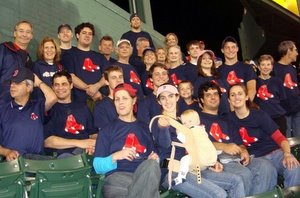 "As I grew up, I knew that as a building [Fenway Park] was on the level of Mount Olympus, the Pyramid at Giza, the nation's capitol, the czar's Winter Palace, and the Louvre — except, of course, that is better than all those inconsequential places."
– Baseball Commissioner Bart Giamatti
So, here's the deal. Bostonians are beyond passionate about Fenway Park and the Red Sox. As a two year old, bonding with my dad meant sitting by his side in our living room as we soaked in the game and the atmosphere of Boston's Fenway Park. And despite our now living on the other side of the world, my daughter attended her first Fenway game with us before she turned one. Simply said, it's in our blood.
Fenway Park is the oldest Major League Baseball Park still in use. The first professional baseball game played there was on April 20, 1912 (after two rain delays!). The Red Sox beat the team that later became the New York Yankees. Unfortunately, the game didn't get much media coverage because it was played just a few days after the sinking of the Titanic!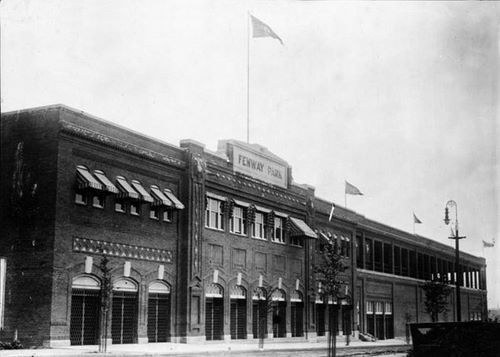 The Green Monster
The Green Monster is the nickname of Fenway Park's left field wall. It stands 37 feet, 2 inches tall and is Fenway's most famous feature.
The Monster has only been green since 1947, and used to be called simply The Wall. In 1934 a scoreboard was added to it (before that it had been covered with advertisements). Amazingly, the scoreboard is still changed by hand from behind the wall – talk about old school!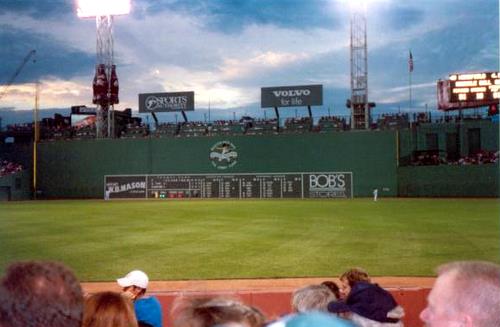 Nowadays one of the most exciting features of the Green Monster is that you can sit (or stand) on top of it. They added seats before the 2003 season, and many fans would say they're the best seats in baseball (definitely some of the most exciting given the number of home runs hit out that way). Monster seats sell out pretty quickly, but you'll have a slightly better chance if you're willing to stand.
Take a Fenway Park Tour
Tours of Fenway Park have only been offered since 1993. They're 60 minutes long and have reasonable pricing.
If you want to do the tour before you go to a game be warned that the last one of the day starts three hours before game time. This last one is a shortened tour, but it has access to the field and batting practice (and costs a bit more).
All the tours are on a first come first serve basis. For more info on tours of Fenway Park Boston, click here.
==> Want to Save on your Fenway Park Boston Tour? If you get the GoBoston or the GoSelect Discount Card you'll get a discount on your Fenway tour.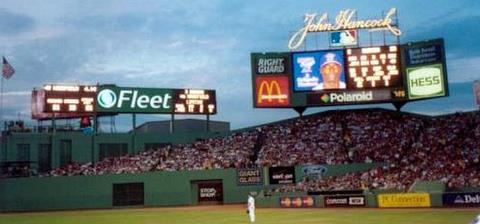 The Fenway Park bleachers in the '90s vs '00s. Check out how much more on-field advertising there is a decade later
Other Fenway Park Boston Events
Over the years, Fenway Park Boston has hosted events varying from soccer to political addresses to bridal festivals! Oh, and of course movies… My family and I were lucky enough to be at a Red Sox game on the day they were filming scenes for the movie Fever Pitch (2005 Remake).
Music concerts at Fenway became a regular thing in 2003 (kicking off with Bruce Springsteen and the E Street Band). Generally there are two concerts per year. I know one of my brothers was very excited to be at the 2009 Fenway Park Phish concert.
==> Want to stay near this famous Boston landmark? Check out the many excellent hotels in the Fenway Park area here.
Fenway Park Logistics
Here's some info you'll need if you choose to experience Fenway Park for yourself…
Address: 4 Yawkey Way, Boston, MA 02215
Directions to Fenway Park: My favorite way to get to Fenway is on the T (subway). This is partly to avoid traffic and parking, but also because there's such a party atmosphere on the T before and after the game (especially if we win). Driving is still very doable though. The Red Sox site has great info on how to get there with any mode of transportation: Click here for directions to Fenway Park Boston.
Ticket Sales: You can buy game tickets through the Red Sox website. However, these days games are almost always sold out, so you might have to do a little web browsing to find alternative sites that still have tickets available. When I googled "best place to get Red Sox tickets" some interesting info came up… Also, the official site does have an auction option as I mentioned above.
Red Sox Gear: There's nothing like walking into Fenway Park with your favorite Sox hat, shirt or bag so that you feel an immediate camaraderie with the many thousands of Boston fans there with you. What, you don't have any Red Sox gear? Luckily, I've taken care of that for you too :). 
Your adventure into Fenway Park doesn't end here – explore more captivating articles for a deeper dive:
More info to help you with your vacation:
See more Boston tours here: