We are reader-supported (thank you)! When you buy through links on our site, we may earn an affiliate commission.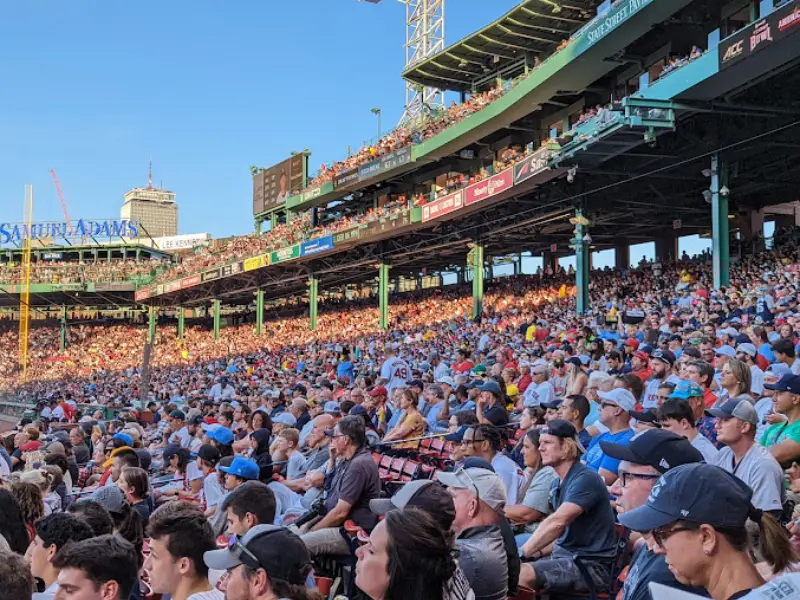 Fenway Park doesn't just host baseball games; it's also become a very popular venue for concerts and special events. Ray Charles performed the first concert at the ballpark back in 1959. Since then, some of the biggest names in entertainment including Lady Gaga, Aerosmith, Paul McCartney, Bruce Springsteen, and countless other musicians and bands have played there.
As it's also one of the nation's smaller ballparks with a maximum seating capacity of just under 38,000 attendees, tickets to games and events go faster than a line drive. The likelihood of showing up just before a game or show and getting a ticket is very slim (although not impossible.) Purchasing a ticket in advance is highly recommended to avoid disappointment.
Back in the day if you wanted to buy Red Sox tickets your only option was to get your rear end down to Landsdowne Street and wait in line at the Fenway Park box office or purchase them from a scalper. Today the internet gives you endless options, which can actually be overwhelming. Let's break them all down for you!
Understanding Different Fenway Park Events
First, a brief overview of the types of events held at Fenway Park. You can buy tickets for baseball games, concerts, and special events. The first two are self-explanatory; the ballpark mostly hosts home Red Sox games and music concerts.
Special events fall into their own category and can include anything from a festival to a fundraising event. They are usually non-baseball-related events.
And if we really want to include everything, Fenway Park also offers a variety of tours to allow fans to get to see America's most beloved ballpark up close and personal.
You can learn about upcoming special events scheduled for Fenway Park by going to the Red Sox website clicking on Tickets and then Special Events.
For the purposes of this article, we'll be focusing on how to buy Boston Red Sox tickets and concert tickets at Fenway Park.
First Things First: Get to Know the Fenway Park Seating Chart
Do you know where the best seats are at Fenway Park?
If not, we highly recommend getting acquainted with all of the seating options available to you before you jump the gun and purchase tickets. Check out our guide to the best seating options at Fenway Park to get an idea of the scope of seating sections, the pros and cons of each, how to avoid obstructed views, and more.
Our comprehensive guide also covers the enormously helpful Fenway Park seating chart or seat map. It's well worth taking the time to understand where each section is and how expensive each one is so you can grab the best seats possible for your budget and not get burned.
Next, Sign Up for the Red Sox Insider Newsletters
No matter what kind of event you plan on attending at Fenway Park, we highly recommend signing up for at least one of the Red Sox Insider Newsletters.
Becoming a Red Sox insider is one of the best ways to increase your chances of scoring tickets to a coveted section, such as Green Monster seating, and learning about other ticket specials as well as special events. It's free to sign up and well worth putting up with the additional promotional emails from MLB partners.
Options For Buying Boston Red Sox Tickets
We'll start with your options for buying Boston Red Sox tickets since that's why most people visit Fenway Park, and there are several ways to secure legitimate tickets.
You can buy Red Sox season tickets directly on the official Red Sox site. This includes single-game tickets, group tickets, season tickets, student tickets, and more and it contains the official Fenway Park schedule. And honestly, this is probably the best place to buy tickets since you know they are legit. The one downside is you'll have to pay a convenience charge.
If you have the money to splurge, you can purchase ticket plans such as a full-season plan, half-season plans, twenty-game-winner plans, weekday plans, and more.
One thing to note about Major League Baseball tickets is that there is no such thing as buying them too early. Next year's season tickets usually go on sale as soon as the current one ends. So don't delay, even if the fall leaves haven't started to change colors yet!
If you like throwing caution to the wind and don't mind waiting in line (for what can sometimes be hours) it doesn't hurt to visit Gate E on Lansdowne Street to try to get a good deal on same-day Red Sox tickets in person. This box office opens 90 minutes before the game starts, but fans usually start lining up way before then.
Availability and ticket prices depend on a number of factors, but you're likely to have better luck if the opposing team is not a popular one, if it's a Sunday or weekday, or if the weather is less than ideal to be outside watching a ballgame. And even then, sometimes the only tickets available are standing room only and may have obstructed views. But if Lady Luck is on your side, visiting the box office can sometimes help you get a decent seat to a sold-out game.
Keep in mind the ticket office at Gate E is for same-day tickets only. If you want to purchase tickets in advance, visit the main Red Sox ticket office at 4 Jersey Street.
If you've purchased tickets in advance and are picking them up at the ballpark, you'll find them at Gates A through E or the kiosks in the ticket office lobby at Gate D 90 minutes prior to the start of a game.
Third-Party Resellers: Stub Hub, Seat Geek, Vivid Seats, and More
If you can't find good seats for your desired seating section and game, a verified third-party seller such as SeatGeek (the MLB's official resale website), Vivid Seats, Ace Ticket, or StubHub may have just what you're looking for. Here's a quick look at the perks of using each:
SeatGeek partners with official sports teams all over the globe to create better and safer accessibility to tickets for sporting events. They carry a high TrustPilot rating amongst users (4.2 out of 5 at the time this article was published) and offer an official ticket marketplace with price recommendations and transparent fees so you'll always know what the total cost of a ticket is.
Vivid Seats offers a 100% Buyer Guarantee program and won't sell or share your information with brokers. They guarantee they'll deliver your ticket before a game or you'll get your money back. But perhaps the nicest perk to using Vivid Seats to make a purchase is that they give you a photo preview of the field from the seats you're considering buying tickets for (hence, their name.) This can help you make sure your seat doesn't come with an obstructed view.
Vivid Seats also has a pretty sweet loyalty program where you can earn up to 9% cash back on any ticket purchase. If you're someone who likes to attend a lot of sports games and concerts, this site may have the edge for you.
Ace Ticket is unique in that it offers a 200% money-back guarantee to protect against fraud. Should a fake ticket somehow get through and sold on their site, the buyer receives double their money back.
They also have a Loyalty Credit Program that gives customers 5% cash back to use towards a future ticket purchase. An easy-to-navigate site and seat preview make this venue a popular one with sports fans.
StubHub goes to great lengths to make sure all tickets posted to its site are legitimate and offers a 100% guarantee that you will receive your ticket in time for the game. The Price Alert tool ensures you are only seeing tickets that work with your budget.
As with any third-party site, ticket prices can be higher or lower depending upon the game demand and Boston Red Sox matchups (the New York Yankees will always be way more expensive than the Tampa Bay Rays or the Baltimore Orioles, for example).
You will also be hit with service and delivery fees that will drive up the cost of the ticket but one thing's for sure: buying tickets on these sites is much safer than purchasing them through Craigslist, eBay, or scalpers in the flesh.
Scalpers and Craigslist: Protect Yourself Against Ticket Scams
Lastly, you can buy a Fenway Park ticket from a scalper or through Craigslist, Facebook Marketplace, a Facebook group, or eBay. While not every private seller is out to scam a fan, due diligence is needed to protect yourself.
Always ask to see the actual ticket and all of the information on it. Verify that the seat number and seating section actually exist and that the game date and start time are correct.
Keep in mind that scalping tickets is actually illegal in Massachusetts, although this doesn't stop people from doing it. You're more likely, however, to end up with fake tickets rather than get in trouble for purchasing one.
Tip: if you're going to go this route, scalpers usually drop their prices after the first pitch. Again, make sure they're selling you a real ticket so you don't get burned.
How Students Can Score Fenway Park Tickets
Are you a high school or college student at least 18 years of age? Then you're in luck because you can purchase Red Sox tickets for as low as $9 for selected Fenway Park home games and special events.
Sign up for Student Tickets Offers and check the mobile alert box to be notified when discounted tickets become available. You will need to bring your student ID with you to Fenway Park games and events and also download the MLB Ballpark app so your ticket can be scanned.
Red Sox Foundation Ticket Raffles
Last but not least, if you're feeling charitable, the Red Sox Foundation usually holds several raffles per season that offer donators a chance at winning tickets.
As the official team charity of the Boston Red Sox, the Red Sox Foundation supports The Jimmy Fund and other local non-profit organizations, awards scholarships to high school students, and provides team equipment to youths throughout the Boston area. Buying raffle tickets helps support these causes and can help you score some great seats for a Red Sox game.
How to Purchase Tickets for Fenway Park Concerts
That covers ball games. But the same rules pretty much apply when buying tickets for concerts, except you won't be able to buy them directly through the official Red Sox site. Concerts are handled by different management and are usually sold on Ticketmaster and the same third-party resellers mentioned above.
How to Purchase Fenway Park Tickets for Other Popular Events
Tickets for fundraisers and other types of Fenway Park special events are usually available only on the Fenway Park website unless noted otherwise. These are usually announced and promoted through the newsletter, so your best option is to subscribe to the insider newsletter and follow the instructions on how to buy them.
While technically not an event, Fenway Park tours can be purchased directly on the Red Sox site and through Viator.
Remember: Earlier is Better When Looking for Good Fenway Park Tickets
So, when is the best time to buy tickets for a Fenway Park event? Yesterday!
At the end of the day, whether you need tickets to a Red Sox game or live music concert, it really doesn't matter how you buy them. What matters is that you buy them as early as possible to avoid disappointment.
Fenway Park is an extremely popular sporting and music venue that attracts spectators from all over the country, and that means tickets tend to sell out fast.
But with a little planning and knowledge, you can buy Fenway Park tickets with confidence. Happy ticket hunting!