We are reader-supported (thank you)! When you buy through links on our site, we may earn an affiliate commission.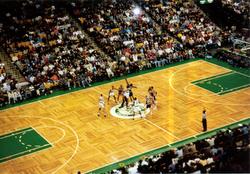 Simply said, Bostonian's LOVE their Boston sports teams. So much so that our passion seems to convert people all over the world into lifelong Red Sox, Celtics, Patriots and Bruins fans.

My husband knew very little about American sports before he met me. He's now an avid Boston sports fan. Even better though, he figured out that one of the best ways to express his love for me is to wear his Boston Red Sox baseball cap as often as possible (it's now been several years since I've seen him in any other hat – smart man, huh?).

If you're visiting or new to Boston, going to a game is one of the best ways to find out what the people in this city are all about. Whether you're heading to TD Garden, Gillette Stadium or Fenway Park you'll experience your share of high energy, enthusiasm, and probably a bit of rowdiness too.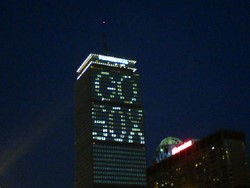 And the teams themselves won't leave you bored either. I won't say it's always easy being a Boston fan. We've had our hearts crushed that many times. In fact, at times there has practically been a cloud of depression over the city when things haven't gone well for our beloved teams. But, in any given year at least one of our teams is hot, and if nothing else, our players give their heart and souls to their games. It's definitely worth joining the Boston sports teams bandwagon!


Fyi, here's our championship wins record – there's nothing like being in Boston when we win a title!


New England Patriots (The Pats): 3 Super Bowl Championships (all since 2001)
Boston Red Sox: 7 World Series Titles (they had an 86 year drought between 1918 and 2004)
Boston Bruins: 6 Stanley Cups (they won in 2011 for the first time in 39 years!)
Boston Celtics: 17 NBA Championships (more than any other NBA team)
History of the Boston Red Sox Logo
Check out the evolution of the Boston Red Sox Logo over the years. This video shows one of many excellent displays up at Boston's very own Fenway Park (home of the Red Sox).
Boston Sports Teams Gametime!

Another tradition associated with the Red Sox and Fenway Park is the collective singing of Neil Diamond's iconic anthem, "Sweet Caroline," by fans during games. For a fascinating insight into the origins of this beloved ritual, we invite you to delve into our great article.