Cape Cod, York Maine, Plymouth Massachusetts, Tanglewood, The Berkshires & New York City
We are reader-supported (thank you)! When you buy through links on our site, we may earn an affiliate commission.
Options for Boston day trips vary from a day at the beach to stepping into 17th century Colonial America. You can see the Boston-Plymouth Air Show, enjoy a day at the Tanglewood Music Festival, or savor each morsel of a fresh lobster in York, Maine.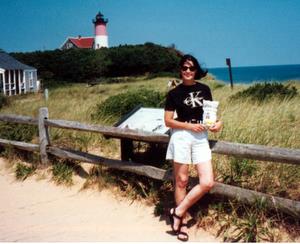 You can easily spend several days on most of the Boston day trips mentioned here. However, if time is tight and your heart is set on it, they are each very doable in a day.
We're always going to be updating this section so please come back often to see what new Boston day trips and adventures we have to share with you.
If you're specifically looking for Boston Day Trips info on Tanglewood and The Berkshires, click here.
Boston Day Trips: Cape Cod (aka The Cape)
Distance: 90 miles, 1.5 hours (varies depending on which part of The Cape you visit)
My Favorite Beach
In my opinion, no summer trip to Cape Cod is complete without at least dipping your toes into the water at Nauset Beach.


As a kid, I spent countless hours body surfing the waves at Nauset Beach – despite the impressively cold temperature of the water.


In addition to the great waves, Nauset Beach's snack stand, Liam's, sells lobster salad rolls and onion rings that my family absolutely salivates over. They also offer loads of kid friendly foods like hamburgers, hot dogs, french fries and 16 flavors of ice cream. I think most of my family would do a Boston day trip to Cape Cod just for a meal from Liam's!

FYI: There's a big paid parking lot for the beach, but on a nice day it fills up quickly so you'll want to arrive pretty early in the day.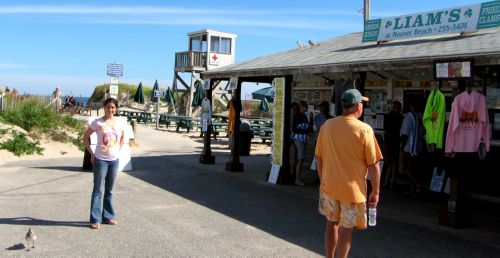 Our Family's Favorite Cape Cod Restaurants
Arnold's Lobster & Clam Bar is somewhat new on our favorites list. My parents went a couple of years ago and were impressed by the "ridiculously fresh real New England dinner" they enjoyed. As my stepmom said, "The lobster and mussels tasted like they had just came out of the ocean!"

 

Address: 3580 State Highway, Route 6, Eastham MA

Phone: (508) 255-2575



The Lobster Claw is a reasonably priced family restaurant with good sized servings. It's been a family favorite for years with its casual and relaxed atmosphere. The menu has a good variety from seafood to sandwiches and a children's menu that should make any kid happy.
Address: 42 Route 6A, Orleans, MA
Phone: (508) 255-1800 / (800) 320-1802
Bishop's Terrace  is a charming Cape Cod restaurant that's great for couples or families. It's been around for about 60 years with great food and reasonable prices. FYI, I've heard in more recent times that their wine list isn't always fully stocked, but it's still worth a visit just for the food!

 

Permanently closed
Address: 108 Route 28, West Harwich, MA
Phone: (508) 432-0253



Chillingsworth: If you're willing to spend the cash, and are looking for a truly extraordinary dining experience, Chillingsworth is the place to go on The Cape. They're happy to help you match wines to your meal by the glass, and they offer extremely friendly and attentive service. My one request if you give yourselves the gift of a meal at Chillingsworth… please, don't skip dessert! BTW, if you want to enjoy the atmosphere at a lower cost, they have bistro, luncheon and brunch menus.

Unfortunately, for anyone visiting Cape Cod between December 1st and Mother's Day, Chillingsworth closes while its owners head down to Mexico to run a vacation home called Casa Blanca. What a life, huh?!

Address: 2449 Main Street, Brewster, MA
Phone: (508) 896-3640



Speaking of extraordinary desserts, our close friend, Rich, recently insisted on taking us to what he considers The Cape's newest gem – the PB Boulangerie & Bistro. His rave reviews were quickly proven justified as we walked into this French style bakery.

Choosing which treats to indulge in can be a challenging task, so we just chose A LOT. I literally sat (and chewed) stunned as I tasted the Rasberry Almond Brioche. I never would picked it as my kind of dessert, but I LOVED it. We also got a ridiculous assortment of chocolate related pastries including the PB Eclair and the White Chocolate Bread, and absolutely nothing dissapointed. It was a gorgeous September day, so we sat at one of their outdoor tables where Siena could happily eat chocolate and watch other kids while we caught up with Rich.



We didn't get a chance to eat a meal in the Bistro part of PB Boulangerie & Bistro, but the general consensus seems to be that it lives up to the Boulangerie. It does get very busy, however, and reasonably loud, so probably not the place to go if you want a quiet, relaxed dinner. On that note, there will almost always be a line out the door, but the Bistro does take reservations, so that should help your cause.

Address: 15 Lacount Hollow Road, Wellfleet, MA
Phone: (508) 349-1600
Where to Stay on Cape Cod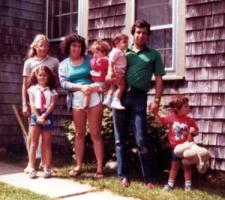 If you're planning on staying on The Cape for a while, you'll need a local's knowledge of the best places to stay.

My buddy, Dee, and her husband, spend a significant part of the year on Cape Cod and have very kindly put up a great website with an excellent section on Affordable Cape Cod Hotels, Motels and Inns.
Fun Cape Cod Activities

On our daughter's first trip to The Cape we thought it would be fun to go for a family bike ride.


Given I had been on a bike, oh, once in the last 15 years, I was a bit nervous. Fortunately, my husband is an experienced biker so he was comfortable attaching a "buggy" to the back of his bike for Siena to ride in, and all I had to do was tag-along.


Aside from getting a stick caught in my bike rendering it unrideable (until my expert husband noticed I had disappeared and came back to fix and realign it), the trip went remarkably well, and it was a stunning way to see a good amount of the local area.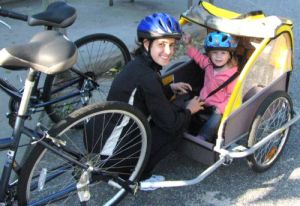 Siena LOVED riding in the buggy and getting to wear a big kid's helmet. And despite the excellent protective covering on the buggy, she came home with as much dirt on her face as we did which seemed to make her very happy as well 🙂


We rented our bikes, etc, from Mike's Bike Trail Rentals based in Orleans. Mike is super-friendly and helpful. He gave us a trail-map and suggestions given our time frame. He was also extremely patient when Siena decided she had to have the pretty blue helmet with the fishies on it, instead of the white one he had fitted so nicely to her head.


Address: 14 Canal Road, Orleans, MA
Phone: (508) 255-0411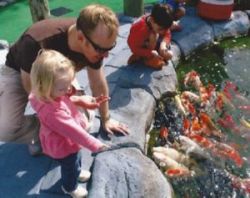 While we were there, we also found out that Mike helps his dad run the mini-golf course across the street. We, of course, came back the next day to play mini-golf where they have a fun and interesting course. The best part, though, is the fish pond that appears out of nowhere at the end of the course and has serious sized fish you can feed by hand!
Traffic Tips

If you're heading to The Cape for a Boston day trip during the off-season, traffic shouldn't be too much of a problem.


But if you're planning a Cape Cod visit during the summer, you'll want some insider knowledge. Without it, your adventure to the beach may include significantly more time in the car than you had banked on.


Here's a great site that gives you loads of insider tips on Cape Cod traffic so you can get the most out of your time on The Cape.


Boston Day Trips: York Maine
Distance: 90 miles, 1-1.5 hours
York Maine is one of our top picks for a true Boston day trip. It's an easy drive giving you the majority of the day to explore. And, whether you want to stay in York or explore some of the nearby towns, you'll get a great New England experience.
A Boston day trip to York might start with a stop in Cape Neddick to admire the historic Nubble Lighthouse. For lunch, you'll find no shortage of places to treat yourself to a scrumptious Maine lobster. Then, after you take some time to relax at the beach, you can enjoy a late afternoon sail.
Just over halfway from Boston to York Maine, you'll come across Portsmouth, New Hampshire. As a young child, my dad lived in Portsmouth. One of my favorite memories is of when we went to see the Thunderbirds (the Air Force air demonstration squadron) air show.
If you're into airplanes but the the Thunderbirds aren't coming to town, you can try to work your trip around the Boston-Portsmouth Air Show held each August.
And just a little way up the road, if you're into outlet shopping, the outlets in Kittery, Maine are definitely worth a visit. For a thorough guide to great things to do in York Maine and the surrounding area, click here (opens new window).
Boston Day Trips: Plymouth
Distance: 40 miles, 40-60min
Boston day trips to Plymouth can include a visit to the wineries, a cruise on the "Pilgrim Belle" (between May and October) or an evening enjoying the music of the Plymouth Philharmonic Orchestra.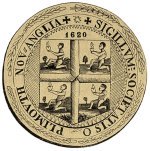 However, to any Bostonian, what Plymouth is best known for is the Plimoth Patuxet Museums which was previously known as Plimoth Plantation (yes, the spelling has changed over the years, but this living history museum has kept the original spelling).
When you enter the Plimoth Patuxet Museums, it's like you've stepped back into colonial America in 1627. The "tour guides" do an extraordinary job of staying completely in character to give you a true taste of what life was like in the small farming town of Plymouth Colony – New England's first permanent English settlement.
And, if you want to taste what it was like to eat as a Pilgrim, check out the Plimoth Patuxet Museums's unique cafe and various eating events.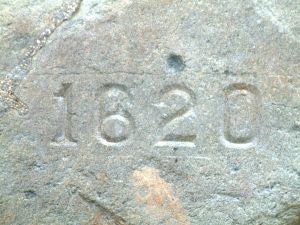 While you're in town, there are two other living history museums: the Mayflower II and the Wampanoag Homesite.
The video below (sponsored by The Herald News) will give you a good sense of if you want to visit the Wampanoag Homesite and/or Plimoth Plantation. The first part of the video is at the Wampanoag Homesite, where they dress the part but, unlike Plimoth Plantation, speak as themselves (often with a fab sense of humor as you'll see here).
And, although the truth of its history is sometimes questioned, you'll probably want to visit Plymouth Rock just to be able to say you've been there! Warning though: the rock is smaller than most people expect, partly due to mishaps that occurred as those who loved it tried to "preserve" it.
Plimoth Plantation, a living history museum located in Plymouth, Massachusetts, changed its name to Plimoth Patuxet in 2019. The decision to change the name was based on several factors.
Firstly, the name Plimoth Plantation was considered by some to be historically inaccurate, as the English colonists who arrived in Plymouth in 1620 did not actually establish a plantation in the modern sense of the word. Instead, they built a settlement with homes, gardens, and workshops.
Secondly, the name Plimoth Plantation was seen by some as insensitive to the Native American Wampanoag people who had inhabited the area for thousands of years before the arrival of the English colonists. The new name, Plimoth Patuxet, reflects the fact that the Wampanoag people originally called the area Patuxet before the arrival of the English.
The name change was also part of a larger effort by the museum to re-evaluate and update its interpretation of the history of Plymouth and the interaction between the English colonists and the Wampanoag people. The museum has stated that the new name is intended to be more inclusive and reflective of the diverse perspectives and experiences of the people who lived in the area.


Boston Day Trips: New York City
While New York City is not traditionally thought of as a Boston day trip, it can certainly be done if you have the right motivation.
Having lived on the other side of the world, I learned that many people will only get to the northeast of the U.S. once in their lives.
If this is you, and you're wondering if the trek to NYC is worth it, my unabashed answer is YES!
Or, maybe you're a local making your umpteenth trip to New York. You've done all of the typical "touristy stuff" and you're looking for some new NYC experiences…
Either way, I've found this excellent New York City Guide and wanted to pass it on to you as a helpful resource.
No doubt you'll have a fantastic time!
Need Boston Day Trips info on Tanglewood?
Here are two useful links for you:
Articles You Might Also Enjoy:
More Dining Opting You Can Find Here:

Related Resources About Boston Leisure:

Discover More Boston Attractions: