Franklin Park Zoo and Stone Zoo
We are reader-supported (thank you)! When you buy through links on our site, we may earn an affiliate commission.
Boston is renowned for its world-famous museums and historic sites in Boston, but does Boston have a zoo? The short answer yes, in fact it has two!
Boston's two zoo options are the Franklin Park Zoo and the Stone Zoo. Only one can be reached by public transportation, but both are great options for a half-day family adventure.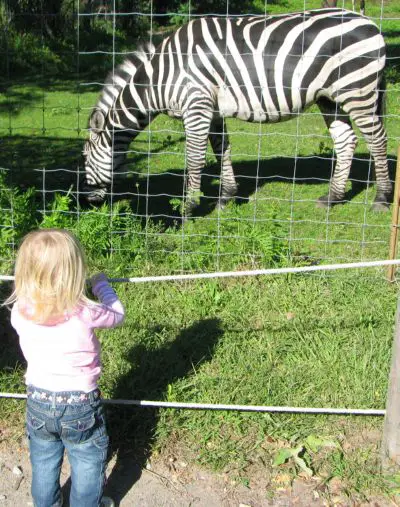 I apparently visited the Franklin Park Zoo as a kid. It's probably a sign of my less-than-impressive memory that I have absolutely no recollection of it…
Fortunately, as our family found out recently, that's not a reflection on the zoo itself!
While this zoo in Boston MA is on the small side, and not generally mentioned as one of Boston's main attractions, it offers a surprising number of very special experiences.
==> Want to Save on your visit to the Franklin Park Zoo? If you get the Boston GoCity or Explorer Pass you'll get a discount on your visit (and you'll get to skip admissions counter!).
Going to the Franklin Park Zoo
As we walked out of the Bird's World building (built with the zoo in 1912), we thought we were in for a cute but average zoo outing.
We walked past the small and (purposefully) smelly flamingo exhibit and nearly missed the walk-through birdcage. As we walked down the initial "hallway" we pondered if it was long deserted.
Then we turned the corner and were stunned.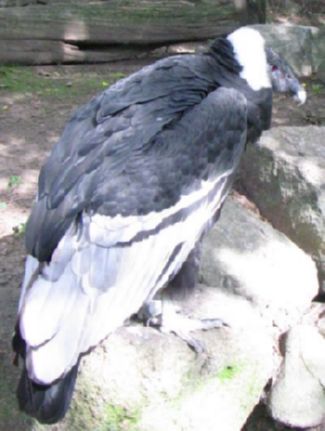 10 feet in front of us was a giant Andean condor!
If you don't know what a condor is, it has two claims to fame in my books:
1. It's the heaviest bird of prey in the world (it's seriously big).
2. They are heavily featured in Dora the Explorer (ok, this one only counts if you're the parent of young children).
In any case, they're amazing to see just a few feet away.
Inti (the condor) even gave us a bit of a show by spreading her wings and taking (very brief) flight.
Side Note:The next time I went to the zoo near me I got a video of one of the Andean condors in full flight. See it here!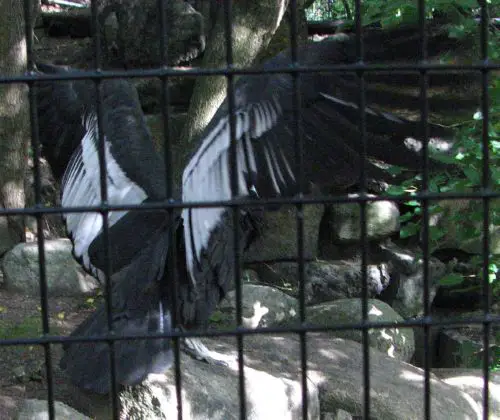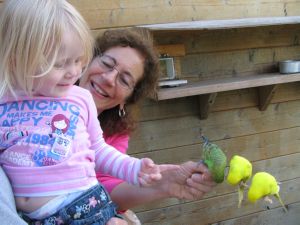 Soon after that we found ourselves in the budgie cage on the zoo's Outback Trail (yes, it felt like we were "home" again!).
I would definitely recommend buying the optional seed stick as you walk in. Within seconds we had anywhere from 1-4 beautiful little birds sitting on these sticks gently nibbling away. FYI, they provide hand sanitizers on the way out so you don't have to worry if the birds touch you – very impressively managed.
The gorilla exhibit, which this Boston zoo states is "the most innovative and intimate indoor gorilla exhibit in the world," was captivating.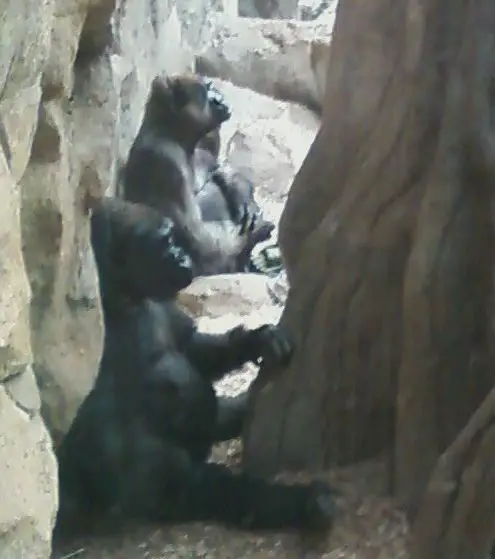 There was a volunteer nearby at all times narrating what was going on. We watched a mama gorilla who was one month away from giving birth to her third baby. And you could feel the protective nature of grandma gorilla (not actually a blood relation) as she kept an eye on the mother-to-be.
Then there were the boys who were out to impress and make mischief.
One moment we were appreciating the humanlike qualities of their gestures and interactions and the next…
Okie was bolting his way across the enclosure and suddenly flung his entire body directly at us (stopped only by the ultra-thick viewing window)!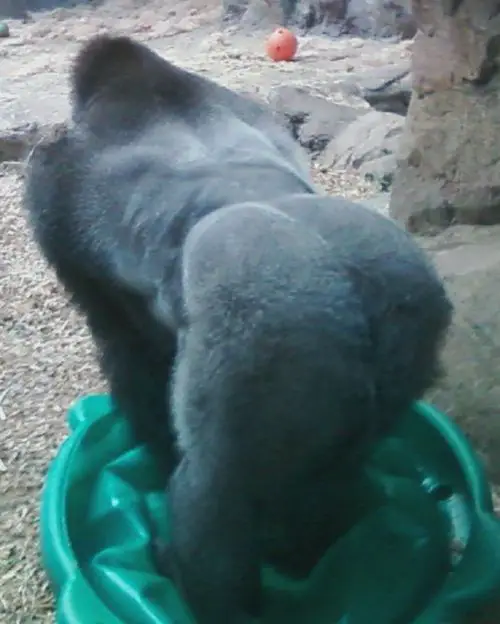 Easily the most exciting zoo experience I've ever had!
Of course, for Siena (our 2-year old), the winning exhibits were:
3. The merry-go-round (which I'll admit was a lot of fun).
2. Her ice-cream sandwich (also one of my favorites).
1. And the winner is… the train!!! (This is a theme in her life.)
One warning about the train… The last trip leaves around 4.45pm (at least on a Sunday), and there ain't no more a comin' even if it's overflowing. We almost learned the very hard way that if you want on, get to the train stop and buy your tickets early.
Boston Zoo Information
Franklin Park Zoo is New England's largest zoo and one of its oldest. It is located in Franklin Park which was the last addition to Boston's Emerald Necklace.
The zoo hold workshops for kids aged 3 to 7. So if you have little-ones, you might want to check the zoo's online event calendar before you choose the date for your zoo outing.
And if you're looking to make a bigger day of it, the Franklin Park Zoo is very close to the Arnold Arboretum on your way to the best zoo near Boston. Either before or after your Boston Zoo visit, you might want to go for picnic and a stroll through the Arboretum.
Boston Zoo Logistics
Franklin Park Zoo
Check out current Franklin Park Zoo Hours or Reserve Your Entry Tickets Here
One Franklin Park Road, Boston
Phone: 617-541-LION
T-Stops
Orange Line or Commuter Rail to Forest Hills station, then number 16 bus to Franklin Park Zoo.
Orange Line or Commuter Rail to Ruggles station, then number 22, 28, 29, 44 or 45 bus to Franklin Park Zoo.
Red Line to Andrew station, then number 16 bus to Franklin Park Zoo.
Stone Zoo vs Franklin Zoo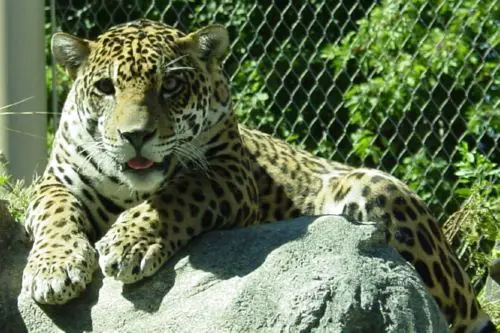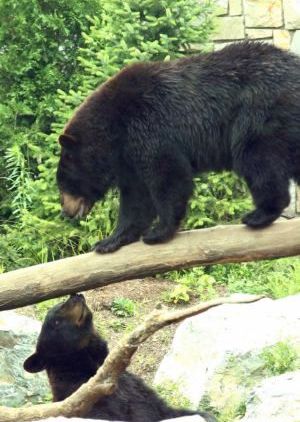 Boston's Stone Zoo went through tough times starting in the early 1990s and even closed down for a time.
However, as a result of public demand, the state senate set up Zoo New England, a non-profit corporation, to manage and revitalize both Stone Zoo and Franklin Park Zoo.
Though smaller than Franklin Park Zoo, Stone Zoo's exhibits are actually quite different so it doesn't feel like you're just getting a watered down version.
Stone Zoo is now over 100 years old and boasts new exhibits that include black bears, gibbons, and meerkats, amongst others. And Zoo New England is continuing to upgrade both Boston zoos.
Unfortunately, Stone Zoo is only accessible by car which will limit a lot of Boston tourists, but if you find your way there, it's a nice complement to our first Boston Zoo.
Boston Zoo Logistics
Stone Zoo
Find Stone Zoo Hours, Stone Zoo Reviews, or Reserve Your Entry Tickets Here
149 Pond Street, Stoneham
Phone: 781-438-5100
T-Stops: N/A – Only By Car
You Want More Zoos??
If you just love your zoos and plan on travelling around a bit while you're in the North East of the U.S., there are other options outside of Massachusetts.
For a thorough List of US Zoos, check out this great website created by a young lady who really knows her zoos!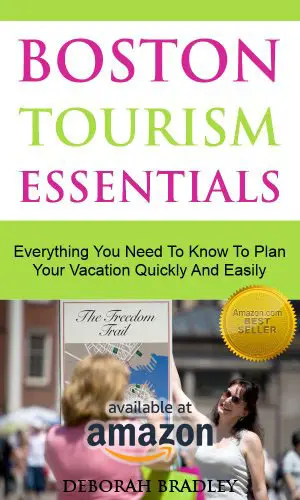 More Articles You Might Find Interesting: