Boston Sightseeing Attractions
Sightseeing in Boston on a Sunny Day
On our last trip I was excited to bring Siena to the New England Aquarium. We took the T to Park Street and were going to walk the rest of the way.


When we got outdoors, we realized it was such a glorious day that we changed our plans on the spot.

We walked the opposite direction through the Boston Common (where Siena had her first carousel ride) and the Public Garden (home of two landmark attractions: the Swan Boats and the "Make Way for Ducklings" statue). Then we crossed the street for a Ma Clavin's Bahston Clam Chowda, a Burger Meister and a beer at Cheers (yes, super touristy, but that's what we were there for)!

If you wanted to make a bigger day of it, you could take a few hours after lunch to walk the Freedom Trail. It starts right at the Boston Common and is a rockin' way to get to know downtown (as well as some of America's most defining history). And if you don't like walking tours you may like the Boston Trolley Tour or Boston Duck Tour.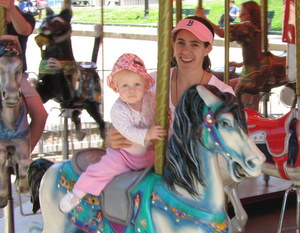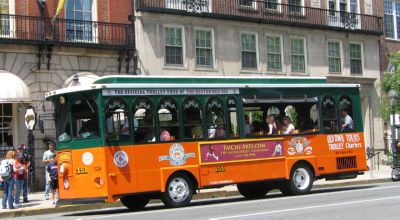 Sightseeing on a Rainy Day
Only a few days later we went to the Boston Science Museum. It was another glorious day as we did the 30 minute walk from my sister's house in Somerville. By the time we left the museum two hours later (note: that's not really enough time to do it justice but we had to be somewhere), it was pouring!
Fortunately, in the lobby of the museum there are free phones specifically for calling the taxicab company of your choice. We went with the top one on the list and were impressed with how quickly it arrived.
If you do find yourself with a few rainy days, don't fret. There are plenty of rainy day attractions in Boston. For many it's all about the museums, but you can always go for eating and shopping if you prefer!