Boston Tours and Attractions
Top Boston Tourist Attractions And Beyond
We are reader-supported (thank you)! When you buy through links on our site, we may earn an affiliate commission.
Boston tours are a great option for getting to know our city in a nutshell.
Depending on the style of tourist you are, there are a whole slew of options with a variety of presentation types, themes and modes of transportation.
Ride a Duck
While some people feel they're a tourist trap, the Boston Duck Tours are a family friendly and entertaining way to learn about this historic city. We were impressed that even our two-and-a-half-year-old stayed engaged as we rode down the streets of Beantown, quacking at passer-byers, while our pirate tour-guide shared information about Boston's neighborhoods and history.
And just when you think the tour must be coming to an end, the "duck bus" turns into a boat and drives right into the Charles River! Most of the kids and a few "young-at-heart" adults got a chance to drive the duck on the Charles. It was a fun and easy way to see the city from the water.
For loads more information, visit our Duck Tours page!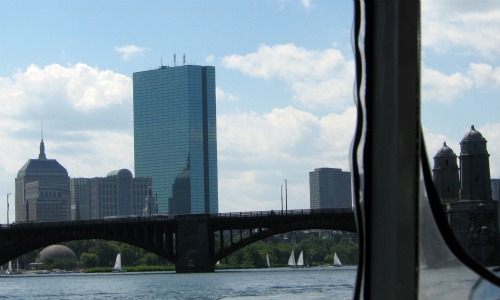 The Many Faces of Boston Walking Tours
Boston can be a glorious city to walk around (depending on the weather). Fortunately, even on a rainy day, the architecture and historic sites hold their beauty and give your eyes plenty to feast on.


Many of the Boston tours mentioned on this page are walking tours as well, but to help you see your options clearly, I've laid out a whole page about Boston walking tours that should help point you in the right direction.


Whether you want to do-it-yourself or get a fully-guided tour, you can walk the Freedom Trail, experience different neighborhoods, take a photography focused tour, learn about the women who shaped Boston, or learn about the impact different cultures and ethnicities have had on the development of our city. And that's just a start.


Click here to find the Boston walking tour that's right for you.


If you like walking though graveyards and learning about haunted buildings, interactions with beings from "the other side", and murders, taking a ghost tour will be a great way for you to learn about our town.


The Spooky Side of Boston – Ghost Tours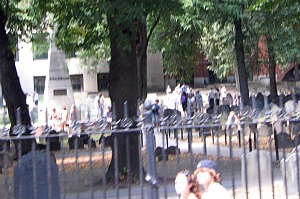 Some of the tours are led early enough that you might get some daylight as you learn about the city's dark side, but most run after the sun has gone down. If you want you can go all the way and have the tour run by a spooky character who does their best to "get you in the mood."
If these Boston tours sound like your cup of tea, I've got the various options laid out on our Boston Ghost Tour page.


The Sweeter Side – Chocolate Tours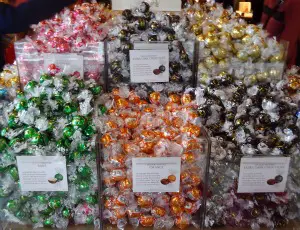 For those with a sweet tooth, this is a very exciting option… There are a few different Boston Chocolate Tours and, whichever you choose, eating chocolate will be a significant part of the experience!


To varying extents, you will learn about our city's history as well as the history of chocolate as you wander the streets with your taste-buds exploding.
To learn about these Boston tours, check out our Boston Chocolate Tour page.


Boston Trolley Tours
As you walk around downtown on any given day, you're bound to see "trolleys" of a variety of colors driving along or stopped near sights of significance.


If you're not a big walker, or the weather is not being cooperative, these can be excellent tours – especially for Beantown newbies.


I've put together information on three companies that consistently get great reviews and have some pretty cool perks as well. To learn more take a look at our Boston Trolley Tour page.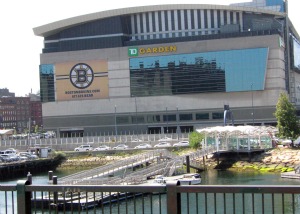 TV And Movie Sites Tours
Are you someone who is awed by the glamour of Hollywood and who is thrilled by the idea of a movie being filmed somewhere nearby? If so, On Location Tours offers two excellent Boston tours that will cater to you perfectly.
Their tour guides are in-the-know actors who can show you what TV shows and movies were filmed where, and even where certain celebrities have bought properties.
Click here for a full review on Boston TV & Movie Sites Tours.
Water Options
While our day-to-day life is not as impacted by our waterways as it used to be, the Boston Harbor and Charles River are still a significant part of defining Boston as it is today and how it came to be the city we know and love.
If you'd like to experience our town from the water, here are a few choices.
Boston By Foot currently offers three Boston By Boat Tours. They've got options for exploring the city's history and architecture from the Charles River, Boston Harbor or both.
You won't get quite as much water time, but if you want a view from the Charles River while you continue to learn about Boston's history (and current day life), the Duck Tours mentioned above will give you just that.

For more information, go to Boston Duck Tours to hear about our family's experience on "Old Gloria".

 

In addition, most Boston Trolley Tours give you a free harbor cruise when you buy your tickets, making it an easy way to spend a little time on the Harbor.