We are reader-supported (thank you)! When you buy through links on our site, we may earn an affiliate commission.
A Boston Chocolate Tour is a fabulous way to get to know Boston while satisfying your taste buds at the same time.
Straight up – none of your options are cheap, but many still feel the tours are seriously worthwhile given how much fine chocolate you get to sample.
FYI, the first two tour companies mentioned below give you time to buy your own chocolate stash (or gifts) if you love what you taste.
Alright, enough chit chat – here are your options – enjoy!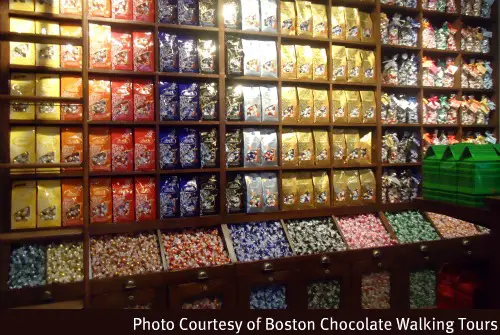 Boston Chocolate Walking Tours
Self-named the "sweetest tour in town," Boston Chocolate Walking Tours was founded by Harvard grad (and chocolate maniac) Valerie Beck. The company's mission is to Uplift Through Chocolate.


They currently have two different tour offerings:
Their Newbury Street Tour visits five chocolate shops along Newbury Street and in the Back Bay area. You'll learn about both Boston and chocolate history as you sample great chocolate and learn what makes each chocolate store unique.
Their Somerville Tour gives a behind-the-scenes look at how chocolate is made. You'll visit a real life Chocolate Factory as well as the kitchen of one of Boston's finest chocolate shops for delicious samples and fascinating chocolate knowledge.
Here are the logistics:
Boston Chocolate Walking Tours
Months: Year-Round
Times: Vary depending on the tour. Newbury Street Tours run Thursday-Sunday (1-2 tours per day). The Somerville tours run one Wednesday per month at 2pm.
Length: Newbury Street Tours: 2-2.5 hours, Somerville Tours: 1.5 hours
Conditions: Rain, Snow or Shine
Starting Locations:
Newbury Street Tours: O & Co, 161 Newbury Street, Boston 02116
Somerville Tours: 561 Windsor St. Somerville, by the Main Entrance

T-Stops:
 Newbury Street Tours: Copley Station on the Green Line
Somerville Tours: About a 20 minute walk from Central Station on the Red Line or Lechmere on the Green Line. There are also several buses that will take you even closer.
Advance Registration is Required
Tickets: $40
Phone: (617) 955-2228
Email: info@bostonchocolatewalkingtours.com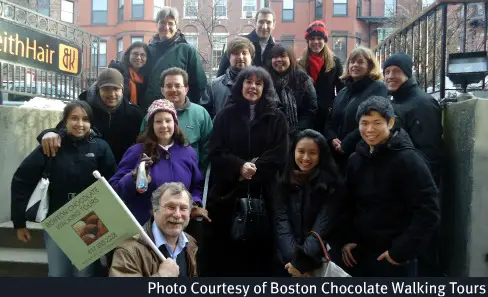 Boston Chocolate Tours
These tours take you on a variety of stops relating, in some way, to chocolate. From fine-chocolate shops to bakeries, restaurants and even a popular cosmetics company, these tours will give you a "taste" of chocolate from all perspectives.
As I'm writing this, Boston Chocolate Tours offers six distinct tours each of which run one time per week. So, if you have a particular neighborhood or style of tour in mind (how does a dessert, chocolate, & wine night tour sound to you?), you'll want to choose your tour and schedule the rest of your Boston sightseeing around it!
Here are the logistics:
Boston Chocolate Tours
Times: Vary depending on your chosen tour
Length: 2-2.5 hours
Reservations Required
Tickets: $48
Phone: 781-784-SHOW X 202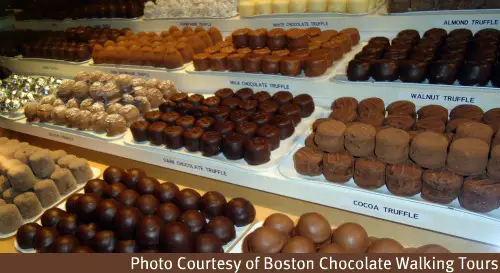 Old Town Trolley Tours Original Boston Chocolate Tour
The Old Town Trolley Chocolate Tours focus on three top Boston restaurants with unique chocolate offering and experiences. If you're not a big walker this is probably the tour for you as you'll spend a significant amount of time learning about Chocolate and Boston while on the Old Town Trolley.


The downsides to this tour are that they cost about twice as much as those mentioned above and they only run from January until April. The updside is that you get chocolate and a ride on an Old Town Trolley all in one!


Here are the logistics:


Old Town Trolley Tours
Months: January – April
Times: 11:00am and 12:15pm
Length: 3 hours
Starting Location: The Trolley Stop Store at the corner of Boylston & South Charles Streets
T-Stop: Arlington Station or Boylston Station on the Green Line


Reservations Required
Tickets: $80
Phone: 617-269-7150