We are reader-supported (thank you)! When you buy through links on our site, we may earn an affiliate commission.
There's a misconception that Thai food is practically the same as Chinese food. Although you'll find plenty of stir fried noodle, meat, and veggie combo dishes in both types of restaurants, that's where the similarities end. 
Thai food is noted for its sharp contrasts in flavor; spicy chilis typically share the spotlight in a dish with tangy citrus or sweet ingredients. Thai chefs also don't shy away from using a lot of herbs including several varieties of basil along with lemongrass and kaffir lime leaves. 
Also, Thai food is about so much more than pad thai, the dish most people associate with Thai food. Despite its modest size (about one-fifth the size of the U.S.) Thailand has many regions, each with their own notable dishes. 
That is why, when compiling our list of the best Thai Boston restaurants, we looked to ones that offer something beyond the usual core appetizers and entrees, so that you can sample a few to get a taste of true Thai cuisine. 
Here are the eight top Thai restaurants to try when you have a craving for this unique flavor profile.
Quick Snapshot: As usual, you can get a glance of our picks for the best Thai food in Boston in the video below, then jump to the ones you'd like to learn more about.
Our List Of The Best Thai Restaurants in Boston
Cha Yen Thai Cookery – Thai with a few pleasant twists

Brown Sugar Cafe – A tried and true Boston favorite

Pad Thai Cafe – For authentic Thai purists

Chalawan Asian Eatery – For the fusion lovers

What Da Chick – When you're craving the perfect chicken and rice

Sugar & Spice – Delightful for dates and dining

Kala Thai Cookery – Downtown Boston's best

9Zaab Street Food – The name says it all
#1 - Best For Those Who Like Surprises
613 Mount Auburn Street, Watertown
617-393-0031
Tues – Sat: 11:30 AM to 8:45 PM
Sun: 12 PM to 8:45 PM
Closed Monday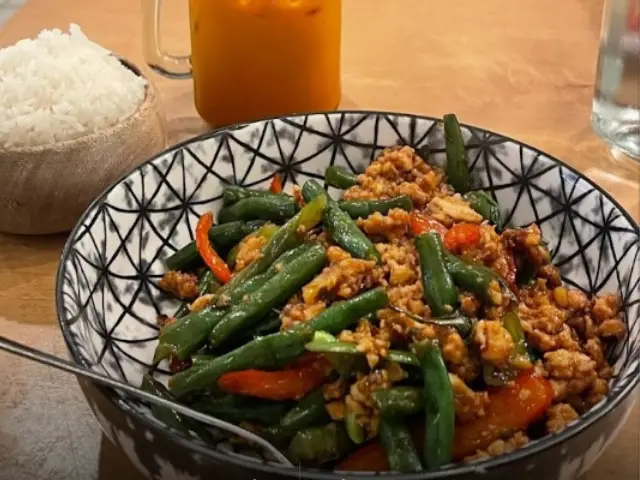 It would be a stretch to call the food at Cha Yen Thai Cookery authentic, but that's its draw. While you can enjoy some Thai staples here such as galangal soup, papaya salad, and pad thai, it's the surprise ingredients in some dishes that help the Watertown restaurant stand out. 
That would include the mouthwatering crabmeat fried rice, grilled e-sarn sausage (homemade pork sausage with ginger, peanuts, and chilis), and boat noodle soup, which comes with your choice of beef brisket or pork belly. 
For something different to start your dining experience with, opt for the corn cake (like a Thai version of cornbread) or the hot basil sliders—beef patties served on brioche with basil mayo. 
Cha Yen strikes a casual vibe and serves beer and wine. As a bonus, the restaurant makes its own ice cream with palette refreshing flavors that include Thai iced tea, spicy chocolate, and strawberry basil sorbet. 
#2 - Best Thai Restaurant With Staying Power
1033 Commonwealth Ave., Boston
617-787-4242
Mon – Wed: 4 PM to 9:30 PM
Thur – Sun: 12 PM to 9:30 PM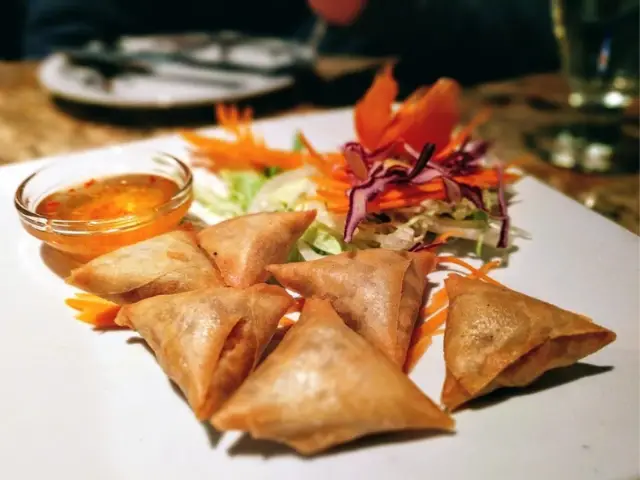 Brown Sugar Cafe's motto seems to be if it ain't broken, don't fix it – and considering it's been a Beantown institution for over 20 years now, the owners are definitely doing something right. That's the reason why it continues to attract a mix of diners from Boston University students to families and couples.
Most restaurants that go broad with the menu usually don't succeed, but Brown Sugar is definitely an exception. Although you'll find endless options divided up by the main protein, the Thai style dishes section is where you'll find authentic Thai cuisine. The yum poonim tod – soft shell crab with shredded mango and a spicy lim dressing – is a must try, as is the kai-jeow moo-sub (pan-fried minced pork omelettes) and kow moo dang, a combination of roasted pork, crispy pork rind, Thai sausage, and hard boiled eggs atop rice all covered with a crimson colored house sauce.
You also can't go wrong with the array of classic appetizers—everything from deep fried tofu squares to the house spareribs and tod mun, made of seasoned minced shrimp and deep fried to crunchy perfection. Brown Sugar also serves up several seafood dishes including salmon choo chee – grilled Atlantic salmon with curry sauce and vegetables – and tamarind fish, which is a whole bass fried in tamarind sauce and served alongside pineapple, snow peas, and peppers.
Desserts include fried ice cream, banana dumpling, and coffee custard – all fine ways to cap off a Brown Sugar visit.
#3 - Best For Authentic Thai Lovers
6 Hemenway St., Boston
617-267-2828
Mon – Sat: 11:30 AM to 10 PM
Sun: 12 PM to 10 PM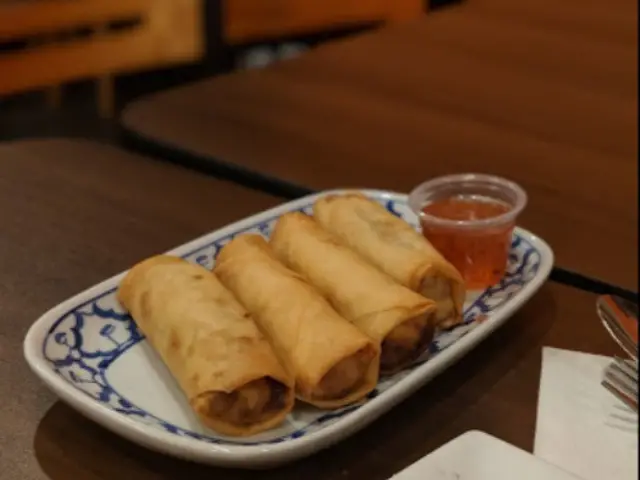 How do you know a restaurant serves authentic Thai dishes? When the menu states "This is not for a beginner" for its Thai taste section. But don't the Pad Thai Cafe's warning scare you off – it only means you've come to the right place if you're in search of real Thai food.
Despite its name that pays homage to the most well-known Thai meal, this small Back Bay eatery specializes in hard-to-find Thai delicacies. One of these is yum places duk fu – pillowy, crispy catfish topped with a tangy apple salad. Another is pad gator goong, which is comprised of spicy shrimp and stink beans.
For those who want to stick to more traditional dishes, there are plenty of curry, vegetable, and seafood options such as crispy chicken basil, seafood honeymoon (shrimp and squid with a veggie medley), and of course, a few variations on the dish the restaurant is named after.
Be forewarned that the seating is limited, which is why this restaurant is a popular takeout option.
#4 - Best Southeast Asian Fusion
1790 Massachusetts Ave., Cambridge
617-547-8888
Mon – Thur: 5 PM to 10 PM
Fri & Sat: 12 PM to 3 PM; 5 PM to 10:30 PM
Sun: 12 PM to 3 PM; 5 PM to 10 PM
If you want to explore not just Thai dishes, but those from the neighboring countries of Malaysia, Vietnam, Indonesia, and China, then Chalawan Asian Eatery should be on your radar. This warm, modern Cambridge dining spot delights with a large wall mural, cozy pillows, and an impressive wine selection to accompany your meal.
We recommend starting with a royal Thai salad featuring crispy skinned salmon, watermelon, basil, ginger, and lime, or the Chinese crispy pork belly and plum. For the main dishes, try the Indonesian wagyu beef cheek with chilis, anise, and roasted coconut, or the Thai red curry duck dish served with lychee, apple, and eggplant.
There are plenty of vegetarian dishes to savor as well: stir fried Szuechuan eggplant, chili tofu, and vegetable curry as well as several salads. The attentive and friendly staff and unique dishes ensure your first visit to Chalawan won't be your last.
#5 - Best For Chicken And Rice Fans
1 Crawford Street, Watertown
617-744-6336
Mon – Wed: 11 AM – 8:45 PM
Thur – Sun: 11:30 AM – 8:45 PM
Where other Thai restaurants try to give a wide range of regional specialties, one focuses on variations of one popular dish and does it extremely well. That would be the cheekily named What Da Chick, which has perfected the popular southeast Asian street food dish khao-mun-gai, or poached chicken with fragrant ginger rice.
With its bright yellow outside and giant chicken painted near the entrance, the Watertown restaurant is easy to spot. Inside, diners will find casual dining and chicken and rice galore served with a variety of sauces including sweet chili and spicy lime.
You can order your chicken crispy or go the healthier route and have it poached or roasted. Side dishes include daikon soup, fried gyoza, and seaweed salad, and the restaurant offers shaved ice and toppings for dessert.
#6 - Best Thai Food Dine-In Experience
1933 Massachusetts Ave., Cambridge
617-868-4200
Sun – Sat: 11:30 AM – 2:15 PM; 4 PM – 9:15 PM
While many restaurants on our list are more suited for takeout, Sugar & Spice—a Porter Square fixture for over a decade—makes a delightful dining destination. The interior is just spacious enough, the service is attentive, and you can enjoy beer, sake, or wine with your meal.
Sugar & Spice boasts over 100 dishes on their menu, including many you won't find at other Thai restaurants. Consider the show stopping vegan kow yum consisting of colored rice served with seasonal fruits and vegetables, or the yen-ta-fo moh fai, a noodle soup containing a medley of crispy shrimp, squid, fish balls, BBQ pork, and wonton in a spicy tomato broth.
Sugar & Spice nicely represents Thai cuisine from the northern, southern, and central regions as well as the northeastern region of Isan which is known for its spicier, less sweet dishes. Try the papaya based salad som tom Thai, or the larb ped isan, thinly sliced duck breast with crispy dusk skin.
The restaurant also offers a variety of refreshing non-alcoholic beverages and desserts to cap off you meal such as bubble tea, fried ice cream, and taro pearls in coconut cream.
#7 - Best Thai Restaurant In Downtown Boston
151 Hanover St., Boston
857-350-4378
Mon: 11:30 AM – 9 PM
Wed – Sat: 11:30 AM – 9 PM
Sun: 12 PM – 9 PM
Closed Tuesdays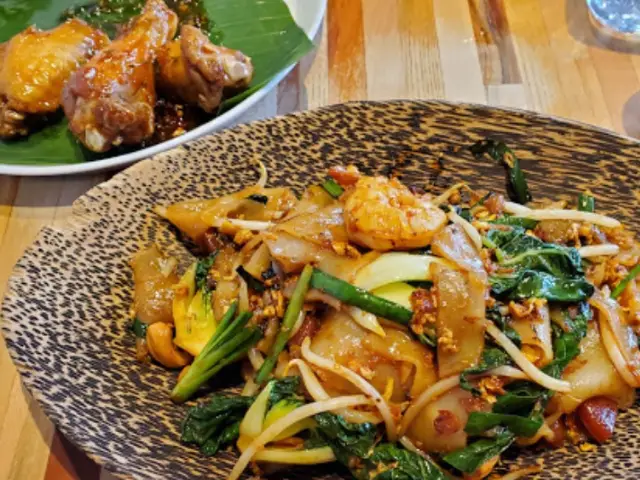 Kala Thai Cookery is the sister restaurant of Cha Yen Thai Cookery, also on our list, and is widely regarded by its fans as the best Thai food Boston has to offer. Its close proximity to the North End makes it a convenient lunch stop if you're doing sightseeing in town, and the inside dining area, while casual, is appropriate for date night.
For a starter, you'll definitely want to try the corn cakes—fried corn fritters served with peanut sauce—as well as the kapow dumplings, which are steamed or fried chicken and hot basil dumplings. For entrees, the short rib curry is one you won't find in other Thai restaurants, as is the roasted duck breast with asparagus and soft boiled egg.
The spicy tom yum soup which comes with your choice of chicken, shrimp, or tofu delivers an herbal kick, and the pad Thai here impresses with choice of big pieces of chicken or shrimp. Kala Thai Cookery also offers several curries which can be supersized for an additional $4, making them ideal for sharing or leftovers.
#8 - Best Thai Street Food
569 Cambridge St., Cambridge
617-868-6644
Tue – Sun: 11 AM – 9 PM
Closed Mondays
The name says it all; 9Zaab's focus is on street food and that means a large variety of protein served with rice (look for the menu section where all of the dishes begin with khao, which means rice.)
But this Cambridge eatery is full of pleasant surprises, too, even for people who have traveled to Thailand. You can order the famous papaya salad as it's traditionally prepared, or order it with anchovy paste, salted crab, or both. Crab fans can also enjoy the soft shell variety with pad Thai.
And for those chilly New England winters, we recommend the Thai beef stew hot pod, where tender meat mingles with Thai herbs and Chinese broccoli.
There is a fried rice plate for everyone, from the chili-infused tom yum to the slightly sweet mango. And if it's street noodles that you're craving, 9Zaab has you covered: prawn pad thai, sizzling sukiyaki, ba mee crispy chicken, and drunken noodles are all popular choices.
Our list has something for diehard Thai fans as well as those who are new to this Asian cuisine. We hope you'll enjoy "eating your way through Thailand" by visiting a few restaurants on our list!
A. The good news for diners with celiac-related health conditions is that many Thai restaurants offer gluten-free dishes. Even the noodle-based dishes can be gluten-free as long as the restaurant is using rice noodles. However, people on a gluten-free diet will need to be aware that any fried tofu may contain wheat-based flour, so it's best to consume only pan fried or steamed tofu. Also, soy sauce can contain gluten so ask your server if it's possible to have a dish made with tamari as a substitute.
The most well-known Thai menu items that are gluten-free include pad Thai, tom yum (hot and sour soup), tom kha (traditional coconut and galangal soup), and som tum (papaya salad). Most common ingredients used in Thai cooking such as rice, rice noodles, fish sauce, palm sugar, and coconut milk are all gluten-free.
A. While Thai cuisine as a whole is spicy, some dishes are milder than others. Most restaurants will indicate the level of hotness in the menu and may give an option to tone the heat down.
Spices and herbs help balance the flavor profile and were first used in Thai cooking centuries ago to help preserve food and to help people keep cooler in the hot weather (spicy food increases blood circulation which can help the body expel heat.) Pad prik, tom yum kung, and khao pad nam prik narok are three dishes that use chilis as one of the ingredients and are best avoided if you don't care for very spicy food.
If you're a newbie when it comes to Thai food, you'll want to choose milder dishes until your tastebuds become acquainted with the ingredients. Yellow curry is usually mild, although the addition of turmeric can make a meal spicier. Green curry is usually a little spicier, although it also delivers a pleasant citrus-like flavor.
Good dishes for beginners to try include pad thai—which traditionally isn't very spicy, khao pad (Thai fried rice), som yum (papaya salad), kai med ma muang (chicken with cashew nut), and pad see ew, which are Thai stir-fried noodles.
And don't forget dessert! Traditional dishes such as fried ice cream and mango sticky rice are sure to make anyone a Thai food fan.
More Great Resources About Eating in Boston