We are reader-supported (thank you)! When you buy through links on our site, we may earn an affiliate commission.
Dim sum is more than just a meal; it's a whole other dining experience.
Instead of hovering over a buffet or having dishes quickly whisked to your table, servers navigate carts full of small plate items such as dumplings, buns, and congee (Chinese rice porridge) through the dining area. You make your selection and enjoy it until the next cart comes around.
Usually served around breakfast or brunch time, it's a meal to be savored with loved ones or friends accompanied by tea.
Do you love food inspired experiences?
Check out these scrumptious Boston-based food adventures:
In Boston's Chinatown community, three dim sum palaces reign supreme: Empire Garden, Hei La Moon, and China Pearl. But smaller restaurants—which often can't accommodate serving carts—are not to be overlooked. Oftentimes, their dim sum dishes also taste fresher because they're made to order.
We've compiled the best dim sum restaurants in Boston based on menu selections, atmosphere, and overall diner ratings online. We've also highlighted what makes each one unique.
Quick Snapshot: Watch our video below for a quick overview of our dimsum Boston favorites. Then you can jump to our reviews of the ones that look the most exciting to you.
Best Dim Sum Restaurants in Boston
Winsor Dim Sum Cafe – best cartless dim sum dining

China Pearl – a Chinatown classic

Joyful Garden – the place to go before your shopping trip

Hei La Moon – big crowds, small prices

Great Taste Bakery and Restaurant – dim sum + dessert to go

Empire Garden Restaurant – dim sum in a grandiose setting

Ming Seafood Restaurant – Chinatown dining beyond Chinatown

Sun Kong – your reliable backup in case you don't want to go into town
#1 - Best Cartless Dim Sum Experience
10 Tyler St, Boston
617-338-1688
Open daily 9 AM – 10 PM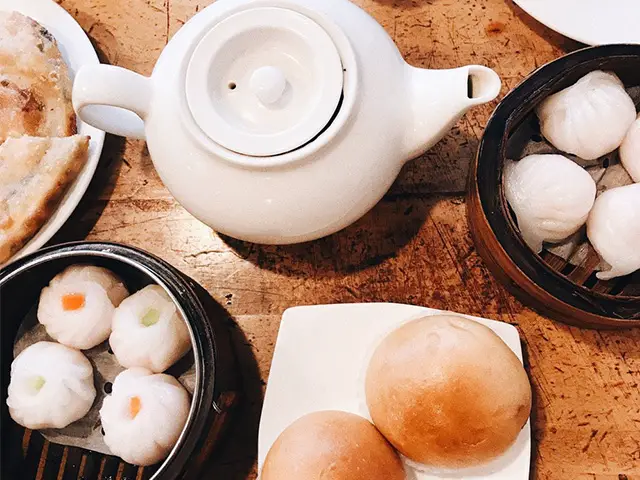 This small, casual teahouse was recently voted the city's top dim sum restaurant by Boston.com readers which is saying something considering there are much larger options nearby. Although there's never a quiet time to visit Winsor Dim Sum Cafe, servers manage to get the fresh dim sum selections out to tables fast—no small feat considering you won't find them on carts. These dishes are made to order and arrive fresh and hot.
There are dozens of dim sum selections in Dim Sum Café menu such as shumai, har gow, spareribs in black bean sauce, deep-fried shrimp rolls, steamed barbecue pork bun, glutinous rice wrapped in lotus leaf, sesame balls, marinated sliced beef shin, shrimps wonton, and pepper shrimps. There is also a big variety of sauces offered: from sweet and mild to hot chili sauce.
If you arrive alone or with a few other people, expect to be seated next to strangers at any of the large, round tables that take up most of the dining area. And don't be surprised to find a line going out the door!
#2 Best Traditional Dim Sum Experience in Boston
Boston Location:
9 Tyler St, Boston MA, 02111,
617-426-4338 (as of 3/7/22, temporarily closed for renovations)

Quincy Location:
237 Quincy Ave, Quincy MA, 02169,
617-426-4338


Mon: 9:30 AM – 8 PM
Tues: Closed
Wed – Fri: 9:30 AM – 8 PM
Sat & Sun: 9 AM – 8 PM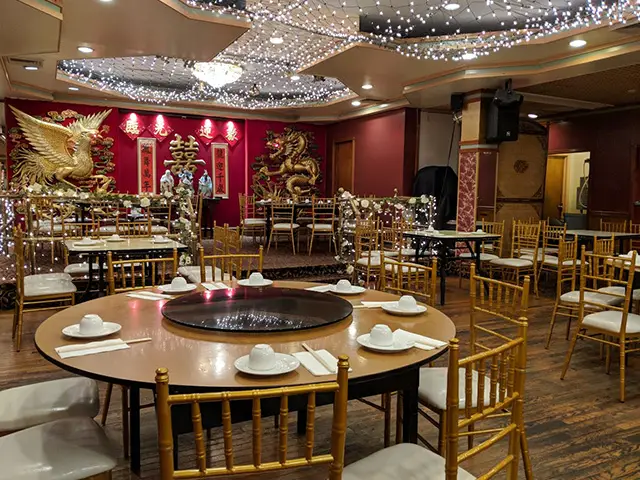 If the Winsor Dim Sum Cafe leaves you feeling a bit claustrophobic, there's plenty of space to stretch out next door at China Pearl, one of the best dimsum in Boston. The spacious upstairs dining area has a relaxed vibe, with soothing traditional music and hanging red lanterns setting the tone.
China Pearl offers an amazing selection of dim sum plates including eggplant with shrimp stuffing, steamed spareribs and chicken feet with rice, steamed lotus butter bun, and Japanese-style tofu steak. For dessert, the sweet tofu with ginger syrup and egg tarts should definitely be on your list.
The friendly servers go from table to table offering the latest productions from the kitchen. You point to what you want, and your server will note it on your check and leave it on the table. You can then bring your check up to the hot bar to sample more adventurous dishes such as chicken feet, beef tripe, and turnip cakes.
Dim sum here is definitely best during the morning hours, so arrive early. After noon or so the selections start to peter out as the restaurant prepares for the lunch crowd.
=>Click below to see more great places to eat authentic Asian food:
#3 - Best Dim Sum Mall Restaurant
550 Arsenal Street, Watertown
617-356-1234


Daily 9 AM – 10 PM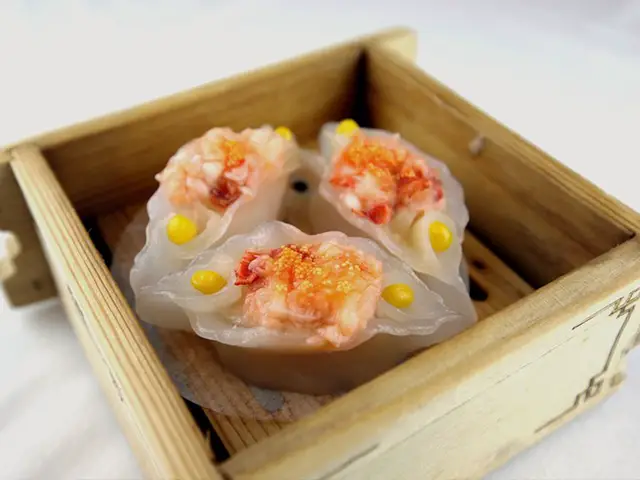 You probably wouldn't expect to find superior Boston dimsum tucked away in a mall, but give Joyful Garden a chance. There's no food court fare here; just plentiful, authentic dim sum dishes such as pork and shrimp dumplings, joyful shrimp dumplings, crab rangoon, steamed glutenous rice, bean curd skin wrap, and crispy roast pork bun.
Unique dim sum delicacies made here include the generously sized shumai, durian pastry (it has a super creamy center), and bo luo bao (pineapple buns.) If you like crispy and deep-fried dim sum, Joyful Garden won't disappoint with menu items such as pan-friend stuffed eggplants, deep-fried crab claw with shrimp stuffing, and pan-fried chives dumplings.
Best of all, the dim sum menu here runs past lunchtime until 3 PM, allowing plenty of time to get a shopping fix in first.
#4 - Biggest Bang for the Buck Dim Sum
88 Beach St, Boston
617-338-8813
Mon – Fri: 11 AM – 8 PM
Sat & Sun: 10 AM – 8 PM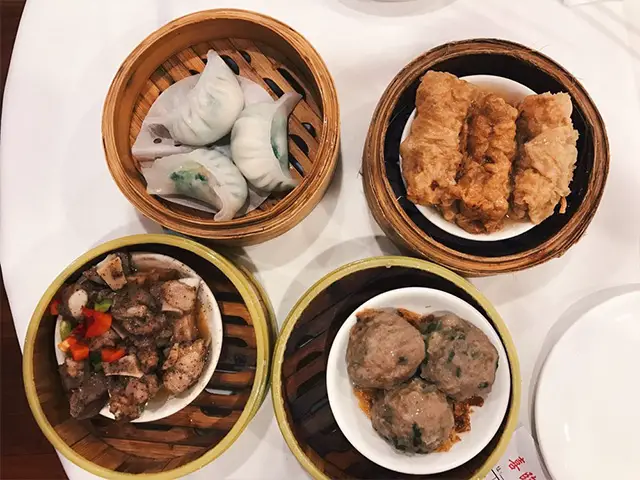 Hei La Moon is the hot spot you want to go when you need to satisfy a large dining party with a dim sum craving. There are at least 50 large tables in the Chinatown staple's double floor dining area. Sculpted golden dragons and red walls add to the delightful kitsch factor.
This is also one of the most affordable and best dimsum in Chinatown Boston restaurants. You can easily sample seven or eight hot authentic Cantonese dim sum dishes plus enjoy tea for under $50.
Dim sum starts early here at 8:30 AM. Selections include beef ball, shark fin dumpling, har gow, egg yolk paste bun, taro cake, curry beef tripe, lotus seed paste balls, baked roast pork cakes, and deep-fried chives balls.
Don't be surprised if you have to aggressively flag the servers with carts down; the mad rush is part of the experience, and the food for the price is definitely worth it.
#5 - Best Bakery/Restaurant Combo
61-63 Beach St, Boston
617-426-6688
Mon – Fri: 11 AM – 8 PM
Sat & Sun: 10 AM – 8 PM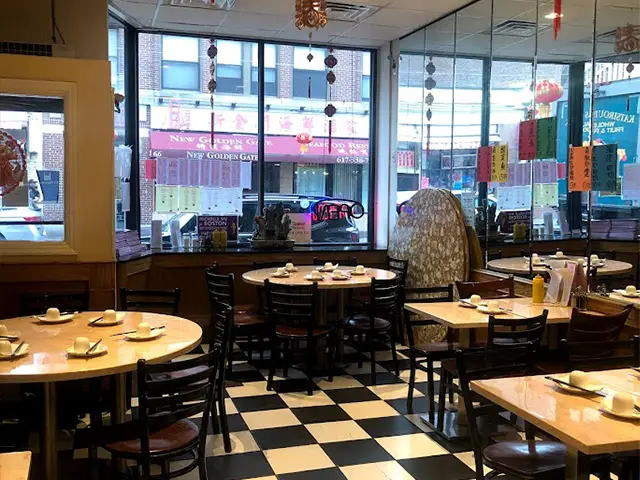 This unassuming Cantonese hot spot located close to Boston's Chinatown Gate is split into two sections; one side a bakery with a counter, the other a restaurant. The dim sum isn't as varied as nearby restaurants, but the food is delivered hot and fresh.
While the inside is no-frills and small, the food is authentically prepared. You can make your selections from a paper list with most dim sum selections costing about the same.
Must-try items include the giant bao buns, which are fluffy, moist, and filled with pork, shiitake mushrooms, salted duck egg yolk, and water chestnut.
After your meal, visit the bakery and get some Chinese pastries to go to satisfy your sweet tooth.
#6 - Dim Sum in Boston: Best Ambiance
690 Washington St, Boston
617-482-8898
Open daily 9 AM – 9 PM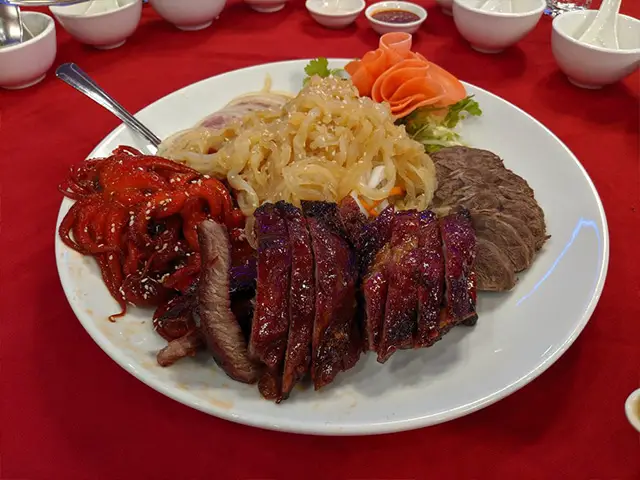 It's worth a trip to Empire Garden Restaurant just to see the space. How many restaurants in Chinatown, let alone the city, can boast that they were once a theater that hosted vaudeville acts? The grand arched ceilings add to the already cavernous dining room.
Empire Garden is so old school Chinese restaurant it doesn't have a website, but don't let that put you off. The food is done well with popular dim sum menu items such as white fluffy pork bun, shrimp dumplings, chicken feet, shrimp and chives dumplings, and sesame balls. Many diners compare the experience to eating in China, right down to the stains on the well-used tablecloths.
And if you want to return for standard Chinese food, this is one of the few Chinatown restaurants that prepares authentic Peking duck.
#7 - Best Dim Sum Just Beyond Boston
477 Hancock St, Quincy
617-202-5118
Open daily 9 AM – 10 PM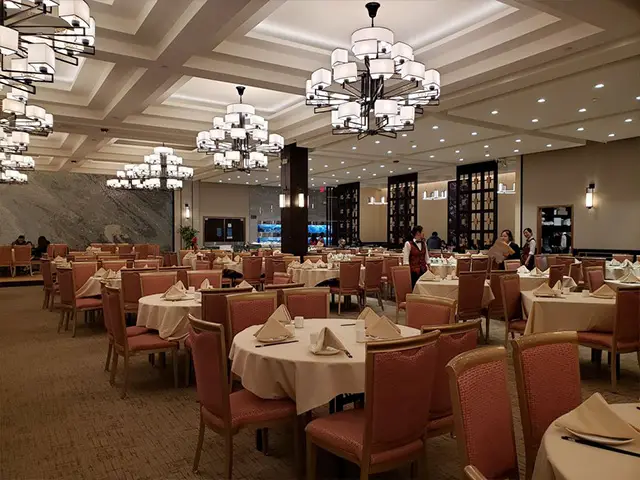 Located in a Quincy shopping center, Ming Seafood Restaurant serves up the best dim sum this side of Chinatown. Even with a massive dining room there can be a wait, particularly on the weekends.
Unlike many other dim sum near me restaurants, Ming offers a picture menu so you can get an idea of what you're ordering and can simply point when the appropriate cart comes around. The dim sum menu is rather extensive already, but two things really make this restaurant stand out.
One is that is has a selection of dim sum dishes on the large side which are perfect for sharing. The other is that it specializes in fusion dim sum, with unique food such as golden curry fish balls, crystal scallop and spinach dumplings, and cheese-baked glutinous rice with chicken.
Other offerings include the water chestnuts cake, pork and shark fin dumplings, fish and shrimp meatballs, and crispy fried fresh milk—yes, milk.
Arriving with a large group is no problem given the restaurant's spacious dining area, but be aware that all members of your party must be present before you can be seated on weekends.
#8 - Best Dim Sum North of Chinatown
275 Eastern Avenue, Malden
781-388-9900
Open daily 9 AM – 9 PM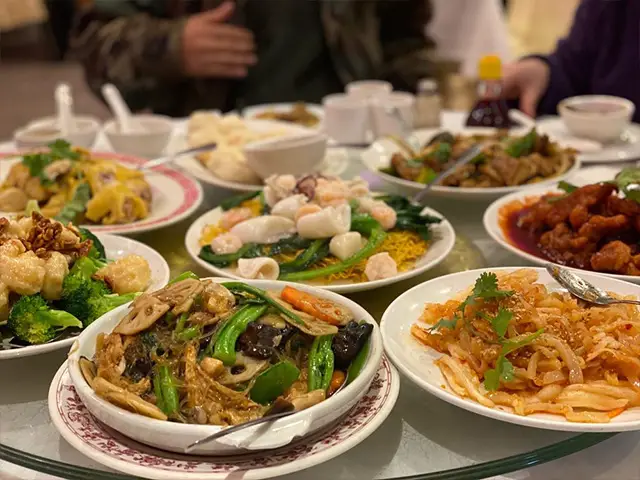 Malden's mayor has a soft spot for this north-of-Boston dining destination and you will too after sampling any of the 65 items on its dim sum menu. While the dining area is cramped, there are usually three carts circulating during dim sum hours.
Favorites here include the baked crispy egg custard, baked durian pie, Chau Chau style dumpling, chicken feet with black bean sauce, fried dough rice rolls, steamed beef tripe, and jumbo shrimp with asparagus. They also make the traditional Cantonese dish chang fen (rice noodle roll in red skin.) All dim sum orders are accompanied by two types of tea.
Like most dim sum places, it can get crowded on the weekends, so be prepared for a wait and a busy parking lot.
Although Boston's Chinatown will always be considered the go-to destination for dim sum cravings, our list shows that there are great options on the outskirts of Boston as well. Our opinion of the best dim sum Boston? Try a different one every weekend to find your favorites!
Most frequent questions and answers