We are reader-supported (thank you)! When you buy through links on our site, we may earn an affiliate commission.
If you're looking for a tasty, nutritious meal to fill you up without expanding your waistline, it's hard to beat pho (pronounced "fuh".) Although this bone broth-based Vietnamese noodle soup has existed for over a century, it's still relatively new to the Boston food scene. We can thank the Vietnamese who immigrated here after the fall of Saigon in the 1970s for introducing the delicious dish—which is commonly consumed for breakfast—to American palates.
Traditionally, pho contains lean cuts of beef and bean sprouts but as you'll see from our restaurant list, many chefs offer variations of the soup to please a wide variety of tastebuds. And few people would argue that nothing beats a wintry Boston day like slurping down a hot bowl of savory, tangy, or spicy soup.
Now Boston hosts a few of the most authentic Vietnamese restaurants, providing delectable dishes that will surely titillate your taste buds. From traditional bone broth-based soups and fried tofu to modern interpretations of classic dishes, there's something for everyone at one of these great eateries. For those looking for an authentic experience, try one of the many pho Viet restaurants in the area. If you're looking for a more convenient option, consider one of the best pho restaurants near me that serve up delicious soups and sides. No matter which restaurant you choose, be sure to sample some of the best pho Boston has to offer! So let's dip right into our picks of the eight best pho restaurants in Boston!
Quick Snapshot: For a quick visual of the pho restaurants recommended on this page, watch our video below. Then you can skip down the page for more info on the ones that look like love at first slurp.
Your Guide To The Best Pho In Boston
Pho Pasteur – Tried and true

Beantown Pho & Grill – Newbury Street surprise

Pho Basil – A student favorite soon to be yours

Soall Bistro – Worth venturing out of town for

Viet Citron – Best beef pho in the burbs

Pho Le Restaurant – Unique offerings not easily found elsewhere

Soup Shack – For those who love soup with their soup

Pho Viet's – Best for takeout
#1 - A Classic Crowd Pleaser
682 Washington Street, Boston
617-482-7467
Open seven days a week from 9 AM to 8:45 PM
A few years after Pho Pasteur opened up its Chinatown location, it was racking up awards from local publications with good reason. The family-owned noodle haven is known for its fast service, fair prices, and of course, large bowls (be prepared for leftovers) chockfull with plenty of tender meat.
The restaurant's pho menu selection is divided up by protein (beef, chicken, and seafood). All soups arrive with a plate of bean sprouts, basil, and lime to garnish your bowl to your liking and you can request more or less spiciness in your broth. Fortify your pho adventure with the tasty spring rolls, shrimp cake, or Vietnamese pancake or the wide selection of other delicacies such as vermicelli, tofu salad, and pad Thai.
Pho Pasteur also has a Quincy location. Both strike a clean, casual vibe with plenty of plants and natural light—perfect for a date night or grabbing a bite with friends.
#2 - Best Lunch Option On Newbury
272 Newbury Street, Boston
857-262-8440
Open seven days a week from 12 PM to 9 PM
With its tony shops and brunch stops, Newbury Street is probably the last area where you would expect to find a Vietnamese restaurant. Yet Beantown Pho & Grill thrives here, namely because it serves up a tasty menu with a few surprises to shoppers looking for a quality bite to eat.
Some of these flavorful surprises include a coconut tom yum noodle pho, a vegetarian pho that is made with vegetable broth (and optional tofu), and a seafood noodle soup that includes a fish cake. If you're not in the mood for soup, we recommend trying the make-your-own rice paper (banh hoi) which comes with meat of your choice, vermicelli, mint, lettuce, carrots, cucumbers, crushed peanuts, and watercress served with a dipping sauce.
Outdoor seating offers the ideal place to chill and people watch while sipping a limeade.
177A Massachusetts Avenue, Boston
617-262-5377
Sun – Thurs: 11:30 AM – 10 PM
Fri – Sat: 11:30 AM – 10:30 PM
Don't let the line of college students waiting to get into Pho Basil turn you off. Chances are they're picking up takeout, and this Vietnamese eatery strives to keep things moving.
You'll find it's worth the wait. The pho selections are rather generous, and for an additional $2 you can have beef balls or raw eggs added to your bowl. In addition to the traditional beef and chicken pho dishes, you'll find the spicy pho sate which is made with chili oil and cherry tomatoes, and bun bo hue, a lemongrass soup of rice vermicelli and flank steak served in a lemongrass broth.
Pho Basil hasn't forgotten its vegan diners and offers a vegan pho as well as a veggie tofu curry dish and veggie gyoza. Curry puffs, drunken noodles, and the rice plate should all be on your must-try list, and the restaurant offers a variety of lunch specials.
#4 - Best Pho On The North Shore
211 Rantoul Street, Beverly
978-969-1960
Tues – Sat: 11:30 AM to 3 PM; 5 PM to 9 PM
Closed Sunday and Monday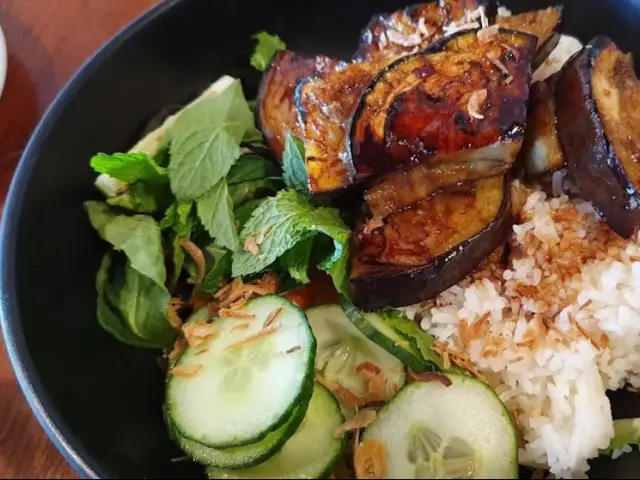 If you're willing to venture north of Boston for some authentic pho and Vietnamese food with some French twists, Soall Bistro in Beverly is well worth the trip. The woman-owned restaurant is conveniently located just steps from the Beverly commuter rail, and offers a variety of banh mi sandwiches and original dishes in additional to traditional pho.
The bistro's pho arrives with jalapeño, hoisin, and sriracha in addition to the standard lime, herbs, and bean sprouts. Add-ons include brisket, shrimp, soft boiled eggs, deluxe veggies, chicken, and rare beef. Soall also features a claypot of salmon or chicken caramelized in a savory sauce and several different bowls consisting of veggies, rice, vermicelli, and your choice of protein.
The restaurant's interior is fresh and modern. And if you're a veteran, active military member, law enforcement professional, firefighter, or EMT, show your ID to enjoy 30% off.
#5 - Best Pho For Beef Lovers
47 Middlesex Turnpike, Burlington
781-750-3021
Tues – Sun: 11 AM to 7 PM
Closed Monday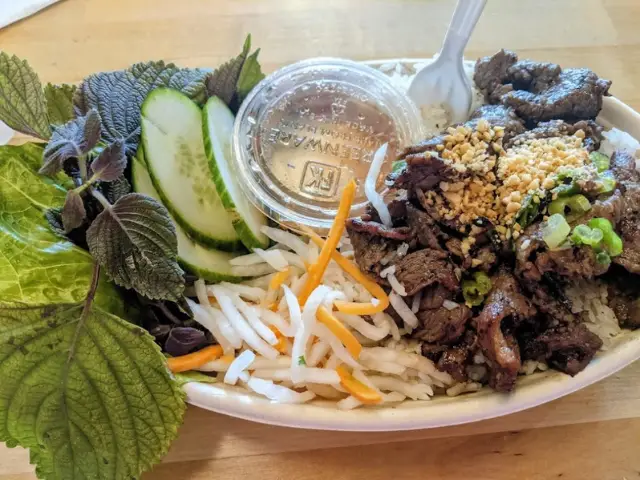 Viet Citron in Burlington has developed a devoted following of Vietnamese food fans, no small feat for a business that opened just as the pandemic forced Massachusetts restaurants to temporarily cease on-site dining. Thankfully, the restaurant is thriving with its strong selection of street food favorites.
The pho options definitely lean heavily towards beef lovers. The rich beef marrow bone broth that forms the base of the dishes takes 48 hours to make. You can choose from a traditional beef noodle soup, meatball pho, beef brisket pho, or braised short rib pho, just to name a few. There is no chicken pho currently on the menu; the only deviation is pho made with jumbo tiger prawns.
Viet Citron's other unique quality is its seasonal specials. For summer 2022, those included Viet grilled corn, chili lemongrass port ribs, and sirloin summer rolls. Wash it all down with the salted lime and plum drink and you've got a unique dining experience under your belt.
#6 - Most Unique Menu Items
1356 Dorchester Avenue, Boston
617-506-6294
Mon- Fri: 10 AM to 10 PM
Sat & Sun: 9 AM to 10 PM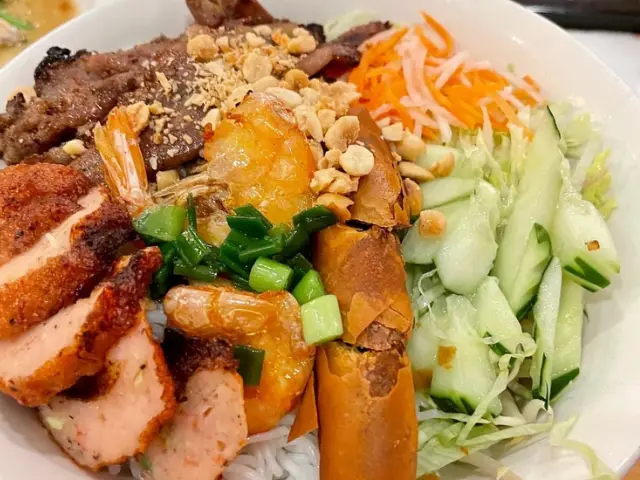 It's not uncommon for this family-owned business on Dorchester Ave. to be packed even on a Monday night. Authentic Vietnamese fare made with the freshest ingredients is the reason why.
Bowls of pho are available in three sizes (small, large, and extra large) and arrive topped with thinly sliced onions, cilantro, and scallions. Most of the offerings are variations of beef noodle soup, but a chicken pho and vegetable noodle pho are also available.
Sure, Pho Le Restaurant serves up plenty of the dish it was named for, but the menu also delights with dishes that are elusive at most other noodle soup eateries. These include roasted quail, shrimp toast, lotus root salad, and baby clam rice. If you're looking for something to slurp beyond pho, try the other soups such as crab meat noodle soup, seafood noodle soup, or the spicy hue style noodle soup made with lemongrass and sliced banana blossoms. And did we mention the whole grilled catfish?
A bonus is that this restaurant has its own parking lot for patrons, so there's no excuse not to check it out.
#7 - Best For Those Who Love Soup Variety
779 Centre Street, Jamaica Plain
617-477-9805
Sun – Thurs: 11:30 AM – 10 PM
Fri & Sat: 11:30 AM to 10:30 PM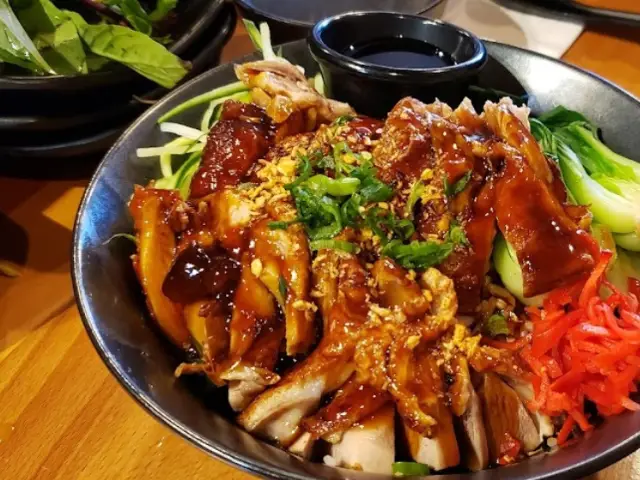 The name says it all: the Soup Shack's speciality is soup of the pho and ramen varieties, along with rice bowls and appetizers on the menu. Jamaica Plain was the first location to open in 2018, two other locations in Brookline and Cambridge soon followed.
While you won't find the largest pho selection on the menu, the restaurant is proving that less is more: the beef is carefully cooked so that it's just barely beyond raw, which makes for an authentic dish. In addition to chicken and spicy beef noodle soups, Soup Shack also makes a unique pork and shrimp dumpling pho with ramen noodles and bok choy in a chicken broth.
For an added cost, you can make the bowl your own with add-ons such as braised pork belly, steamed tofu, pickled green mustard, and even a chicken drumstick. Apps include octopus balls, deep fried oysters, and steamed buns with your choice of meat. A selection of Thai noodle and rice dishes round out the menu.
Grab the outdoor seating if it's available as the inside is rather tight for dining.
1022 Commonwealth Avenue, Brookline
617-562-8828
Sun – Mon: 11 AM to 8 PM
Wed – Thurs: 11 AM to 8 PM
Fri – Sat: 11 AM to 8:30 PM
Closed Tuesday
The owners of Pho Viet's have declared their Vietnamese restaurant the best in Boston, and it would be hard to dispute that considering their banh mi has won an award. The original Allston location moved to Brookline, but the menu has stayed as flavorful and portions as generous as ever.
Pho Viet's noodle soup selection is rather extensive, with dishes that include a veggie and tofu rice noodle soup, fish ball noodle soup, and braised beef stew in addition to the traditional beef noodle bowl. There are several vegetarian dishes as well as rice plates, vermicelli, and the usual appetizers.
Because the restaurant layout is narrow with limited seating, we prefer it for takeout over dine-in, but if you hit it early enough or after the lunch hour you should be able to grab a seat.
Our list includes a few restaurants outside of the city to show that you don't need to venture into town for authentic pho. We'd love to hear your thoughts on the ones you find the most slurp-worth once you've had a chance to try them out!
A. With its nutrient-rich bone broth, lean cuts of meat, and optional veggies, pho can be a healthy meal that packs a lot of protein for a relatively low amount of calories. That's a major reason why many Vietnamese enjoy it for breakfast. One strike against it is that it can contain a lot of sodium, so if you have high blood pressure or a heart condition you may want to enjoy it only occasionally.
A. Pho and ramen are both Asian soups consumed as meals, but where Japanese ramen is made with wheat-based noodles and a hearty broth, pho is traditionally made with rice noodles and a lighter, herb-based bone broth. This also makes it a gluten-free dish.
A. Unlike other Vietnamese dishes, traditional pho made with beef and broth is usually not spicy. However, many restaurants will offer at least one pho variation made with spicy ingredients such as chili oil. Most restaurants are also happy to accommodate your request to make your bowl more or less spicy to suit your taste.
If you are fond of Asian cuisine check out our best selections:
More Great Resources About Eating in Boston