We are reader-supported (thank you)! When you buy through links on our site, we may earn an affiliate commission.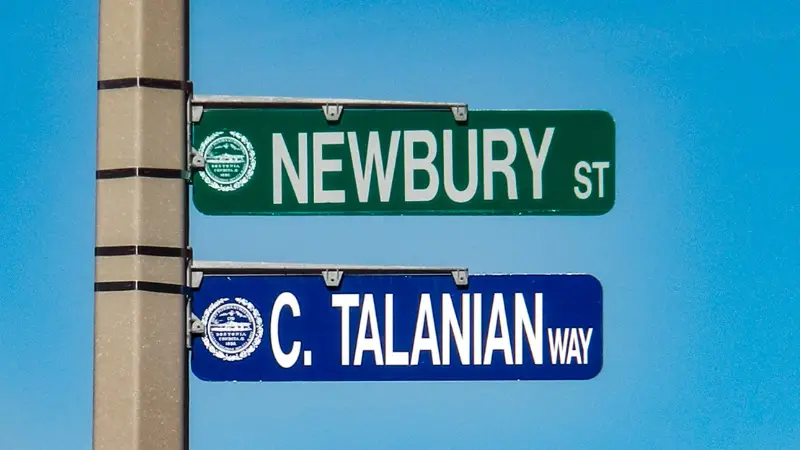 A visit to Boston would not be complete without a stroll down Newbury Street. With its many trendy boutiques and luxury brand storefronts, it's comparable to Park Avenue and considered one of the most expensive streets in the world.
Even if you don't have the spending budget for many of the retailers that line this well-known thoroughfare, just know that it's not all about shopping. Newbury Street is also home to several restaurants and eateries where you can grab a bite to eat outside and people-watch.
The higher the street numbers climb as you make your way from east to west from the Boston Public Garden towards the Hynes Convention Center and Massachusetts Avenue, the less expensive and more bohemian the shops become. Newbury Street is also within walking distance of other favorite Boston attractions including Copley Square, Prudential Center, John Hancock Tower, Trinity Church, Boylston Street, and the Charles River.
The street was constructed in the mid-19th century and shops started to fill its infamous brownstones as early as the 1920s. But it wasn't until the 1970s—when the original Newbury Comics opened—that it truly transformed into the shopping destination it's become today.
Sadly, the pandemic led to the permanent closing of many notable stores on Newbury Street including Diane Von Furstenberg, Brooks Brothers, Marc Jacobs, Ted Baker London, and smaller speciality shops such as Sea Bags. Vegan restaurant Double Zero Pizza also shut down operations. However, new retailers are consistently replacing those that leave.
Our comprehensive guide breaks down the best luxury brands, retailers, food, restaurants, and specialty shops along the mile-long distance that is Newbury Street. That is a lot to cover, so let's get right to it!
Note: since Newbury Street has so much to offer, we've broken our list into the following sub-sections: luxury brands, specialty shops, food shops, and retail stores.
Quick Snapshot: Our video offers a quick visual look at our top Newbury Street picks and allows you to jump directly to the ones you want to know more about!
Best Shops on Newbury Street
Polo Ralph Lauren – Classic Americana

Akris Boutique – Your Favorite European Brand You Haven't Heard Of

Chanel – Iconic Coco

Cartier – Fine French Baubles

Valentino – That's Amore

Longchamp – It's In The Bag

Rick Walker's – Where Rock And Roll Meets The Wild West

Bobbles & Lace – Perfectly Priced Women's Clothing

Simon Pearce – Handcrafted Goods and Gifts

State & Liberty – It Definitely Suits You

John Fluevog Shoes – Fancy Footwear

Johnny Cupcakes – Something's Cooking, But It's Not What You Think

Small Pleasures – Antique Jewelry

MUJI – Minimalist Heaven

Newbury Fine Arts – Dress Your Walls

Pavement Coffee House – Perks and People Peeping

Dirty Water Dough Company – Boston-Style Pizza

La Voile – French Perfection

PURO Ceviche Bar – Nuevo Latino Food

Mother Juice – Love, Peace, and Smoothies

The Dr. Martens Store – The People's Boot

Nordstrom Rack – Nordstrom On The Cheap

Lilly Pulitzer – She Comes In Color Everywhere

Urban Outfitters – Classic Funky Finds

Newbury Comics – Back to Where It All Began
Best Luxury Brands on Newbury Street
#1 - Best American Clothing Brand
93-95 Newbury Street
617-424-1124
Mon – Sat: 10 AM to 6 PM
Sun: 12 PM to 5 PM
Ralph Lauren's Newbury Street location is so large, it takes up two street numbers and spans three levels. In keeping with the Ralph Lauren brand, shoppers are treated to luxurious store design details such as a rich dark staircase and art-lined walls that steal the show from the clothing.
The women's and men's clothing offered here are not quite the same as some of the Ralph Lauren clothing found in department stores. The quality is definitely of a higher caliber, with all suits made in the U.S. or Italy using fabric from reputable mills. They also sell the brand's Purple Label line here, which is considered the superior (and most expensive) Ralph Lauren clothing line, as they are made in smaller quantities of premium Italian fabric.
The service here is also very attentive and helpful, and the store offers styling appointments, made-to-measure tailored clothing, alterations and repairs, and curbside pickup.
#2 - Best Modern European Luxury Designer
29 Newbury Street
617-536-6225
Mon – Sat: 10 AM to 6 PM
Closed Sunday
The Swiss fashion house Akris may not be an instantly recognizable as Italian brands such as Gucci and Versace, but that doesn't mean it should be overlooked. Akris is known for its basic colors, modern designs, and high-quality fabrics. For the businesswoman that wants to look like she means business, Akris will not disappoint.
The company is known for its signature double face fabric, which is a single layer of fabric with two identical sides, St. Gallen embroidery, and horsehair accessories. All of these can be found in the clean, brightly lit, well-organized Newbury Street boutique where the staff is eager to help you pull together the perfect ensemble.
#3 - Where Coco's Legacy Lives On
6 Newbury Street
617-859-0055
Mon – Sat: 11 AM to 6PM
Sun: 12 PM to 5 PM
Chanel's Boston location is the brand's fourth largest store in the U.S. after New York, Beverly Hills, and Waikiki. You'll find Coco Chanel's iconic creations here including her two-piece suit, chain link handbag, and fragrances spread out across two floors. The street level showcases handbags, jewelry, accessories, and cosmetics while you'll find ready-to-wear clothing and footwear on the second floor.
The shoe department here is impressive—over 100 styles displayed in a 700 square-feet area. There are a few cozy lounge areas and if you're lucky, you'll be treated to a glass of champagne from one of the employees.
You can book an hour-long personalized shopping session online with one of the store's fashion advisors. They'll also help match you with your perfect fragrance using their mood board—yes, mood board—experience.
#4 - Best for Fine Jewelry Connoisseurs
28 Newbury Street
617-262-3300
Mon – Sat: 11 AM to 6 PM
Sun: 12 PM to 5 PM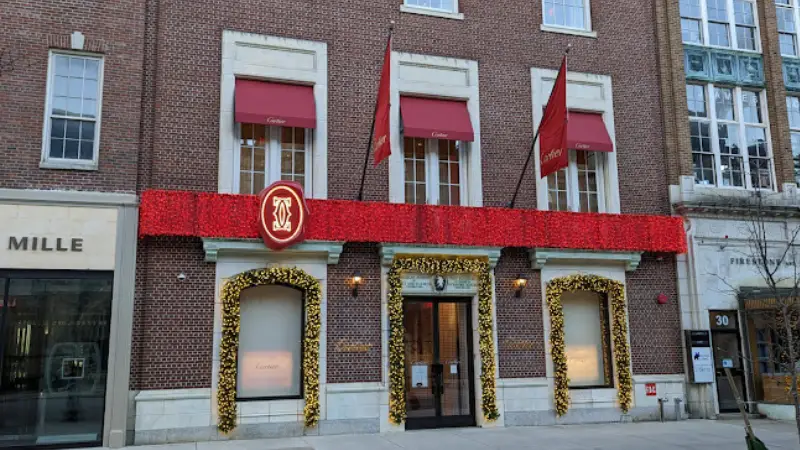 Elton John loved wearing Cartier brooches and sunglasses so much in the '70s and '80s that he wrote a song about the luxury French jewelry brand that instructed anyone who was feeling blue to "spend a grand or two at Cartier!"
Today, that grand or two won't get you very far but if you add a few extra zeros onto that number you could score any number of high-end jewelry pieces or watches at the brand's Boston location. (Their iconic panther-shaped bracelet, embellished with emeralds and diamonds, is a showstopper.)
Customers also come here for exceptional personalized service, and the employees are more than happy to help you find that perfect ring, bracelet, watch, or fragrance in the product line.
Cartier's flagship Newbury Street location also offers jewelry and watch repair, eyewear creation, and a diamond setting service. It's more than just a jewelry shop; for those with a bank account like the Rocketman's, it's an experience.
#5 - For Italian Brand Lovers
47 Newbury Street
617-578-0300
Tues – Sat: 11 AM to 5 PM
Sun: 12 PM to 5 PM
Closed Monday
As one of the few Italian luxury brands found on Newbury Street, Valentino helps fill a void for shoppers expecting Gucci and Versace storefronts.
When fashion was getting colorful and psychedelic in the late '60s, the brand bucked the current trends by introducing a wardrobe in neutral shades of white and cream. Today, the ready-to-wear line is a lot more eye-catching but you can still find basic pieces in those two shades that go with everything, black and white.
The Boston boutique focuses on women's clothing, shoes, and bags. Studs are one of Valentino's iconic details, and you'll find plenty of them adorning bags and footwear throughout the store.
As with most luxury stores, the service here is considered second to none, and employees are eager to listen patiently to your needs and make suggestions for flattering outfits and accessories.
#6 - Bags and Leather Goods
139A Newbury Street
617-425-0740
Mon – Sat: 10 AM to 7 PM
Sun: 12 PM to 6 PM
Longchamp is a French bag company and home of its famous, durable, uniquely shaped Le Pliage design launched in 1993. You'll find plenty of them in their original nylon canvas as well as an all-leather design at the Newbury Street location.
Products are neatly displayed in the shop and the staff can help you find the perfect size and style bag for your lifestyle. In addition to handbags, Longchamp also makes backpacks, clutches, crossbody bags, shoulder bags, wallets, belt bags, and phone cases.
You can also get your bag repaired and spruced up here. Longchamp will fix the corners of your bag for free and—for a small fee—replace the zipper on it (but not before attempting to repair it first.)
Best Specialty Shops on Newbury Street
#7 - For Those That Want to Rock the Cowboy Look
306 Newbury Street
617-482-7426
Open daily 12 PM to 7 PM
When rockers like Ringo Starr and the members of Aerosmith are in town, they drop in and shop Rick Walker's, and for good reason: this is the place where rock and roll meet the Wild West. They've been in business since 1932, selling leather goods such as jackets and cowboy boots alongside an astounding collection of sterling silver and turquoise jewelry.
Here you can find vintage tour t-shirts, concho belts, bolo ties, embroidered western shirts, and python shoes—everything to channel your inner badass. Rick Walker's is owned by a husband-and-wife team that have their pulse on trendy biker gear and accessories.
Occasionally you can catch a local musician putting on a show here. And keep an eye out for Henry Rizzo, the official store rooster.
#8 - Best Affordable Women's Clothing
225 Newbury Street, Boston
857-239-9202
Mon & Tues: 10 AM to 6 PM
Wed & Thurs: 10 AM to 7 PM
Fri & Sat: 10 AM to 8 PM
Sun: 11 AM to 6 PM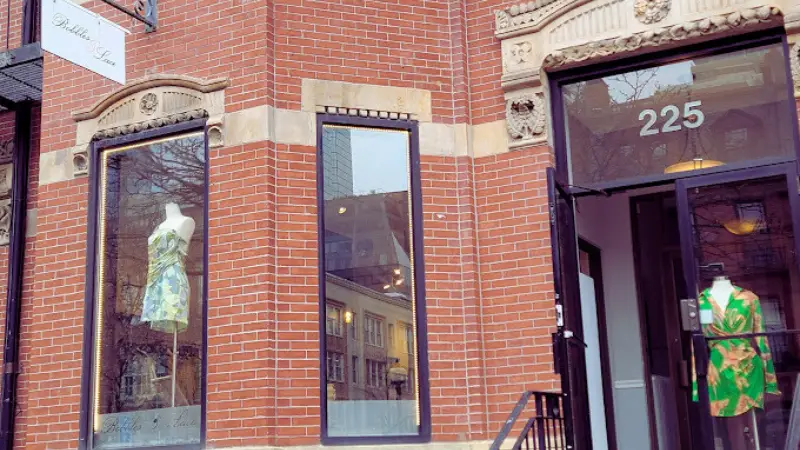 Is it possible to find a women's clothing shop on Newbury Street where you can score a great outfit for less than $100, give or take a few bucks? Bobbles & Lace—which also has other locations in the suburbs—is proving that you can.
Founder Lindsay Rose Rando took inspiration from her aunt who sold jewelry out of a cart on Newbury Street and pushed a Sears bar cart full of clothing around L.A., selling out of everything in the same day. Upon returning to New England, she and her aunt partnered up and opened the first Bobbles & Lace location in Marblehead.
The store stays up to date with trends without breaking the bank—colorful summer dresses, for example, are priced between $65 and $80. The shop also sells shoes, jewelry, bags, and other accessories. And if you need help pulling together an outfit or finding something specific, the friendly staff is more than happy to assist and offer suggestions.
#9 - Best Elegant Gift Shop
361 Newbury Street
617-450-8388
Mon – Sat: 10 AM to 5 PM
Sun: 11 AM to 5 PM
Simon Pearce isn't just the name of a retailer; it's also a real person. The brand is named for a glassblowing Irishman who immigrated to the States in the 1970s and settled in Vermont. Every single item that Simon Pearce sells is made in America by hand of sustainable materials and all glass products retain their pontil mark as proof it was handmade.
The Newbury Street shop is comprised of two floors showcasing exquisite glassware, tableware, lighting, Christmas ornaments, and home decor. It's comparable to a museum, with so many beautiful objects on display. Many of the items here are one-of-a-kind and make perfect wedding, anniversary, and birthday gifts. As a bonus, all of the glass products are dishwasher-safe.
Simon Pearce's flagship store is located in Quechee, Vermont. However, if you can't make it to Quichee, their Newbury Street boutique is the next best thing.
#10 - Best Place to Get a Suit in The Back Bay
201 Newbury Street
617-992-4854
Mon – Thurs: 11 AM to 7 PM
Fri & Sat: 10 AM to 8 PM
Sun: 10 AM to 7 PM
While there are other options on Newbury to purchase a suit, none of them can match State & Liberty for an expert suit fitting. The staff here really know their stuff and will help you find the perfect suit that fits and flatters without any sales pressure and rush which guarantees a satisfied customer.
Their signature dress shirt was designed with athletic v-shaped builds in mind—while other dress shirt brands are baggy on men that have broad shoulders and a narrow waist, the State & Liberty dress shirt fits like a glove. It also happens to be moisture-wicking, wrinkle-free/low maintenance, lightweight and has a four-way stretch. It's no wonder this shop has many notable customers from the NFL, NHL, MMA, and more.
But they don't just sell suits. They carry a great selection of casual wear including polo, button-down, and golf shirts and tees as well as shorts, jackets, hoodies, and accessories.
#11 - Best Unique Shoe Store
226 Newbury Street
857-350-3333
Mon – Sat: 11 AM to 7 PM
Sun: 12 PM to 6 PM
There are shoes you can find at the mall and while online shopping. And then there are John Fluevog's shoes which are in a class all by themselves.
You'd be hard-pressed to find the patterns, colors, and styles anywhere else. John Fluevog launched his company in 1970 and many of the shoes' details pay homage to the decade with platforms, sparkles, flower patterns, and bright colors. The prices are definitely higher than what you'll see on department store tags, but customers say they're worth every penny and reflect the high quality.
The staff is extremely attentive and excited to show you the latest styles and make recommendations. Each pair comes with a dust bag, pins, and logo stickers for a sense of fun you won't find at any other shoe store.
#12 - Baking Up the Best Tees in Town
332 Newbury Street
617-375-0100
Sun – Thurs: 11 AM to 6 PM
Fri & Sat: 11 AM to 7 PM
Don't let the name fool you. With its rows of pastel ovens and the scent of vanilla wafting through the air, this shop may look and smell like a bakery. But what the staff is cooking up isn't treats, but t-shirts.
Johnny "Cupcakes" Earle, the founder and CEO, calls his creation a "fakery". Stepping into the shop is like walking into Willy Wonka's chocolate factory, and customers can order a t-shirt design and watch as an oven bakes up the concoction, complete with steam escaping upon opening the door. Shirts are then presented in a cake box with built-in handles.
Johnny Cupcakes also sells hoodies, sweatpants, hats, socks, and baby onesies—all with a design of your choosing. You'll also find hundreds of original greeting cards. You might leave hungry, but surely not too disappointed.
#13 - Best Independent Jewelry Shop on Newbury Street
142 Newbury Street
617-267-7371
Tues – Fri: 11 AM to 4:30 PM
Sat: 10:30 AM to 4:30 PM
Closed Sunday and Monday
This lovely little jewelry shop has been selling antique and heirloom jewelry on Newbury Street since 1982. You'll never know what you may find here—a ring that resembles the one your grandmother wore, or a brooch that looks like it was lifted from one of the actresses on Downtown Abbey.
Getting ready to pop the question soon? Small Pleasures carries an impressive collection of vintage engagement rings from 1900 to the 1940s. They also carry a small selection of vintage costume jewelry. They usually get new pieces from estate sales including bracelets, necklaces, and earrings so the inventory is always changing.
They also offer jewelry repair, restringing, and custom design. The friendly service here gets rave reviews and can help you find the perfect gift for Mother's or Father's Day.
#14 - For Fans of Japanese Minimalism
359 Newbury Street
617-502-1170
Mon – Sat: 11 AM to 8 PM
Sun: 11 AM to 7 PM
MUJI has been compared to IKEA, but with Japanese aesthetics. They sell everything from loose, comfortable clothing to no-frills yet functional home goods. For those that love or want to adopt a minimalist lifestyle, there is a lot to love here and products are designed to not take up more space than necessary.
MUJI's Newbury Street store is quite spacious and well organized by section. A custom embroidery station allows you to customize towels, shirts, and other fabric-based items with a monogram or other embroidery design. The store also has an impressive amount of diffusers for essential oils on display.
Keep in mind that if you visit in August or September, many shelves are bound to be bare as MUJI is a popular destination for college students seeking home accessories for affordable prices. Don't forget to pick up some Japanese snacks for the trip home.
#15 - Best Contemporary Fine Art Gallery in Newbury
35 Newbury Street
617-536-0210
Tues – Fri: 10:30 AM to 4 PM
Closed Sunday and Monday
Looking for something new and special to spruce up your walls? Chances are you'll find the perfect new piece of artwork at Newbury Fine Arts. The gallery has been showcasing a rotating collection of contemporary fine art since the mid-'80s.
The gallery hosts nearly a dozen one-artist shows annually along with one group show yearly. Many of the artists have had long-standing relationships with the gallery and the same can be said for many customers, who return again and again to view the latest collection by their favorite artist.
Exhibits have included paintings and sculptures and the occasional giclee signed by Gronk (Rob Gronkowski) himself.
Best Food Shops and Restaurants on Newbury Street
#16 - Much More Than Coffee
286 Newbury Street
617-859-9515
Open daily 7 AM to 4 PM
There are several coffee shops up and down Newbury Street, but Pavement Coffee House is one of the best. The front patio just below street level is the perfect spot to give your feet a rest and sip a freshly roasted coffee, but the inside—with its millwork, marble, and walnut touches, is just as beckoning.
But this place isn't just about coffee—they make their own bagels, so it's a given that you need to try one. Better yet, build your own bagel sandwich by choosing from a variety of cream cheeses and other spreads, and fillings such as eggs, meat, cheese, and veggies. Much More Than Coffee is also vegan-friendly, so you can choose tofu and JUST egg substitute for your breakfast sandwich.
They also sell yummy pastries such as apricot ginger and coconut lemon scones and coffee cake muffins. Of course, there's no shortage of hot and cold beverages. Pick up a bag of whole-bean coffee for the trip home.
#17 - Best Pizza on Newbury Street
222 Newbury Street, Boston
617-262-0090
Sun – Wed: 11 AM to 10 PM
Thurs: 11 AM to 10:30 PM
Fri & Sat: 11 AM to 11 PM
Rest assured, the Dirty Water Dough Company doesn't make its pizza dough using unsafe water. Rather, the name pays homage to The Standells' 1960s hit – and when pizza places substituted beer for water. The result is a crust that has just the right combination of crunch and chew.
Dirty Water Dough Company offers many traditional pizzas such as pepperoni, margarita, and sausage. But the pies with the more adventurous toppings really shine. The steak and cola (featuring cola marinated shaved steak) is a customer favorite, as is the Blazin Buffalo (roasted chicken, blue cheese, and sriracha) and the Fenway Frank, which is a pizza topped with hotdog components (Kayem all beef franks, onions, sauerkraut, relish, and a touch of mustard.)
Best of all, you can sample them by the slice or split two flavors half-and-half on the same pizza. Inside there's a cozy fireplace and tall windows made for people peeping.
#18 - French Cuisine At Its Best
261 Newbury Street, Boston
617-587-4200
Sun – Wed: 12 to 3 PM; 5 to 9:30 PM
Thurs: 12 to 3 PM; 5 to 10 PM
Fri and Sat: 12 to 3 PM; 5 to 10:30 PM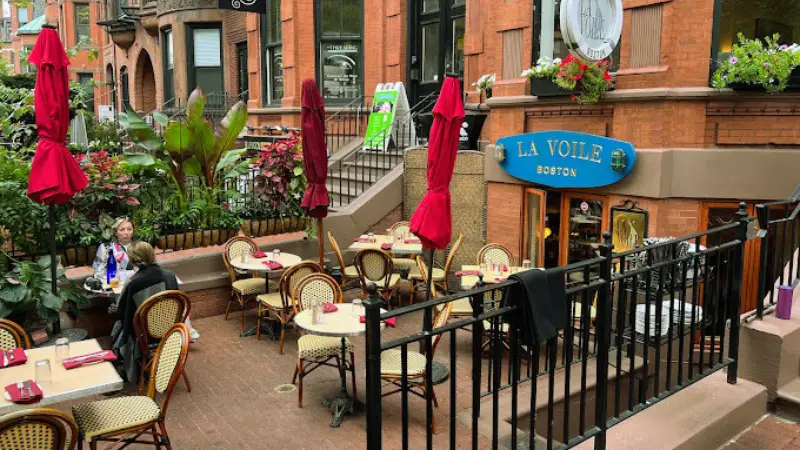 An elegant street full of elegant shops deserves an elegant restaurant, and La Voile certainly holds that title nicely. The French restaurant offers a generous and budget-mindful pre-fixed menu for both lunch and dinner as well as a la carte menus brimming with favorite dishes such as foie gras, escargots, French onion soup, and roasted duck.
From the appetizers to dessert, everything is deliciously made here. Being in Boston, there's an emphasis on fish dishes here including pan-seared sea scallops and whole sea bass. For those that prefer la Terre selections, the duck breast, rack of lamb, and beef tenderloin do not disappoint.
La Voile's interior has a delightful nautical theme, and the employees are genuinely happy to work there and it shows. No detail to service is spared—they will offer to take and hang up your coat, skillfully debone your Dover sole, and refill your glass before you even notice it is getting close to empty. It makes for an exceptional dining experience.
#19 - For Latin Food Lovers
264 Newbury Street
617-266-0707
Mon – Wed: 4 PM to 10 PM
Thurs & Fri: 4 PM to 11 PM
Sat: 11 AM to 11 PM
Sun: 11 AM to 10 PM
A Latin-inspired restaurant with playful artwork adorning the bar walls, PURO is shaking up Newbury Street. This may be one of the few places in Boston where you can sample a variety of ceviche including octopus, tuna, sea bass, and shrimp.
If citrus-infused raw fish is not your thing, PURO has plenty of cooked options on its menu such as camarones (sautéed shrimp), anticuchos pollo (marinated chicken skewers), costillas de credo (braised pork ribs), and cachapa (sweet corn pancake.) There's also a mean selection of tacos including a lobster variety and a paella dish, which is large enough for 2-3 people to share.
Enjoy your meal with a flight of mojitos and soak up the atmosphere while listening to the Latin background music.
#20 - For the Modern Health Nut
291 Newbury Street
857-263-7401
Open daily 7:30 AM to 6 PM
If you're looking for something nutritious that satisfies but won't empty your wallet, Mother Juice delivers smoothies, acai bowls, salads, and grain bowls. And virtually everything is vegan.
A woman-owned business, Mother Juice was launched at a time when there were no cold-pressed juice bars in Boston. Today the brand has three Boston locations and sources all of its ingredients from New England farms and artisan makers, ensuring that everything on the menu is fresh, delicious, and mostly organic.
Orders are also completed quickly, something that customers appreciate along with the friendly staff. It's the ideal place to grab a quick and healthy lunch or snack in between shopping.
Best Retail Brands on Newbury Street
#21 - Home of the Iconic Boot
201 Newbury Street #1
617-585-1460
Sun – Thurs: 11 AM to 7 PM
Fri & Sat: 11 AM to 8 PM
Buying Dr. Martens online can be risky—the iconic English footwear doesn't come in half-sizes. Luckily the purveyor of the classic chunky boot has a storefront right here in the Back Bay where employees are more than happy to help customers find the right style and size and offer tips on breaking the leather in.
The store is almost always busy because of the great service and selection. You can get the classic 1460s design here as well as shoes, sandals, and handbags. This location also carries a few vegan leather options. Everything is neatly displayed on the shelves by color and style.
The exposed brick and distressed floor lend themselves perfectly to the brand's utilitarian roots. Even if you don't think you need a pair, one-stop here may convince you that everyone needs a pair of Dr. Martens.
#22 - High-End Alternative to T.J. Maxx
497 Boylston Street
857-300-2300
Mon- Sat: 10 AM to 9 PM
Sun: 11 AM to 7 PM
Technically, Nordstrom Rack is located on Boylston Street but as it's right around the corner from Newbury, it's worth a visit especially if you like saving money. Here you'll find many off-season and reduced-priced items that are still high quality. Basically, it helps fill the void for designer store bargain hunters that Filene's Basement left behind.
The Back bay location spans two floors with clearly marked departments. This is a great place to score designer bags by Kate Spade and Marc Jacobs for less.
#23 - Best Summery Clothing Brand
133 Newbury Street
617-536-6423
Mon – Sat: 10 AM to 5 PM
Sun: 11 AM to 5 PM
A summer wardrobe isn't complete without a Lilly Pulitzer dress or bathing suit. The Newbury Street location is considered one of the best among diehard fans with a lot of selections packed into a small space.
The boutique carries women's clothing—dresses, tops, shorts, swimsuits—along with handbags and other accessories in the latest styles. The engaging staff is happy to answer questions, give recommendations, and assist with sizing.
A bonus is that you can usually find selections on sale, so you can get your preppy fix without feeling like you spent a fortune.
#24 - Best For Funky Finds
361 Newbury Street
617-236-0088
Mon – Thurs: 10 AM to 8 PM
Fri & Sat: 10 AM to 9 PM
Sun: 11 AM to 7 PM
A long-time favorite of the college crowd, Urban Outfitters is known for its eclectic collection of clothing, furniture, and home decor—most of it with a quirky retro vibe. They also sell beauty and grooming products along with vinyl records and even CDs and cassettes.
The Newbury Street location can be found at the very end, just before Massachusetts Avenue. Inside, you'll find two shopping levels of neatly organized products including books, candles, jewelry, and of course, plenty of clothes.
While the store has attracted some criticism in recent years for its rising prices, they do hold the occasional sale and a visit is still a fun way to cap off your Newbury Street adventure.
#25 - Where It All Started
348 Newbury Street
617-236-4930
Open daily 11 AM to 8 PM
What better way to end our list than with the store where it all began? Yes, this Newbury Comics is the original store that helped catapult Newbury Street into a popular shopping destination decades ago. It's expanded quite a bit since those days and now has a second floor that holds more merchandise.
As the name implies, there are a lot of comic books here. But you can also find vinyl records, t-shirts, pop culture figurines, graphic novels, stuffed animals, stickers, bobbleheads, and more. Records take up most of the first floor while the second level is dedicated to all the other fun stuff.
This is the place to go if you need to find the perfect gift for the pop culture fanatic in your life, or just want to see the store that led the way.
Whew—that was quite a trip down Newbury Street, and we only touched upon its many fantastic shops and eateries. You'll also encounter cosmetic stores, hair salons, and other businesses during a visit. We definitely recommend adding it to your list of places to visit in Boston even if you only have a few hours to spend.
Newbury Street Boston Stores FAQs
A. Newbury Street is known for its mix of luxury brand stores, eclectic shops, art galleries, restaurants, and speciality stores housed in beautiful 19th-century brownstones. It's a great destination to browse, grab a bite to eat, and people-watch.
A. Newbury Street does have street parking but getting an available spot may be a challenge. We recommend using any of the parking garages in the Copley Square area south of Boylston Street. Also, public transportation is a great way to get there: take the Green Line on the MBTA to the Arlington or Copley stations.
If you're looking for a boutique hotel in close proximity, the Fairmont Copley Plaza, Newbury Boston, and Mandarin Oriental are all nearby.
A. Yes, and the good news is if you visit Newbury Street on a Sunday from July through mid-October, you'll enjoy walking from Berkeley Street to Massachusetts Avenue without any traffic. Dubbed Open Newbury Street by the city of Boston, for 16 Sundays during the summer the street will be closed to vehicles, turning it into a pedestrian-only walkway.
More Shopping Destinations in Massachusetts: