We are reader-supported (thank you)! When you buy through links on our site, we may earn an affiliate commission.
Looking for affordable apparel that wows but won't break the bank? You're in luck because Boston is teeming with thrift stores and consignment shops.
And because Boston's cost of living is higher than other American cities, these stores are more in demand than ever since they're great places to snatch up vintage clothing or used housewares in good condition. Compared to antique shops, thrift stores tend to focus more on clothing and carry more recently made items from mid-century to the present.
Best of all, many thrift stores in Boston donate a portion or all of their proceeds to a local cause. And by shopping at one, you're helping to reduce the amount of clothing that can end up in landfills—a win-win.
Here's our list of the top ten Boston thrift stores you'll want to check out!
Quick Snapshot: We're highlighting Boston thrift stores and secondhand shops that each have that something special that makes them stand out. The video below gives an overview—skip ahead to the ones that grab your attention.
Best Thrift Stores and Resale Shops in Boston
Garment District Thrift Shop – Where Pay by the Pound Rules

The Thrift Shop of Boston – Original Neighborhood Favorite

Raspberry Beret – As Lively As Its Prince Song Namesake

Covet – Destination for Bag Lovers

Vivant Vintage – Denim for Days

Boomerangs – All of the Thrift; None of the Junk

Swank Seconds – Not Too Old, Not Too Pricy

Great Eastern Trading Co – Exotic Name, Down-to-Earth Prices

High Energy Vintage – Back to the Future

Goodwill – Oldie But a Goodie
#1 - A Department Store Alternative
200 Broadway, Cambridge
617-876-5230
Mon – Fri: 11 AM to 8 PM
Sat: 10 AM to 8 PM
Sun: 11 AM to 7 PM
Closed on July 4, Thanksgiving, and Christmas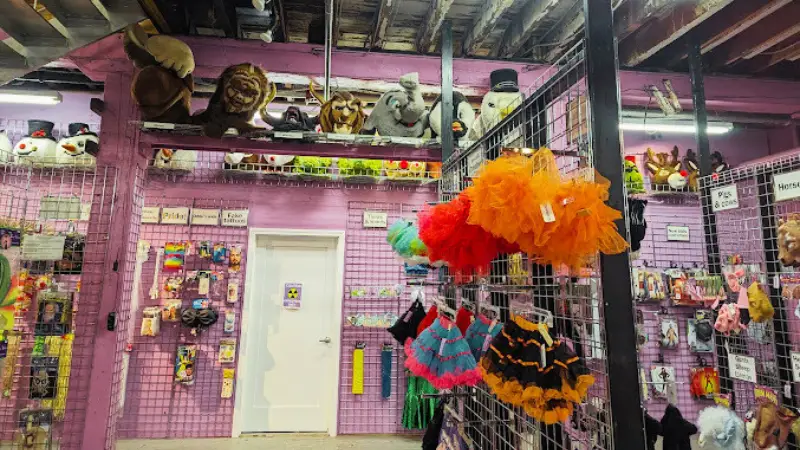 Ask a native Bostonian what their go-to bargain stores are, and chances are The Garment District thrift shop will come up in conversation. It's been the most frequented thrift store in Cambridge since 1986 and still offers a "pay-by-the-pound" section. Located a short walk from the Kendall/MIT red line T station, you can't miss it; just look for the building with the pink facade.
The first floor houses a lot of costumes and accessories while the real treasures—women's and men's clothing from the '70s through the '90s—can be found on the second floor. There are also oodles of shoes, handbags, sunglasses, hats, and even neckties and suspenders. They also carry a dazzling array of hosiery and vintage designer scarves.
It's also the only store in Boston that features a fun fake subway station as part of the decor—perfect for cooling your heels and taking selfies.
#2 - Best for Kitchenware, Furniture, and Other Household Goods
33 Corinth Street, Roslindale
617-325-5300
Mon – Sat: 9:30 AM to 5:30 PM
Closed Sunday
Where many thrift stores in Boston focus on selling clothes, The Thrift Shop of Boston offers a well-curated selection of merchandise including appliances, linens, furniture, electronics, games, records, sporting goods, and so much more for fair prices. It's been in business since 1926 making it the city's oldest secondhand shop.
Poke through the racks and you may be pleasantly surprised to find brand names such as Vera Bradley, Tiffany and Co., and Ferragamo among the donated goods. Autographed sports memorabilia and beer can collections occasionally make their way into the shop. The nonprofit thrift store relies on volunteers to sort through and tag donations, and 100% of the proceeds go to The Home for Little Wanderers, a family and child service agency.
To help its patrons save even more money, the shop regularly holds 50% off sales and seniors can enjoy 10% on Tuesdays.
#3 - Your Source for Contemporary, Funky Finds
2302 Massachusetts Ave., Cambridge
617-354-3700
Open daily 11 AM to 7 PM
Raspberry Berry's mission is to keep fashion sustainable and fun. To that end, they keep merchandise limited to primarily women's clothing and accessories only. They're also committed to selling specific brands—Anthropologie, Free People, Madewell, and Coach are among their top sellers and they don't accept any items that fall under the fast fashion category.
You also won't find bridal or traditional office attire on the racks. These exclusions ensure the selections remain consistent, high-quality, and reflect the stores' fun, casual nature: denim, vintage '60s and '70s pieces, and colorful finds from the '80s through the present.
The staff is also friendly, knowledgeable, and ready to assist and offer suggestions for pulling together the perfect outfit.
#4 - Boutique for Luxury Bag Lovers
SOUTHIE
391 W Broadway
Boston, MA 02127
10 am – 6 pm every day
BEACON HILL
109 Charles Street
Boston, MA 02114 
Monday – Saturday: 10 am – 7 pm
Sunday: 10 am – 6 pm
BACK BAY
176 Newbury Street
Boston, MA 02116
Monday – Saturday: 10 am – 7 pm
Sunday: 11 am – 7 pm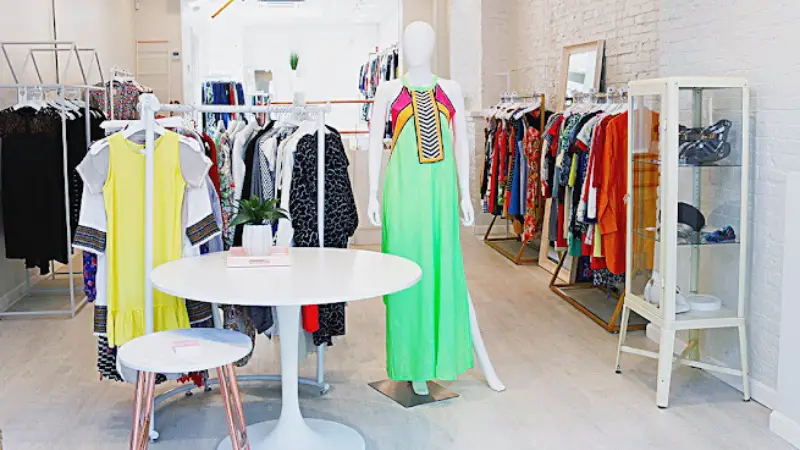 Covet's three locations (Beacon Hill, Southie, and Back Bay—the newest location) sell a variety of consigned women's clothing, coats, shoes, and accessories. But where they really excel is reselling luxury brand bags. If you've always wanted to own a beautiful handbag or tote from Burberry, Stella McCartney, Hermes, Givenchy, Fendi, PRADA, or another luxury name, chances are this consignment boutique won't let you down.
Founder Hanadi Hamzeh opened the first location in 2013 on the premise that the store would sell "something for everyone" and provide exceptional customer service. The first store's success quickly led to expansion in other locations. Covet splits part of the proceeds with consignors.
The stores are bright and well organized, carrying clothing by Trina Turk, Nike, Levi's, Dolce & Gabbana, and more. The store often showcases its latest finds on its Instagram feed, but you better act fast if you see something you like!
318 Lincoln Street, Allston
857-228-8565
Open daily 11 AM to 6 PM
Vivant means living it up in French, and Vivant Vintage of Allston proves you can do so without spending a fortune. What started as a clothing cart that founder Justin Pomerleau peddled in the streets of Boston is now a booming vintage store selling an eclectic collection that includes concert t-shirts, jewelry, cowboy boots, crystals, and old-school cameras.
And there are jeans – lots of them neatly folded and filling up the store's denim wall in sizes ranging from 23″ to 46″. Brands you may find here include Barbour, Wrangler, and Woolrich. There is a huge selection of leather jackets, footwear, and clothing from the '70s through the '90s, although not everything the store sells is true vintage. Looking for punk and jazz records? You'll also find them here.
With the lingering aroma of incense from an adjacent store and oodles of treasures, it hits all the right vibes.
Multiple locations:
563 Massachusetts Ave., Cambridge; 617-758-6128
716 Centre St., Jamaica Plain; 617-524-5120 
1407 Washington St., South End; 617-456-0996
For those who are looking for items that they'd actually be proud to display in their home or harder-to-find vintage and designer clothes, a Boomerangs thrift store sells merchandise that fills that gap between junk and beyond your budget goods.
Fans of the shop have reported discovering rare artwork, designer winter coats, and unique kitchenware at their Cambridge, Jamaica Plain, and Boston locations. Best of all, Boomerangs is owned and operated by AIDS Action, which means shopping here provides funding for AIDS research.
If you can't make it to any of their locations, you can peruse and purchase merchandise via their Etsy or Poshmark shops where you'll find high-end designer brands such as Escada, Saint Laurent, Ralph Lauren, and Armani as well as more affordable pieces by Karen Scott, Nike, and Champion.
#7 - Living Up to Its Name
387 Highland Avenue, Somerville
617-755-6643
Open daily 7 AM to 11 PM
Swank Seconds is the place to go when you want to save a fortune on an original wardrobe, but don't necessarily have to buy vintage pieces. Much of the store's merchandise is on the newer side, and the employees handpick items that are beautiful and unique but don't always come with a luxury label.
Their Instagram feed attests to this with photos featuring a sequined dress, shaggy vest, work blazers, starfish-shaped brooch, an embroidered coat, and more. They also specialize in leather goods and also sell locally made wallets, card holders, and funky jewelry (dinosaur stud earrings!)—giving you options for unique gifts. They occasionally put merchandise on sale as well.
#8 - Your Halloween (and Everyday) Resource
Multiple locations; main store located at 49 River Street, Cambridge
617-354-5279
Tues – Thurs: 12 PM to 5 PM
Fri & Sat: 12 PM to 7 PM
Sun: 1 PM to 6 PM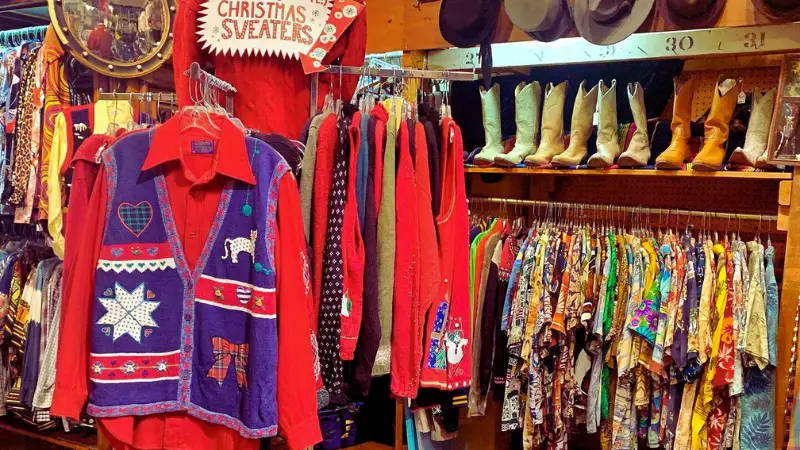 Great Eastern Trading Company started as an army/navy surplus store in 1969 and has gone through several owners and transformations to become the secondhand shop it is today. It's a must for anyone that loves authentic vintage clothing from the 1920s through the '80s, and a great source of costumes and accessories for Halloween, Christmas, or a masquerade-themed party.
The owner used to be a frequent customer and has his pulse on pieces that totally capture the decade that produced them, whether it's a wide lapel leather coat from the 1970s or a tailored suit from the WWII era. In between, you'll also find hats, shoes, and plenty of newer items for both men and women.
While the original vintage store in Cambridge focuses on clothing, Great Eastern Trading Company also has locations in Malden and Somerville that sell records, antiques, and furniture.
429 Somerville Avenue, Somerville
No phone listed
Mon: 12 PM to 6 PM
Wed & Thur: 12 PM to 6 PM
Sat: 12 PM to 7 PM
Sun: 12 PM to 6 PM
Closed Tuesday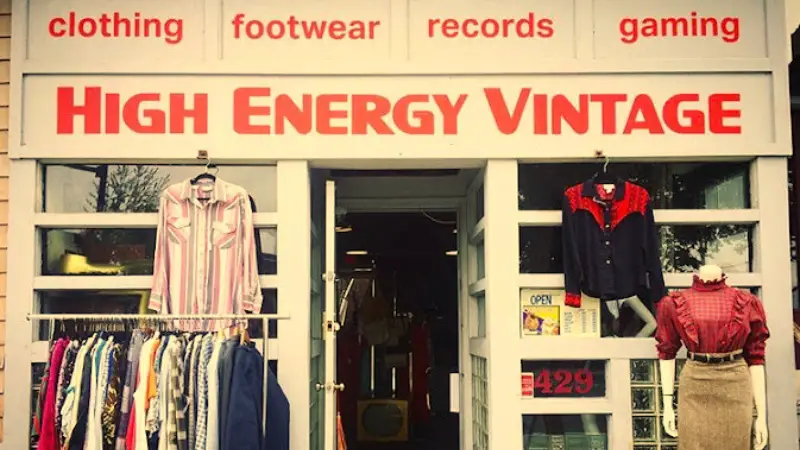 It's back to the '80s and earlier at this Union Square gem that sells vintage clothing and shoes for people of all genders along with vinyl records and vintage electronics—including working VCRs and video games. It originally began as a pop-up at the Sunday SoWa vintage market and proved so popular the owners opened their own storefront that beckons with an arcade game and a down-to-earth vibe.
Speaking of old-school video games, their collection is quite extensive and brings back happy nostalgia for anyone who was an '80s or '90s kid: they stock hundreds of game titles for Atari, Nintendo, Sega, Super Nintendo, and Game Boy.
Don't overlook the "trunk of treasures" near the front door where you'll never know what you may find for $5.
=>Check out our excellent article Best Antique Stores in MA to discover more great places to purchase vintage items in Massachusetts.
#10 - Where There's a Goodwill, There's a Way
1010 Harrison Avenue, Boston, and multiple locations
617-541-1270
Mon – Sat: 9 AM to 6 PM
Closed Sunday
When all else fails and you can't quite find what you're searching for, there's always the trusty Goodwill. Morgan Memorial Goodwill Industries was founded right here in Boston in 1902 and today, its stores worldwide help support the nonprofit.
Goodwill locations sell just about everything and while there's been some criticism about their increasing prices, it's still worth dropping in on a location to score a bargain.
Did you catch our thrift? These Boston area thrift shops should keep you busy for hours. But if you can't find what you're looking for, keep in mind that you'll find local thrift stores in several towns throughout Massachusetts. And every Sunday you can shop several vendors at the secondhand shopping market that is SoWa Vintage Market in the South end.
Thrift Stores Boston FAQs
A. It varies from store to store, since some are open daily while others are closed one day a week to restock. Your best bet is to ask your favorite thrift store what days of the week they typically receive the most donations and restock the sales floor. Some thrifters believe Mondays and Tuesdays are the best days to shop at thrift stores, as many donations arrive on the weekend.
A. Any authentic luxury brands that you can snatch up are usually a great deal, as they tend to be made of higher quality and natural fabrics. But truthfully, anything that you know you'll absolutely love wearing is the best purchase you can make at a thrift store.
A. You may think that like other businesses, thrift stores have gotten a bit more expensive in recent years because they've been impacted by inflation. But the higher prices can be mostly attributed to a rise in donations. An increase in donations means more employees need to be hired to sort through, tag, and display items, contributing to higher business costs. As a result, some stores mark their merchandise up.
Find Out More About Shopping in Massachusetts