We are reader-supported (thank you)! When you buy through links on our site, we may earn an affiliate commission.
There's nothing else quite like attending a Red Sox game at historic Fenway Park. Fenway franks, the fabled Green Monster, and the tradition of singing "Sweet Caroline" are all part of what makes the ballpark unique and why it attracts millions of visitors from all over the country every year.
But have you ever attended a ballgame or concert at Fenway Park and wondered what it would be like to go behind the scenes and see America's most beloved ballpark up close without being surrounded by thousands of other cheering fans?
Well, you can do just that by taking a Fenway Park tour! While few things compare to seeing the Boston Red Sox play live, taking in the park when it's silent and empty and learning about its history is a whole other experience that anyone interested in baseball or Boston's history should explore.
Here is everything you need to know about the types of Fenway Park public tours that are available, what you can expect to see during each tour, and how to prepare for your visit so you're comfortable and get the most out of the experience!
Fenway's tours are popular with baseball fans and non-fans alike. They're so popular, in fact, that they tend to sell out ahead of time. They also operate year-round, even if it's raining or snowing (with the exception of the area's nor'easters, of course.)
A Fenway Park tour is a fun experience that's not just for Red Sox fans. Dare we say it, but even Yankee fans have raved about them in reviews! If you fall into any of the following categories, you should definitely take a tour.
It's Fun for the Major League Baseball Fan
If you're a baseball fan, taking a Fenway Park tour will have you walking in the footsteps of some of the legends that have played there including Babe Ruth, Ted Williams, Carl "Yaz" Yastrzemski, David Ortiz, and countless others. You'll get to see the field and the seats from their vantage point, and you can imagine what it must have been like for them to make sports history.
You'll get to sit atop the world-famous Green Monster which is an awe-inspiring experience in itself. If you go on a game day, there's a chance you'll see the players warming up with batting practice and with a little luck, score a souvenir ball that's hit your way.
You'll also get to sit in the oldest seats in the park and see the lone red seat in the bleachers where the infamous home run ball hit by Ted Williams in 1946 was stopped by an unsuspecting spectator's head.
Experienced tour guides give a comprehensive history of Fenway Park along with some baseball history and trivia. The ballpark is also home to the Fenway Park Living Museum which houses thousands of fascinating baseball artifacts. Even if you're not officially a member of Red Sox nation, you'll enjoy learning tidbits about the sport and the ballpark's history.
It's Fun for the History Buff
Fenway Park is the nation's oldest ballpark having opened in 1912 just days after the sinking of the Titanic. That's a lot of history that it has seen, with original architectural details that have been preserved to this day.
The park has more than earned its rightful place alongside the city's other famous landmarks such as the Public Garden, Museum of Fine Arts, Bunker Hill Monument, and Faneuil Hall. You'll get to learn a bit about its historical significance and how it was constructed by taking a public tour.
For kids who are old enough to appreciate it, a Fenway Park tour makes for a fun family day. One of the tour options includes a visit with Red Sox mascot Wally the Green Monster. There's also a birthday package tour that offers the opportunity to try on players' uniforms and try batting practice in an official MLB cage.
Afterward, you'll have the chance to buy Red Sox and Fenway Park memorabilia and can grab a bite to eat at any of the restaurants or bars in the area. The Bleacher Bar at 82A Landsdowne Street is a fan favorite, as it's situated right underneath—you guessed it—the bleachers.
Fenway Park Tour Schedule
Fenway Park tours operate daily year-round, even during rain and snow (unless there is a major weather event such as a blizzard or hurricane.)
The hours of operation vary slightly depending on whether it's baseball season (spring/summer/fall) or winter:
Spring/Summer/Fall Hours (April 1 – Oct. 31): 9 AM to 5 PM daily
Winter Hours: (Nov. 1 – March 31): 10 AM to 5 PM daily
Public tours depart at the top of each hour. On non-game days, the last tour of the day departs at 5 PM.
On game days, the last tour departs three hours before the game start time.
Will I Get to Walk Onto the Field During a Fenway Park Tour?
The burning question on anyone's mind who hasn't taken a Fenway Park tour yet is if you'll actually get to walk around the field. Unfortunately, we do have a bit of bad news to deliver.
The tour section of the Red Sox website states that all areas of the ballpark are subject to availability. That means that chances are, you may not get to actually walk onto the field during a tour.
Occasionally it does happen but it's usually a rare occurrence that depends on several factors including the condition of the field and the size of the tour group. You also have a greater chance of being allowed access to the field during the morning tours on home game days.
Don't let this revelation bum you out or discourage you from taking a Fenway Park tour, however. There is still so much to see and enjoy during your visit that makes up for not being allowed to walk on the field.
Available Fenway Park Tours
Fenway Park tours are definitely not one size fits it—there are several available public tours to fit different preferences. Here's a detailed description of each that was listed at the time this article was published, which brings up an important point: new tours may be added and existing ones changed or dropped at any time.
This is an hour-long tour that most people spring for. You get to enjoy a 60-minute guided tour chockful of historical nuggets about the ballpark, notable players, and Red Sox history.
This tour also includes a visit to the media booth which offers a spectacular view of the park. You'll also get to see the visiting team's locker room, Pesky's Pole, the rooftop garden, the press box, and get to take in the amazing view from the Green Monster seats. If you go on the day of a scheduled concert, you may get to see the artist or band warming up on the stage.
Prices: $25 for Adults | $17 for Children (3-12) | $17 for Military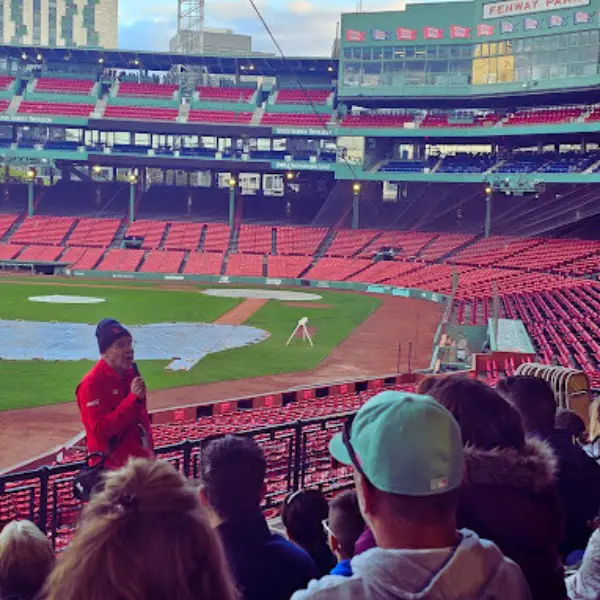 As you might have guessed, this is a condensed tour and not generally recommended unless you're really pressed for time or just want to see glimpses of the ballpark without hearing too much about its storied history. This tour doesn't include the Green Monster but will lead you to the Right Field Roof Deck instead which still offers panoramic views of the field and the city skyline.
You'll also visit the Royal Rooters Club—home of the Nation's Archives, where historic baseball and Boston Red Sox memorabilia and photographs are on display.
Prices: $15 for Adults | $15 for Children (3-12)
A fan favorite, the hour-long pregame tour gives attendees early access to the ballpark before the general public and takes place three hours before game time. You'll get to see Fenway's oldest seats (the Grandstand section, which dates back to 1934), walk on the warming track, and sit atop the Green Monster.
Fans love this tour for the potential chance to watch players practicing or scoring an autograph or fly ball.
Prices: $40 for Adults | $40 for Children (3-12)
This is a great tour for families and younger baseball fans. It includes a visit with Wally the Green Monster, a stop on the warming track, and a historical narrative of Fenway Park history.
This tour is only available on afternoon game days before 3 PM.
Prices: $40 for Adults | $40 for Children (3-12)
Ultimate Birthday Package
How would you like to try on the uniforms of past and present Red Sox legends, or hit some balls in a batting cage? The Ultimate Birthday Package tour includes all that, plus a souvenir for everyone at the party. This tour is available only on non-game days for groups of at least 12 people.
Prices: $50 for Adults | $30 for Children (3-12)
This is a custom private tour experience for those willing to pay for it. It's designed for groups up to 20 people and you get to choose from a list of locations in Fenway Park you would like to see up close. You also get the undivided attention of a Fenway Park tour guide.
Contact Fenway Park for Pricing
Lastly, you can even tour Fenway Park from the comfort of your home using your computer or smartphone. We're talking, of course, about a virtual drone tour. This particular tour lasts 40 minutes and is narrated by a Red Sox announcer. An in-person tour is certainly more fun, but this option is available for groups of ten or more people, making it suitable for corporate events, families, and more.
Where to Buy Fenway Park Tour Tickets
The best place to buy Fenway Park tour tickets is on the Red Sox website. You can book a tour up to 30 days in advance and choose the time slot that works best for you.
You can also buy tickets through a third-party tour site such as GetYourGuide, GoCity, or Viator. Sometimes the tour is included as part of a package to see other Boston attractions. Definitely shop around and weigh your options for the best deal and tour that fits your needs.
Are There Discounts Available for Fenway Park Tours?
The only discounts currently available for Fenway Park tours are discounts for active and retired military members for the public tour.
We recommend signing up for the official Boston Red Sox newsletter, as sometimes there are giveaways or promotions offered for tour tickets.
Are Fenway Park Tours Accessible for Wheelchairs?
Fenway Park tours are fully accessible for individuals who use wheelchairs. Elevators are available to transport tour attendees in wheelchairs to various levels of the ballpark.
Insider Tips: What to Know Before You Tour Fenway Park
Finally, we have some tips to help you prepare for your Fenway Park tour and get the most enjoyment from the experience. The last thing anyone wants is to miss the tour because they don't know the best way to get into the city or discover the bag they brought with them is too big. These are important tips to know, so don't skip over them!
Take Public Transportation
This tip can never be stressed enough: leave your vehicle at home and take public transportation to Fenway Park. While there are several lots near the ballpark, the Boston area is notorious for its heavy traffic and delays—making it an absolute nightmare to drive to Fenway Park on game days. Not to mention, parking near the stadium can be expensive.
Take the MBTA ("the T") to the Kenmore stop on the B, C, or D Green line, and Fenway Park is a short five-minute walk away. When you exit the station, you'll see signs guiding you to the ballpark. Take a left on Commonwealth Ave., another left onto Brookline Ave., then go over the bridge.
You'll save yourself time, money, and stress by taking the T and will also get to meet some fellow Red Sox fans by taking public transportation. It's hard to beat that!
If you must drive to the stadium, the Red Sox site has a page dedicated to the best lots to park at depending upon the direction you're entering the city from along with their rates and an option to reserve a spot online.
According to one of the experienced tour guides, you walk the equivalent of 1.25 miles during the one-hour tours. That's a lot of steps, so comfortable, supportive footwear is a must.
Be prepared for periods of standing and climbing stairs as well. Many tour attendees say it can be a workout. Elevators are available to get to various levels of the ballpark if you need a reprieve.
As an aside, don't be surprised if your tour group is on the larger side (we told you these tours were popular!) The tour guides use a microphone to ensure everyone can hear them clearly. Sometimes larger groups are split up into two separate ones, each with their own tour guide.
Fenway Park does not provide water or other refreshments for tour groups, so be sure to bring water (in a sealed bottle 16 ounces or smaller) to stay hydrated if you're taking the tour on a hot day. We also recommend sunglasses, a hat, and sunscreen.
Bring an Appropriately Sized Bag
Fenway has a pretty strict bag policy: bags must be no larger than 12″ x 12″ x 6″ and single compartment only. The ballpark does NOT allow backpacks (or backpack-style purses), duffle bags, and bags with multiple compartments.
Exceptions are made for diaper bags and bags that carry essential medical equipment. Any bags that don't meet the requirements can be stored with a third-party locker company on the top of the Lansdowne Garage or a nearby liquor store. Note that a fee will be charged to do so. To be on the safe side and avoid missing the beginning of a tour, we recommend taking a fanny pack or other small bag that safely meets the size restrictions.
All tour participants are also required to pass through security screening before entering the ballpark. We recommend reading the Fenway Park security page for a list of prohibited items and more about the bag policy.
Buy Tour Tickets Ahead of Time
Much like Red Sox games, Fenway Park tours tend to sell out. They go on sale 30 days in advance (so if you visit the website on November 1 you will only be able to purchase tickets for tours taking place through December 1.)
Is a Fenway Park Tour Worth It?
A tour of Fenway Park is absolutely worth it! There's a reason why Fenway is called America's most beloved ballpark. Its features, layout, and quirks are unlike any other major league baseball stadium in the nation.
Taking a tour during the fall or winter months is a fun way to keep the fan spirit alive after the season has ended. Even if you've been a long-time Boston Red Sox fan, chances are you will learn something you never knew on a tour.
Looking for fun ways to see Boston up close and on foot? Check out our list of Boston's best walking tours!