We are reader-supported (thank you)! When you buy through links on our site, we may earn an affiliate commission.
Whether you're a newbie when it comes the bargain shopping or an old pro that knows how to haggle, you'll find plenty of flea markets to explore throughout Massachusetts. From Cape Cod to the Berkshires there's no better way to spend a Sunday than searching for hidden treasures.
No one knows for certain how the flea market got its name, but it can most likely be traced back to 19th century France when Parisian markets that sold second-hand goods started popping up. The name "marche aux puces" may have alluded to the presence of actual fleas in the merchandise—or perhaps the shoppers themselves that hopped from vendor to vendor in search of deals.
The flea market gained popularity in the States starting in 1873 when the first one in the U.S. opened in Texas. Up here in Massachusetts, you'll find an assortment of flea markets taking place on fields, inside barns, and even at racetracks.
If you want to know where to go to scoop up the best bargains, come along with us on our tour of the ten best flea markets in Massachusetts.
Quick Snapshot: Our video overview gives a quick two-minute tour of the most popular flea markets in the state. Have a look and skip to the ones you may want to check out.
10 Best Flea Markets in Massachusetts
Brimfield Antique Flea Markets: Bigger is Better

SoWa Vintage Market: Sunday Tradition in Southie

Douglas Flea Market: Antiques in a Barn

Yankee Flea Market: Best Indoor Flea Market Experience

Todd Farm Flea Market: Early Bird Bonanza

Wellfleet Flea Market: Family Friendly Flea

Cambridge Antique Market: Five Floors of Fun

Raynham Flea Market: So Popular It Has a Mascot

Sandwich Bazaar Flea Market: Cape Cod Tradition

Grafton Flea Market: Acres of Fun
#1 - The Biggest Antique Flea Market in New England
Various locations on or near route 20 throughout Brimfield, MA; see website for map
413-752-7345
Show dates usually take place in May, July, and September; check the website for exact days and hours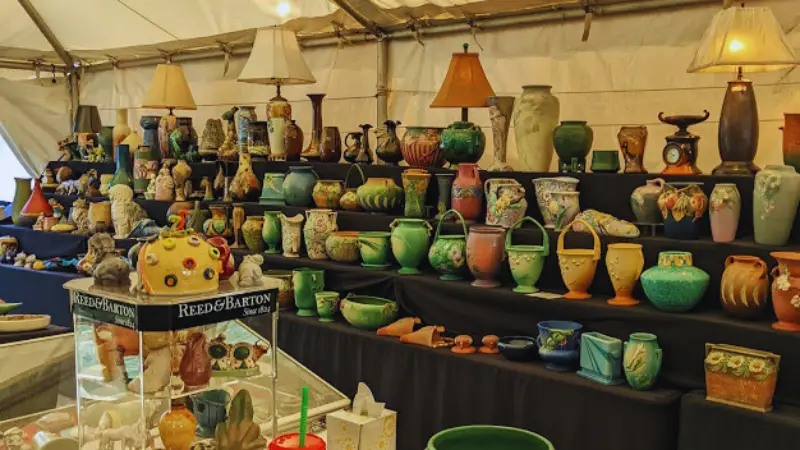 When it comes to flea markets, the Brimfield Antique Flea Markets have been proving for over 60 years that bigger definitely is better. Celebrities such as Martha Stewart and Ali Wentworth have been spotted here and for good reason: Brimfield tends to attract everyone from topnotch antique furniture dealers to people with items you never knew existed, or that you never knew you wanted.
In years past the merchandise selection has included canoes, antique wood stoves, parts of amusement park rides, a Big Boy statue, vintage sewing machines, garden sculptures, and more. Being an outdoor flea market encompassing so much space in town, this is where vendors display the bigger items they wish to unload.
Be aware that parking will cost you about $10 and the fields tend to get muddy when it rains. Coming here is truly an experience and staying at a local motel is recommended because it's impossible to see it all in one day.
#2 - Best Flea Market in Boston
450 Harrison Avenue
617-286-6750
First Friday of each month 5 PM to 9 PM
Sunday 11 AM to 4 PM
Really, the SoWa vintage market is the best in so many categories: best indoor flea market, best flea market for holiday shoppers (each year it transforms into a winter wonderland), and it's by far the best flea market in the city. So what makes it so special?
It's the quality vendors and merchandise. You won't see as much "junk" here like in smaller flea markets. SoWa's selections tend to be of a different caliber and wider span of merchandise, from mid-century furniture and glassware to vintage clothing and accessories. Many of the vendors are regulars at Brimfield, so that sets the bar higher.
Your adventure begins outside where vendors under tents sell food and hand-crafted products but it's inside the brick building where the vintage treasures can be found. It's open every Sunday year-round and situated in Southie's arts district, which pretty much guarantees you won't go home empty-handed.
#3 - Most Charming Atmosphere
436 NE Main Street, Douglas
508-476-3298
Open Saturday & Sunday 9 AM to 4 PM
If you love flea markets but hate the snow and cold, then the Douglas Flea Market has you covered. It operates year-round on the weekends in a heated barn. A family-owned business, this market was booming even during covid and draws upwards of 40 vendors selling mid-century modern furniture and accessories, pottery, jewelry, home and garden items, and other rare treasures.
While the barn's first floor has the usual bric-a-brac items, be sure to take the spiral staircase to the second level where you'll find mostly furniture pieces. The family spruced up the building's roof and added a food truck, so you can easily spend the whole day here.
Best of all, it offers free parking and admission.
#4 - Best Indoor Flea Market
1311 Park Street (Route 20), Palmer
413-283-4910
Open Tuesday through Sunday 10 AM to 5 PM (and open daily 10 AM to 5 PM during Brimfield flea market weeks)
The Yankee flea market is one of the state's premier indoor flea markets featuring over 200 vendors spread out across a 16,000-square-foot sales floor. Vendors can choose from a variety of space configurations which makes this flea market neatly organized and easy to navigate.
On any given day you'll find collectibles, jewelry, comic books, records, glassware, furniture, home decor, clothing, and more. The selections are always fresh and new, with several vendors continuously restocking their booths.
Parking is plentiful and free, there's no charge for admission, and instead of paying a vendor you bring your purchase up to the front check-out to pay and have any delicate items carefully wrapped. This is one of the few flea markets that gladly accept credit, debit, and checks along with cash.
#5 - Best for Early Risers
285 Main Street, Rowley
978-948-3300
Open Sundays 5 AM to 3 PM from mid-April through mid-November
The early bird can definitely get the worm at the Todd Farm flea market in Rowley where the field opens at 5 AM—before the cows wake up, according to the website. You can visit up to 240 vendors spread out over an acre selling antiques, collectibles, and hand-crafted goods such as jewelry, artwork, furniture, and more.
On any given Sunday you may encounter vintage toys, tools, appliances, coins, military gear, clothing, and more. Parking is plentiful and costs $5, and food and beverages are available at the grill and snack bar. Most vendors are cash only, but some accept Venmo. Starting in 2021, the flea market stopped allowing dogs so you'll have to leave Fido at home.
Be sure to check out the clock shop and vintage goods store housed inside the farmhouse before you leave.
51 State Highway, Route 6
Wellfleet, MA
508-349-0541
Open every Saturday and Sunday from June through November from 8 AM to 3 PM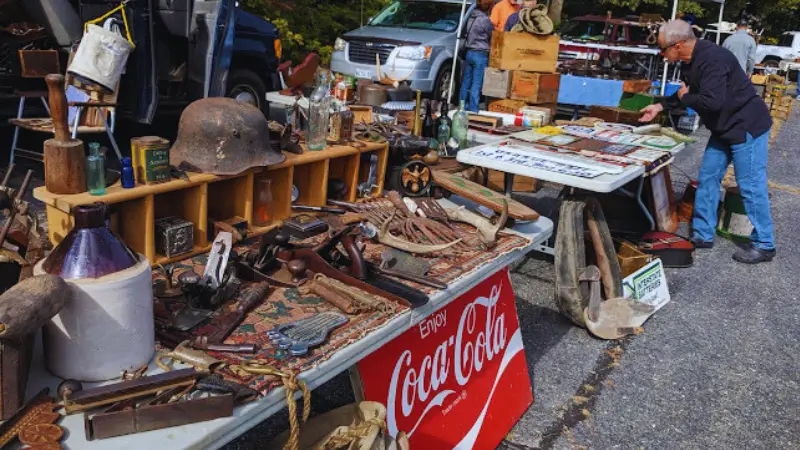 The Wellfleet Flea Market may be the only one of its kind in Massachusetts that operates next to a movie theater, drive-in theater, mini golf course, and ice cream bar, making a visit here a family-friendly experience. When your kids get bored browsing the antiques with you, you can treat them to a round of mini golf or a flick.
This market is on the smaller side, with about 80 vendors in attendance each weekend selling jewelry, books, vintage toys, movie posters, clothing, rock memorabilia, and other eclectic items. There is a small charge for parking and snacks and beer are available to purchase.
Be sure to hit the ATM on the way there; most of the vendors don't take credit cards (but in case you forget, there are two ATM machines on the premises.) As an outdoor market, it can only operate in fair weather. All booths are set up in the drive-in theater lot (which is unprotected from the sun, so bring a hat.)
#7 - Best for Killing Time in Cambridge
201 Monsignor O'Brien Highway, Cambridge
617-868-9655
Tues – Sun: 11 AM to 5:30 PM
Everyone should poke around the Cambridge Antique Market at least once. With five floors (technically there are four with a basement) to explore, there is bound to be something for every treasure hunter here.
Nearly 150 vendors fill the floors selling glassware, jewelry, collectibles, clothing, artwork, vintage signs, and more. Don't forget to check out the huge assortment of used retro bicycles in the basement.
There is a small parking lot but given that it's tight, taking the green line of the MBTA to the Lechmere stop may be your best bet.
#8 - The Flea Market With a Mascot
480 South Street West, Raynham
508-823-8923
Sundays year round 8 AM to 5 PM; Sat & Sun 8 AM to 5 PM from Thanksgiving through Christmas
The Raynham Flea Market may be the only flea market in the state with its own mascot (an unnamed, yellow-headed, four-armed "flea" greeting visitors) and for that alone, it's worth a visit. Over 500 vendors are spread out in outdoor stalls across a ten-acre paved parking lot and 60,000 square feet of indoor space.
You're less likely to find large furniture pieces here. Instead, the selections at the Raynham flea market are geared towards vinyl records, toys, sunglasses, electronics, clothing (both new and vintage), and even car accessories and fishing equipment. A variety of fresh produce and plants can even be found for sale outdoors in the lot.
As a year-round flea market, this venue sees a lot of customers during the holidays. And should you get hungry in between all the bargain hunting, there are many snack bars and food vendors available.
34 Quaker Meeting House Road, Sandwich
508-685-2767
Wednesdays from April through October 6 AM to noon; Sundays April through October 7 AM to noon
The Sandwich bazaar flea market is billed as "Cape Cod's premier flea market" with good reason. There's no telling what you'll find, and vendors are friendly and willing to haggle a little.
Their Facebook page gives a glimpse into the variety of treasures you can find here: vintage gas station signs, sports equipment, appliances, toys, Hawaiian shirts, baskets, records, garden and holiday decorations, and more spread out across a field.
And with free parking and admission, you can't go wrong!
#10 - Best MetroWest Flea Market
296 Upton Street Rt. 140, Grafton
508-839-2217
Sundays 6 AM to 4 PM April through December; also open on Memorial Day and Labor Day
Visiting the Grafton Flea Market is like getting to browse several yard sales all in one location. Many vendors set up their wares in the shade of pine trees, but there is also an indoor area where you may find everything from dollar store items to valuable gems.
The onsite restaurant serves up burgers, hotdogs, fries, ice cream, and other treats should you get the munchies while you're shopping. Admission is $1 per person but parking is free. With the drive from downtown Boston clocking in around 45 minutes, it should definitely be on your flea market list.
As you get to visit various flea markets in Massachusetts, you'll find that each of them has its own distinct flavor and merchandise selections. We recommend checking out as many as you can to find your favorite!
If you're a fan of one-of-a-kind vintage and antique items, check out our pages specifically focused on antique stores and thrift shops in MA. You're sure to discover a special item just for you!
Flea Markets in Massachusetts FAQs
A. Without a doubt that would have to be the Brimfield antique flea market, which is the largest flea market in Massachusetts. The vendors spread out for about a mile along route 20 and it's helpful to refer to the show map and the survival guide at Brimfield Exchange so you know where to park and don't miss out on your favorite merchandise
A. That would have to be the Highway 127 Corridor Sale (also called the 127 Yard Sale), the longest outdoor market that actually spans three states! It stretches from Jamestown, Tennessee through North Covington, Kentucky before ending in Gadsden, Alabama. Being that it's so long (almost 700 miles!), it only runs for four days in August.
A. The Les Puces flea market which is where it all began in Paris, France. It attracts over 180,000 visitors each weekend across 17 acres filled with French finds. Other notable flea markets around the globe include the Grand Bazaar in Istanbul, Turkey, and the Mercantic in Barcelona, Spain.
More Shopping Spots in Massachusetts: