We are reader-supported (thank you)! When you buy through links on our site, we may earn an affiliate commission.
When it comes to restaurants that serve delicious French cuisine, you don't need to drop money on a plane ticket to Paris. You'll find plenty of them in Massachusetts. Wait – the state that gave us clam chowder and lobster rolls has no shortage of French restaurants? Mais oui!
Maybe it's because New Englanders love their butter and wine, or maybe it's because Julia Child made Cambridge her home. Whatever the reason, we're grateful for purveyors of French fare who chose Massachusetts to set up shop.
So if you've been craving French classics such as seared foil gras, steak frites, or crispy duck confit, look no further than our list below of the top French restaurants in Massachusetts, all of which deliver a dining experience that will leave you exclaiming bon appetite!
Quick Snapshot: For a quick visual of the French restaurants recommended on this page, watch our video below. Then you can skip down the page for more info on the ones that look fantastique!
Best French Restaurants in Boston
Ma Maison – enjoy a home-cooked French meal courtesy of Jacky Robert
Mistral – welcome to Southern France
Cafe Sauvage – French food with a wild twist
Aquitaine – best bistro in Southie
Deuxave – onion soup to die for
Bleu – a slice of Paris on the Cape
Bistro du Midi – when two legendary culinary worlds collide
The Portico at Wheatleigh – fine French dining with a side of The Berkshires
Troquet on South – French with a few American twists
Petit Robert – the perfect place to chill
#1 - Best Feels Like Home French Restaurant
272 Cambridge St, Boston
617-725-8855

Lunch: Mon – Sun: 11 AM – 4 PM
Dinner: Mon – Sun: 4PM – 10 PM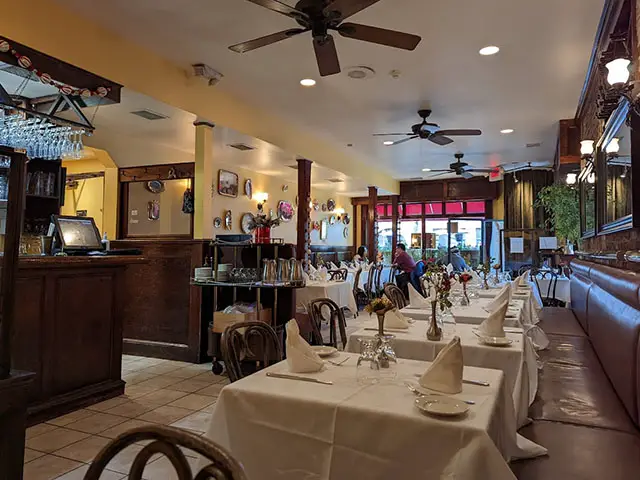 We'll get an obvious choice out of the way first: French-born Jacky Robert's "house" on Beacon Hill, the acclaimed Ma Maison, formerly Pierrot Bistro. Warm wood accents and exposed brick help diners feel right at home, but it's the classic French cuisine that outshines the ambiance and the owner.
This is one of the only French restaurants Boston that serves frogs legs (done Provencales style), seared foie gras, short rib beef bourguignon, and calf's liver. Other French delicacies include steak or tuna tartare, Uncle Lucien's country pate, ratatouille, and Burgundy escargots. Crusty, hot, fresh baguettes accompany each meal.
Ma Maison is a family restaurant that offers a kids' menu for the youngest French food connoisseurs as well as an extensive dessert list (the strawberry baked Alaska is a must.) A commendable cocktail and wine list rounds out the reasons why Ma Maison should be on your list when visiting Boston.
#2 - Best French-Mediterranean Restaurant in Boston
223 Columbus Ave, Boston
617-867-9300


Dinner: Mon – Thu: 5:30 PM – 9 PM
Fri & Sat: 5:30 PM – 10 PM
Sun: 5:30 PM – 9 PM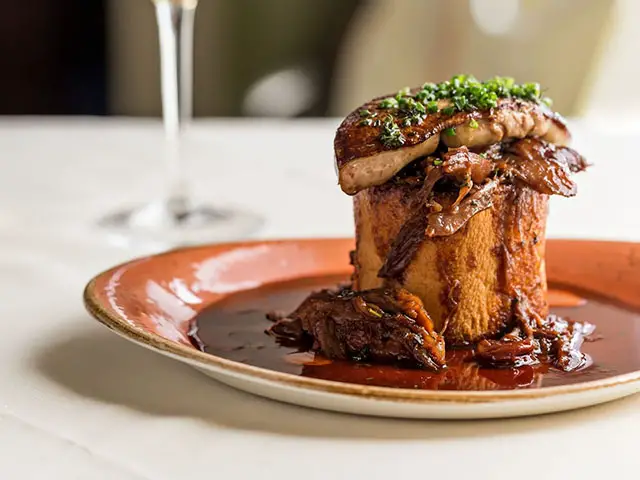 Mistral's focus is on French-Mediterranean cuisine, with decor that reflects what you might find in the south of France: stucco, stone, and iron. This South End restaurant has been delighting diners since 1997 with dishes such as Hudson Valley foie gras, Maine crab ravioli, roast rack of Colorado lamb, and red wine braised beef short ribs.
The prices are a bit higher here than at other French eateries in the city, making it a good restaurant for special occasions. However, Mistral delivers a decadent dining experience complete with attentive but not bothersome service and impeccably crafted meals under award-winning chef Jamie Mamaano's direction.
As a bonus, they offer outdoor dining.
Note: Mistral also made our list of the most romantic restaurants in Massachusetts. If romance is your thing, you'll love our top 7 picks!

#3 - Best Multi-Cultural French Food in Boston
25 Massachusetts Ave, Boston
857-277-0075


Tues – Thu: 8AM – 3 PM
Fri: 8 AM – 9 PM
Sat & Sun: 9 AM – 9 PM
Mon: Closed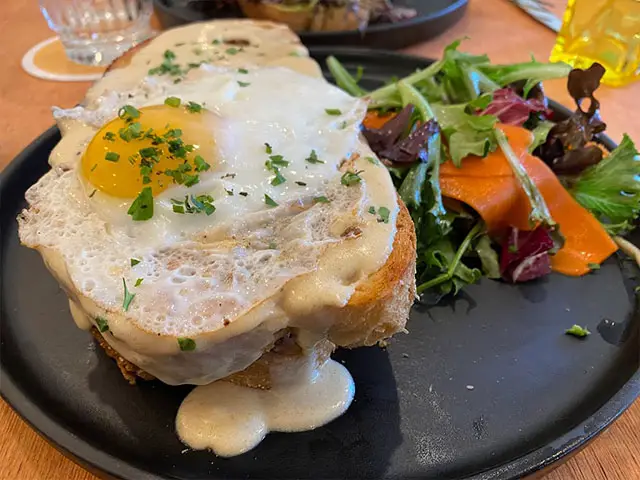 As the youngest restaurant on our list, Cafe Sauvage is shaking things up a bit when one thinks about French cuisine.


That's because owners Antoine and Anais Lambert—who hail from France—want to show Bostonians that their home country is a multi-cultural nation, with influences from Ethiopia, Vietnam, and Portugal.


That explains why unexpected dishes such as the Bahn Mi sandwich, injera crepe, and the Sauvage burger share space on the menu alongside French classics such as steak frites and roasted chicken. Hence, the eatery's playful name which translates to "wild cafe." The interior's jungle print wallpaper and tropical plants reflect the theme.


The result is a Parisian bistro with a twist. Since the Mass Ave. restaurant is primarily a cafe, it specializes in coffee, croissants, and a refreshing non-alcoholic mint and lemon cocktail from Africa called Bissap. For brunch, try the Croque Madame or the mushroom and goat cheese omelette.

Then come back after 11 AM when the large plates become available. (Note: some dishes are only available at night.)
#4 - Best French Bistro in Boston's South End
569 Tremont St, Boston
617-424-8577


Dinner:
Sun – Thu: 5 PM – 9 PM
Fri – Sat: 5 PM – 10 PM
Sat & Sun: 10 AM – 3 PM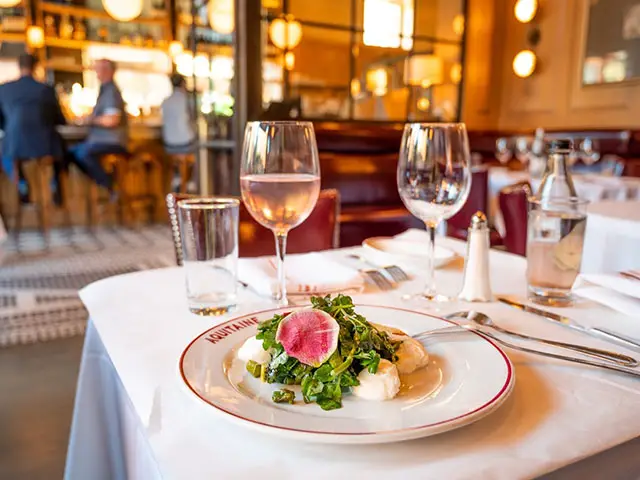 Aquitaine has been bringing the French bistro lifestyle to Boston's South End neighborhood for over 20 years. That longevity means they're doing something right.


The lively bar and small round tables draped with white tablecloths will trick you into thinking you really are at a Parisian brasserie. The food will further leave you gazing out at Tremont St. for a glimpse of the Eiffel Tower.


Diner favorites include the moules frites, duck l'orange, sole meunière, and coq au vin rouge. Aquitaine also offers two versions of steak frites: one with truffles and watercress, the other with garlic parsley butter.


You can enjoy the full menu at the bar, which offers an extensive wine list. But Aquitaine is more than a bar; they also serve a weekend brunch featuring a duck hash with eggs, brioche French toast, and several types of omelettes.
#5 - Best French Onion Soup
371 Commonwealth Ave, Boston
617-517-5915


Sun-Thu: 5 PM – 9:30 PM
Fri: 5 PM – 10 PM
Sat: 5 PM – 10:30 PM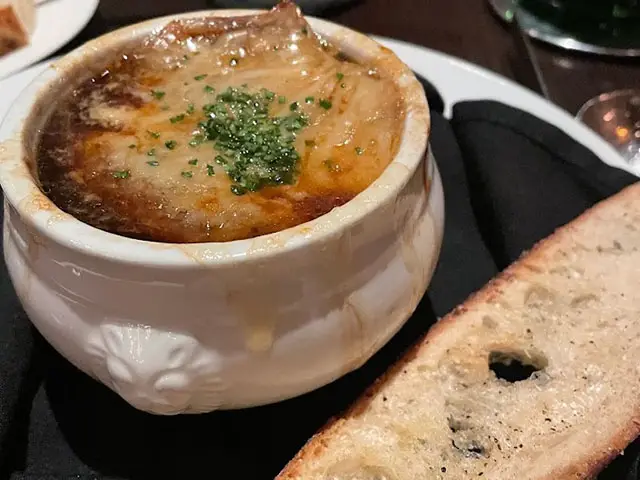 Sure, you can get French onion soup at just about any French restaurant. But you haven't truly lived until you've tasted Deuxave's nine-hour recipe. The secret is the collagen-rich, slow-cooked beef broth. A bone marrow crouton and Comte cheese complete this showstopper.


If soup isn't your thing, the menu has more enough to satisfy any French fare craving: herb-crusted cod, joues de veau (veal cheeks), and truffled green salad, to name a few. There's a bit of an Italian influence as well; Deuxave serves lobster gnocchi, tagliatelle bolognaise, and olive and rosemary focaccia.


Love wine? You've come to the right restaurant. Deuxave boasts literally hundreds of varieties on their wine list, and offers a wine program that pairs the perfect glass with every dish.


Outdoor dining during the warmer seasons adds to the delightfulness.
#6 - Best French Restaurant on Cape Cod
10 Market Street, Mashpee
508-539-7907


Lunch:
Mon-Sat: 11:30 AM – 3:30 PM
Dinner:
Mon – Sat: 5 PM – 9:30 PM
Sun: 5 PM – 10 PM
Sunday Brunch:
11:30 AM – 3:30 PM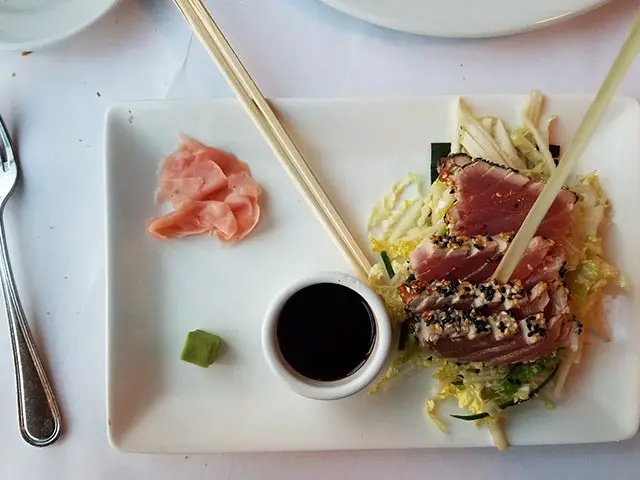 Cape Cod isn't all about seafood. Near the Route 6 gateway you'll find fine French dining at Bleu in Mashpee. Founded by award-winning executive chef Frederic Feufeu, who hails from France's Loire Valley, Bleu will delight with authentic French dishes and outdoor seating overlooking Mashpee Common.
This is one of the few French restaurants in the Boston area that has cassoulet on the menu. Their version of the bean-based stew includes duck leg confit, pork, bacon, and garlic sausage. You can also order New Zealand roasted rack of lamb, sea salt crusted chicken, and filet mignon au poivre.
Not to fear if you're craving seafood. Cotuit oysters, salted cod chowder, seared sea scallops, and day boat haddock with a touch of absinth in the sauce will keep you satisfied.
For dessert, cleanse the palate with the refreshing strawberry and champagne sorbet.
==> If Bleu (above) and Bistro du Midi (below) are putting you in the mood to explore Boston's best seafood, check out our list of the best seafood in Massachusetts!
272 Boylston St, Boston
617-279-8000


Mon – Thu: Lunch 12 PM – 3 PM; Dinner 5 PM – 9:30 PM
Fri: Lunch 12 PM – 3 PM; Dinner 5 PM – 10 PM
Sat: Brunch 11 AM – 3:30 PM; Dinner 5 PM – 10 PM
Sun: Brunch 11 AM – 3:30 PM; Dinner 5 PM – 8 PM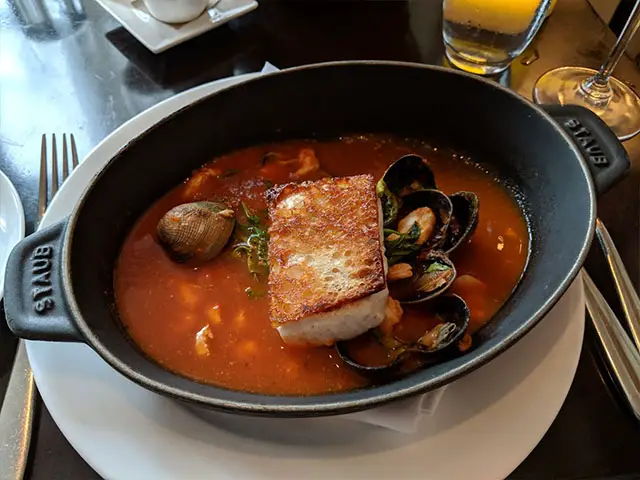 What's better than eating French food or New England seafood? A restaurant that combines the two. Bistro du Midi, overlooking the Boston Public Garden in the Back Bay, has perfected that balancing act since 2009.
For diners who are more turf and less surf, you'll find plenty of meat, poultry, and vegetarian dishes such as the filet mignon, Freebird Farms chicken, beet gnocchi, and duck breast.
The wine and cocktail list is a whopping 18 pages long, featuring not only an amazing selection of French wines but domestic and international reds and whites.
The street-level dining area is lively with beautiful views of the Garden while the upstairs features a fireplace, open kitchen, second wine bar, and private dining areas.
#8 - Best French Restaurant With a View
11 Hawthorne Road, Stockbridge
833-774-6752


Reservations required; dinner is served nightly and a brunch on Sundays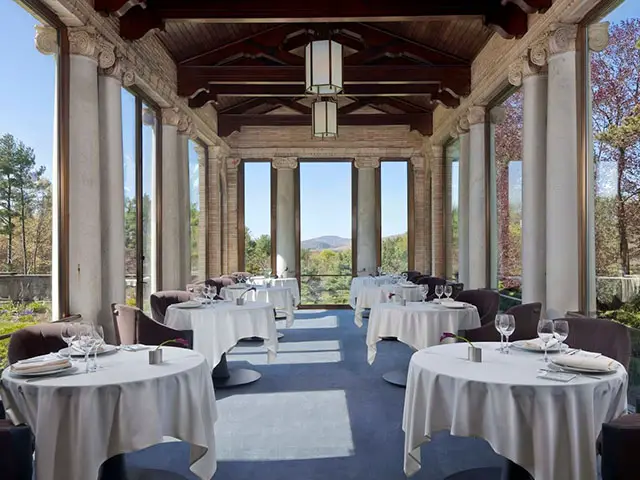 Everyone should experience The Portico at least once in their lifetime. Part of the prestigious luxury hotel Wheatleigh in the heart of the Berkshires, this French restaurant offers what is five-star fine dining with arguably the best views in the entire state.


The restaurant itself is enclosed in an Italianate-style palazzo featuring columns and floor-to-ceiling windows that show off the property's sweeping 22 acres. With only eight tables, reservations are required.


You can choose from a lunch or dinner menu that includes delicacies such as fried goat cheese with figs, wild Burgundy snails with mushrooms, or grilled lamb loin with lentil stew.


Or for a truly exceptional dining experience you can go for the four-course prix fixe menu or Jeffrey's menu, a six-course tasting menu created by head chef Jeffrey Thompson. Either option will seriously impact your wallet, but c'est la vie. Where else in The Berkshires can you dine on stuffed rabbit leg, sea trout tartare, or guinea fowl?
#9 - Best French- New American Restaurant in Boston
107 South St, Boston
617-695-9463


Lunch:
Tue – Fri: 11:30 AM – 5 PM
Dinner:
Tues – Fri: 5 PM – 10 PM
Sat: 4 PM – 10 PM
Late Night Tue-Thu: Thru midnight
Late Night Fri-Sat: Thru 1 am
Closed Sundays and Mondays
Reservations required; dinner is served nightly and a brunch on Sundays
Located in a newer, roomier space in the Leather District, Troquet on South may be the only French restaurant in the Boston area that has a hotdog on the menu. The Boston Speed Dog as it's called isn't the only American dish; you'll find New England bouillabaisse, Maine lobster roll, and the double burger among the dinner offerings as well.


The inclusion of American food hasn't hurt the restaurant's reputation. The chefs know how to make francophiles happy with French onion soup, truffled chicken, sturgeon caviar, and other classics.


Then there's the wine list, which is compiled in a 40-page booklet that the restaurant can email to you upon request. For dessert, don't overlook the olive oil rhumbaba which is served with ice cream and hazelnut brittle.
#10 - Best Affordable Bistro
480 Columbus Ave, Boston


Mon – Fri: 11 AM – 9:30 PM
Sat: 10 AM – 10 PM
Sun: 10 AM – 9:30 PM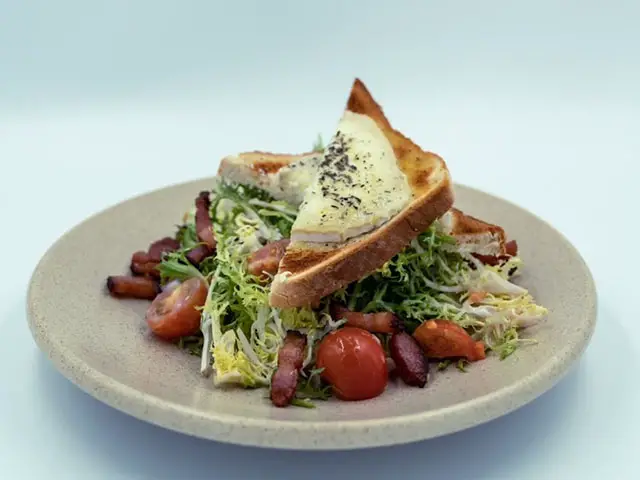 For the last selection on our list, we're coming full circle with another Jacky Robert venture: Petit Robert Bistro.


True to the nature of bistros in France, Petit Robert strives to keep its prices more affordable than other French dining options in Boston. It's also very casual, the type of place that people who want to relax for a bit flock to. The lovely outdoor dining patio offers up a view of the Prudential Center and a church, adding to the ambiance.


Relax in the blue and white woven chairs and start with the trio of pates and baby beet salad. For entrees, you can't beat the moules frites—ask for extra bread to soak up the delicious broth. Other standout options include the pan-seared salmon and braised short rib and cheese sandwich.


Petit Robert also serves a brunch on the weekends and a new variety of seasonal cocktails every month. You'll find plenty to toast to at this laid-back eatery.
Do a search for "best French food near me" or "best French restaurants near me" and you'll be overwhelmed by the results. That's why we helped narrow down the choices for you and also selected dining destinations throughout the state that live up to their high French standards.
From Beacon Hill to the Berkshires, there's no escaping mouth-watering French food! Why not inject some more joie de vivre into your life by sampling them all?
Most frequent questions and answers
Best is a subjective term, as everyone has their own culinary tastes. One could argue that their favorite food from any country is the best. So instead we'll rephrase this question as "Why is French food held in high esteem?"


While the French didn't invent cooking, they did do something that many other civilizations missed: they documented their recipes and cooking techniques. That way, they could replicate the same dishes over and over again with consistent results and quality. And it meant that others could enjoy the dishes that were being developed.


Having said that, France is known for its great food. The French don't shy away from cheese, butter, herbs, not to mention unconventional proteins that Americans don't regularly consume—escargots and calf's liver, anyone? They also know that oftentimes, long, slow, and steady cooking (we're looking at you, beef bourguignon) wins the food race as well as the tastebuds.
You've probably noticed that some French restaurants call themselves a bistro while others refer to themselves as a brasserie. What's the difference?


The main difference is that in France, a bistro is usually small, intimate, and casual while a brasserie tends to be larger and louder. Bistros are usually first and foremost a wine bar offering small dishes to accompany the drinks. Brasseries usually have much longer menus.


Oh, and there's also the cafe, which primarily sells beverages and baked goods. But a cafe also typically serves lunch items such as soups, salads, and sandwiches.


Here in the States, however, bistros, brasseries, and cafes tend to be interchangeable as far as their menus and clientele are concerned. Your best bet when choosing amongst the best French restaurants is to check out their menus online and review their website to get a sense of the dining atmosphere.
Great question! Chances are you'll find plenty of options on the menu that you've never tasted before or don't eat very often. We recommend trying some classic French dishes such as steak or moules frites (steak or mussels with fries), foie gras (duck liver), escargots (snails usually served in a buttery sauce), and cassoulet. A delicious vegetarian option is ratatouille, which is made with eggplant.
And for dessert? Many restaurants will offer a selection of French pastries, but a soufflé is a wonderful way to end the perfect French meal.