We are reader-supported (thank you)! When you buy through links on our site, we may earn an affiliate commission.
When most people think of Massachusetts food, chowder and lobster rolls quickly come to mind. But dining options in the bay state have so much to offer in addition to the local seafood.


Massachusetts is home to a multitude of farms and a melting pot of cultures which means there's no shortage of culinary experiences to explore. Whether you're a long-time local or visiting for the first time, here are the ten best restaurants in Massachusetts we recommend checking out at least once.
Quick Snapshot: For a quick visual on the awesome restaurants recommended on this page, watch our video below. Then you can skip down the page for more info on the ones that look like they're just what you're in the mood for!
Top Massachusetts Restaurants
How We Rated

When it comes to finding the best places to eat in Boston, you'll want to explore all the different neighborhoods. From fine dining in the North End to more casual options in Cambridge (that might be the best buffet in Massachusetts), there's something for everyone. We want to add that 5 star restaurants in Boston are not such a rarity, but back to our assessment.
It's important to note that while Boston's restaurant scene is comparable to New York City, we actually did not include any best healthy restaurants Boston on our list. We felt that the city's food culture belonged in its own separate category, and decided to focus on restaurants in the Greater Boston Area and beyond. This shows that you can enjoy fine dining away from Newbury Street and Boston's North End.
As far as where restaurants landed on our list, they're really in no particular order. We did, however, take into account the venue's atmosphere and attention from staff to place some restaurants higher on our list.
#1 of Massachusetts' 10 Best Restaurants
61 Lowell Road, Groton
978-448-2900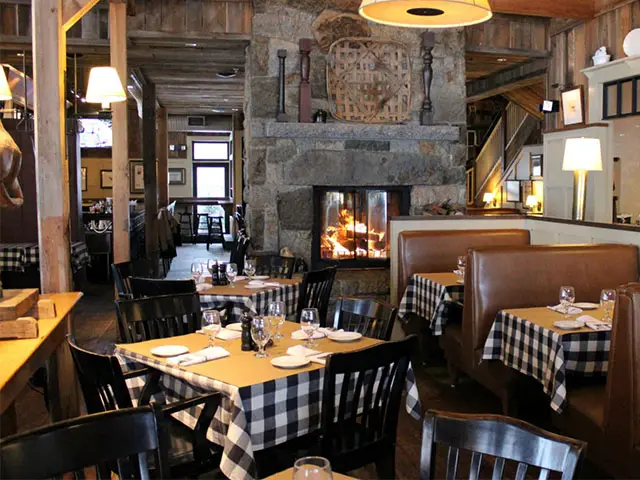 Earning the number one spot on our list is Gibbet Hill Grill, one of the only fork-to-farm restaurants in New England. Located on a 500-acre farm in Groton, you get to enjoy spectacular scenery while you dine on dishes that revolve around what's in season.
The upscale restaurant specializes in grilled cuts of steak derived from the farm's Black Angus steer. Each steak is available with your choice of two farm sides. Selections include mushrooms, smashed Yukon gold potatoes, and macaroni and cheese.
Entrees include mushroom agnolotti, made with parsnip puree, crispy potato-crusted cod, and Scottish organic salmon. During the summer months, a variety of veggie appetizers from zucchini fritters to roasted beets become available.
The dining room has a rustic and welcoming feel to it, complete with a stone fireplace. You'll feel right at home on this farm.
#2 - Best Exciting New Idea on the North Shore
1268 Osgood Street, North Andover
978-208-1877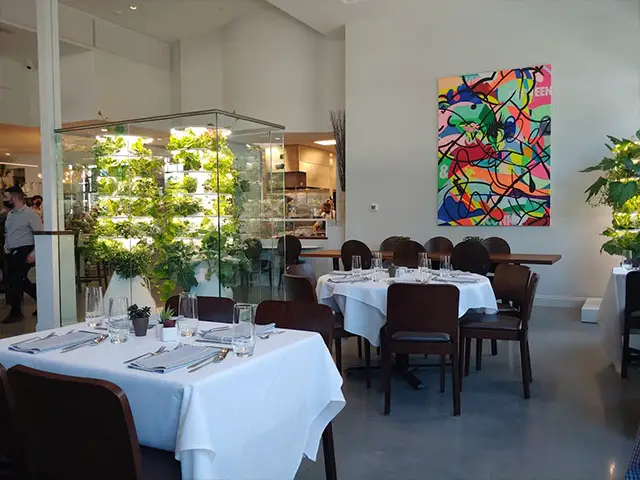 The name of North Andover's newest culinary addition refers to two animals that peacefully coexist at mealtimes—such as when crows take over cleaning up a kill after the wolves have had their fill.
Perhaps that's why Bird & Wolf is part restaurant, part cafe. The menu leans towards American cuisine, with short rib, steak frites, Berkshire pork chop, and Wagyu sirloin all sharing equal billing. There are also some French-inspired dishes such as the foil gras and roasted duck.
But what really makes this modern eatery on route 125 stand out is the attentive service and what the restaurant calls biophilic design. That explains the large "growing wall"—comprised of plants—that help cleanse the dining room air. It's this innovative concept along with great food that earned this restaurant the number one spot on our list.
Bird & Wolf also delivers a knockout Sunday brunch featuring roast sirloin of beef with Yorkshire pudding and eggs Benedict served with duck fat hollandaise.
After your delicious meal, try a cup of the drip coffee and get a pastry or petit dessert to go.
Note: If the sound of French meals got you inspired, check out our list of the 10 best French restaurants in Boston.
#3 - Best Israeli Food in the Greater Boston Area
370 South Main Street, Sharon
781-867-7997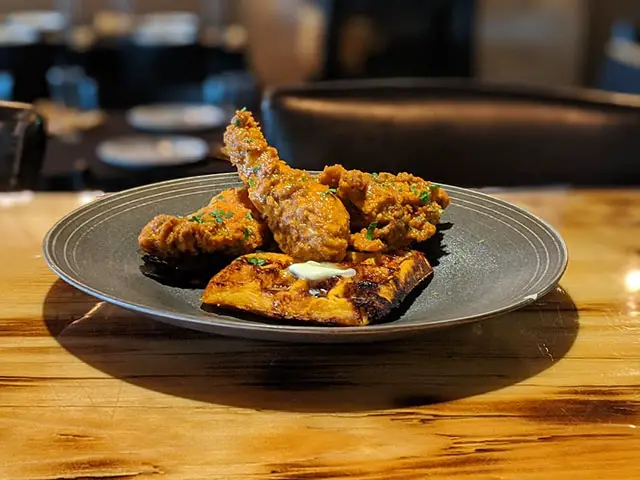 Simcha's founder, Avi Shemtov, is on a mission to reinvent and introduce modern Israeli soul food to New Englanders. Names for his grandmother, who fueled his love for cooking, Simcha is also Hebrew for joy, which is what you're likely to experience while dining in it.


Everything is sourced from local New England farms, including the beans that make the restaurant's signature hummus. Pair this with the freshly baked pita bread that goes directly from the 900-degree wood oven to your table (watch out for steam when you open the bread pocket) and it's a match made in heaven.


Next, you don't want to pass on the deep-fried Brussel sprouts that are tossed in Bulgarian feta and garlicky tahini or the Moroccan spiced carrots. The Yemenite fried chicken elevates the crunchy Southern dish we know and love by coating the chicken pieces with chickpea flour and serving them over a smoke sweet potato puree. Steak tips take on a warm flavor profile by being marinated in cinnamon.


Wash it down with one of the bar's creative cocktails made with cold-pressed juices.
#4 - Best Polish Food in Boston, MA
South End/Back Bay
611 Dorchester Avenue
South Boston MA 02127
(617) 269-0110


Mon – Thu 11am – 9pm
Fridays 11am – 10pm
Saturdays 10am – 10pm
Sundays 10am-9pm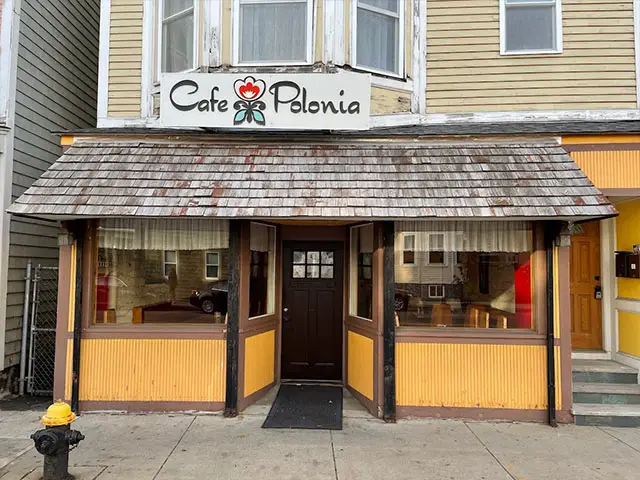 As Boston's only restaurant dedicated to Polish cuisine, Cafe Polonia is under a lot of pressure.


Fortunately, it delivers with mouth-watering Eastern European dishes such as kielbasa and stuffed cabbage stew (bigos), pierogi with a variety of fillings, and the belly-busting Gypsy Pancake comprised of two giant potato pancakes stuffed with savory Hungarian goulash.


Try a bowl of the traditional borsch, served with mushrooms or optional meat-filled ravioli. And don't forget dessert: the chocolate-filled babka and cheese crepes are standouts.


This small but mighty hidden gem in Dorchester has been going strong for 20 years now. The rustic dining room, fitted with handcrafted touches, will make you feel like you've been transported to the Polish countryside.


No wonder Guy Fieri raved about this "real deal Polish joint" on the Food Network. This is Polish comfort food at its best, and diets should be checked at the door. Even the complimentary bread isn't exactly low-calorie fare: it's served with a small pot of salty lard!
#5 - Best Farm-To-Table Brunch
122 Main Street, North Easton
508-297-0286
and 534 F Boston Post Road, Sudbury
978-261-5832
Mon-Fri: 8AM-2PM
Sat-Sun: 7AM-3PM
Sudbury closed Tues & Wed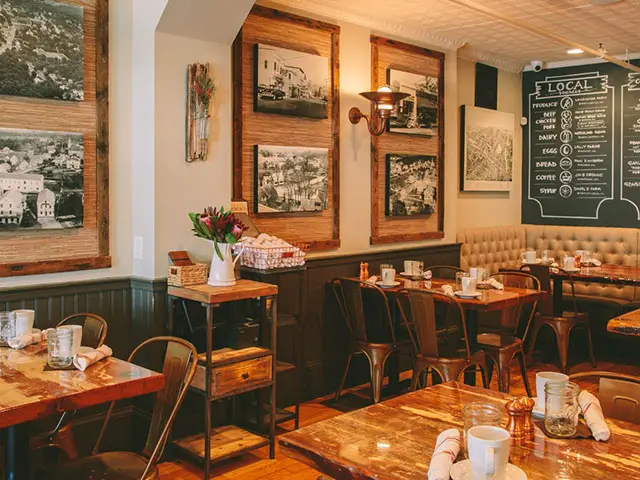 The Farmer's Daughter isn't just a restaurant; it's a real person. Head chef and owner Chandra Gouldrup grew up on a potato farm in rural Maine, and wanted to recreate her childhood experiences of sharing home-cooked meals made with fresh local ingredients with family and friends.
The result is perhaps the best farm-to-table brunch restaurant in the state, which has two locations in North Easton and Sudbury. Goudrup prides herself on using the freshest seasonal ingredients by partnering with local farms, creameries, and breweries throughout New England.
The hearty breakfast items—such as the Chicken and Waffles Benedict, Croissant-y Cristo Sandwich, and Todd's Knock Your Socks Off Banana Pancakes—will power you throughout the day. The Sudbury location also offers plant-based hippie cakes, made with chickpeas to pack a serious protein-filled punch.
Although diners flock here for breakfast, the lunch near me items are not to be dismissed. Tad's Chicken Salad combines the right amount of sweet touches such as cranberries and candied pepitas with savory lemon mayo and dill. Or sink your teeth into the generous Farm Burger, featuring locally raised beef on a brioche bun.
Even the dining room tables are local, crafted of reclaimed beams from a textile mill.
The one downside, as the local foodies know, is that the restaurant doesn't take reservations, so be prepared to wait, especially on the weekends.
#6 - Best Kept Asian Secret
38 Franklin Street, Worcester
508-304-7183
The first thing you need to know about Chashu, despite its focus on Japanese cuisine, is that you won't find sushi on the menu. That's because owner Son Vo—who previously launched Vietnamese noodle joint Pho Sure in Shrewsbury—wanted the focus to be on small plates, charcoal-grilled meats and veggies, and ramen. That's just one reason why this restaurant is among Worcester's hidden gems and got local foodies talking.
With the grilled skewers, you can mix and match to your heart's delight (the pork belly with soy glaze and smoked bacon sea scallops pair well with the shishito peppers.) Or enjoy a filling and nutritious ramen bowl; Chashu offers up four different broth options and a variety of toppings. The Spicy Red Miso bowl is guaranteed to clear your sinuses in minutes!
The restaurant also offers up a fine selection of Japanese sake, whisky, and beer—which makes sense since an izakaya is a type of casual sake bar found in Japan.
Note: If you an Asian food lover check our lists of Indian, Chinese and Thai food in Boston!

#7 - If It Ain't Broke, Don't Fix It
207 North Main Street, Andover
978-475-7996

878 Lexington Street, Waltham
781-647-0844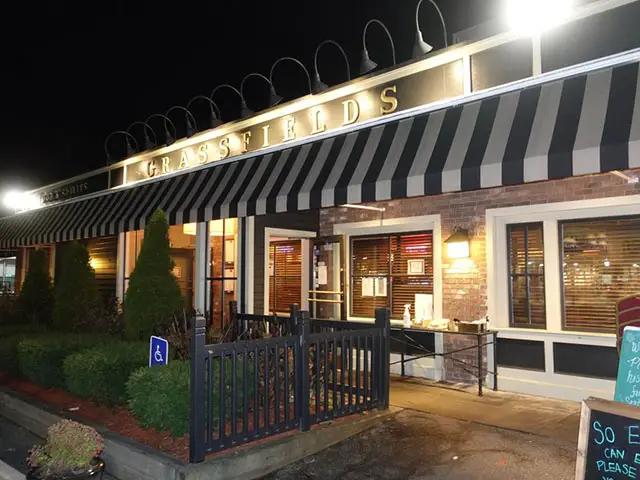 Neither the menu selections nor the main dining room decor of Grassfields has changed much in decades, and that's just how the restaurant's fans like it, judging by the throngs of them waiting outside the front door during peak dining time.


And by peak dining time, we mean pretty much any time. That's how popular this Andover restaurant is, and it isn't even in the downtown area but in front of a shopping plaza.


Once you sample the menu, you'll understand why. Grassfields is known for its classic appetizers, the freshest seafood entrees, mouthwatering surf and turf combinations, and flavored martinis. The fact that the portions are generous for fair prices just adds to the venue's popularity.


You can't go wrong with anything here. Start off with the fried zucchini sticks, seafood stuffed mushrooms, and the iceberg & blue salad: a wedge of iceberg topped with chopped tomatoes, red onions, applewood smoked bacon and blue cheese dressing. Next, the jumbo Maryland crabmeat pie is a must—especially when paired with the restaurant's own rice pilaf.


Other knockout choices are the classic baked stuffed gulf shrimp, native sea scallops, and marinated steak tips. Did we mention they serve a roasted rack of lamb as well?
#8 - Family-Style New England Classic
72 Wayside Inn Road, Sudbury
978-443-1776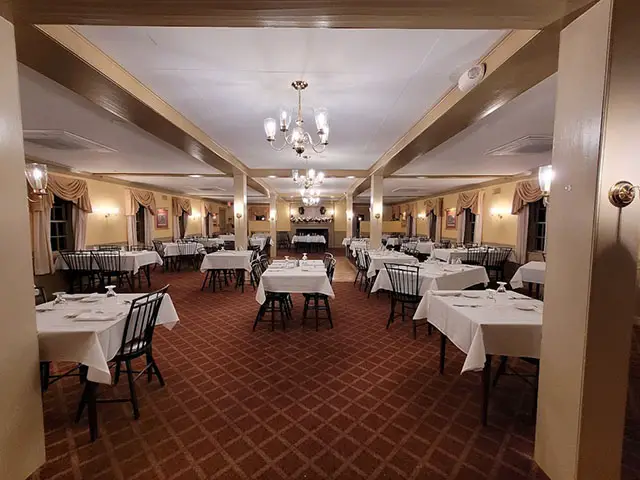 If you're looking for big family-style meals reminiscent of the Sunday dinners your grandmother used to make, then a trip to the Wayside Inn in Sudbury is a must. The inn itself was founded decades before the Revolutionary War took place, and strolling its bucolic grounds is a must before or after you eat.


You'll find a variety of meat and gravy combinations on the menu such as the Yankee pot roast, roasted turkey breast, and chicken pot pie. And then there's the patron favorite: the prime rib. That last selection can be supersized to a whopping 12-ounce "English cut" version.


Other recommended dishes include the Wayside Inn shrimp casserole, baked with sherry and topped with buttery cracker crumbs, and the scallops wrapped in bacon that are served with honey mustard sauce. This is also one of the best restaurants to enjoy a crock of French onion soup, topped with generous cheesy goodness.


There's something very New England about eating the dining equivalent of a home-cooked meal in one of the state's oldest dining rooms. We recommend finishing the meal with the deep-dish apple pie or the homemade Indian pudding—a recipe that dates back to Colonial times—topped with ice cream.
#9 - Italian Fare Outside of The North End
Kingston's Orta Trattoria and Lounge is proof that you don't have to venture into Boston's North End neighborhood for the best Italian fare and authentic Italian restaurants. Once you see how beautifully presented each dish is, you'll want to sample them all.
There's the aromatic rigatoni, which gets its warm notes from the pleasantly unexpected juniper and rosemary, herb-crusted salmon, which sits on a throne of citrus spaghetti squash, and the linguine, which is topped with a poached egg and smoked bacon.
The restaurant is named after a lake that is one of Italy's hidden gems, Lago D'Orta. With its casual vibe and well-dressed menu, you'll definitely want to keep it all to yourself as well.
#10 - Cape Cod's Freshest Seafood
152 South Shore, South Yarmouth
508-394-7406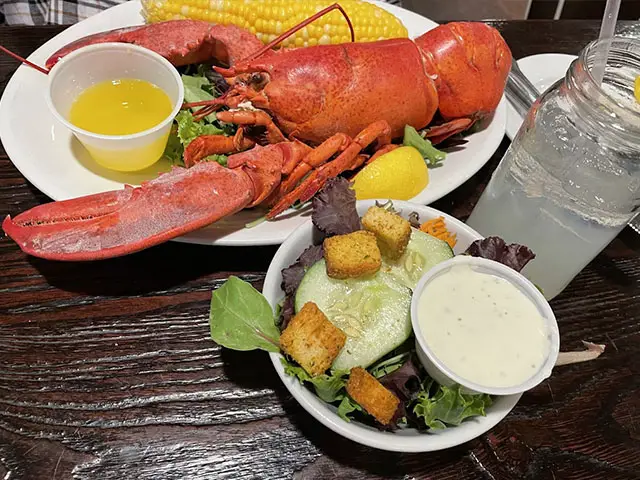 What could be better than enjoying the freshest local seafood with a view of Nantucket Sound? Skipper Chowder House delivers both in a no-frills atmosphere that hasn't changed much since the restaurant was founded over 85 years ago.
Smack in the middle of the Cape, Skipper Chowder House serves up its Triple Crown award-winning Cape Cod clam "chowdah", which can be upgraded to include deep-fried mini clam cakes. From there, you can enjoy the usual Massachusetts seafood standards such as steamed clams, stuffed quahogs, and baked stuffed sole. This is also one restaurant that does the lobster roll justice, offering three different versions including one that packs a whopping half-pound of the crustacean.
Then there's the belly-busting Fisherman's Platter which includes fried Atlantic cod, whole belly clams, jumbo shrimp, and scallops. If you and your dining party would really like to go all out, opt for the Skipper Family Clambake which comes with chowder, lobster, mussels, steamers, red bliss potatoes, and corn on the cob. Everything but the beach!
If you still haven't had your fill after all this, then the Skipper's Ice Cream shack will satisfy your sweet tooth with sundaes and soft-serve cones. The perfect way to end a meal, along with inhaling the fresh ocean air.
Massachusetts' top restaurants have something to offer every culinary craving. Compared to a decade ago, there are plenty of ethnic and creative eateries in every corner of the state.


We recommend that when visiting each of these restaurants to make it a day trip and explore the local attractions while you're at it. You'll quickly realize Boston isn't the only place in the state that has a social life!
Most frequent questions and answers
Massachusetts is known best for its clam chowder, lobster rolls, and fried clams. Bay state food inventions include apple cider donuts, Hoodsie cups, Boston baked beans, and the fluffernutter—a sandwich made of peanut butter and marshmallow Fluff. And we can't forget Fenway Park franks!

But as you can see from our restaurant list, Massachusetts food is about more than local seafood. Contemporary American cuisine, Italian fare, and ethnic cuisine is transforming how we define Massachusetts food.
The Massachusetts Restaurant Association says the state has about 12, 400 restaurants in operation, with about 3,000 of them in Boston alone. That means there are at least 9,000 restaurants outside of Boston to explore for dining options! So you can easily find the best restaurant in springfield ma, best restaurant near boston common, chef's tasting menu, vegetarian tasting menu and other options that you can imagine!
That's hard to estimate, although we can tell you that any kind of seafood restaurant usually attracts a lot of patrons, especially the ones that are only open for the summer season on Cape Cod and the islands.


Massachusetts' residents and visitors like a good steak as well. And pizza and burgers rule. Ultimately, most people like a casual restaurant where they can be comfortable and bring their kids.