We are reader-supported (thank you)! When you buy through links on our site, we may earn an affiliate commission.
Did you know that Boston made Instacart's list of the most romantic cities in the U.S.? It's true that Boston—and Massachusetts—has a lot for couples to enjoy: beautiful scenery, interesting attractions, and of course, delicious food!
Whether you're looking to impress on romantic date night, you're celebrating Valentine's Day weekend, you want to have a romantic dining or another special occasion, you should have no problem finding the best romantic restaurants, romantic restaurants near me, nice anniversary restaurants near me, couple friendly restaurants near me, best restaurants central Massachusetts that ticks all the right boxes.
But for a romantic and cozy restaurant to make our list, it has to have the winning combination of a swoon-worthy menu with an equally seductive atmosphere. Here are our top 7 choices for a fine dining experience that are sure to get hearts pounding and mouths watering.
Quick Snapshot: We've highlighted our list of the most romantic restaurants in the overview video below. Feel free to watch a bit of it, all of it, or skip directly to the ones that you think you'll fall in love with!
Most Romantic Restaurants in Massachusetts
Contessa – the hottest reservation in town
Red Lion Inn – old school New England charm
Ithaki – a slice of Greece in the land of the clam
Mistral – because the French know romance
Harvest – Cambridge's secret garden
Seaglass – dining by the sea
Mamma Maria – your North End romance destination
3 Newbury Street, Boston
617-536-5700
Sunday: 9:30 AM – 2 PM; 5 PM to 11 PM
Monday – Friday: 7:30 AM – 10:30 AM; 11:30 – 2:30 PM; 5 PM to 11 PM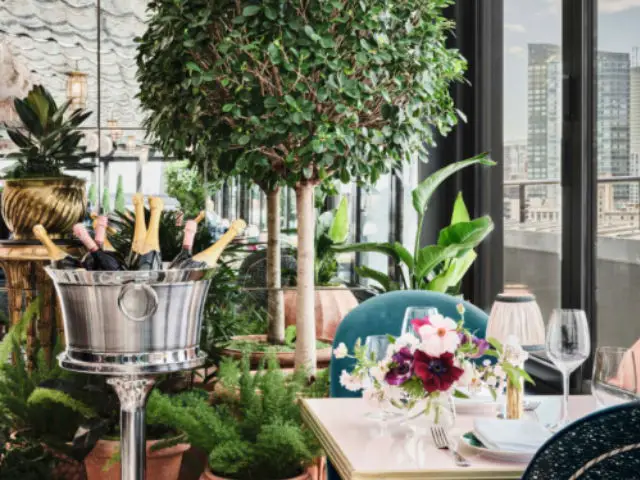 Securing reservations at this glitzy rooftop oasis in The Newbury Boston may be a little tricky, but the payoff is worth the effort. Contessa offers up what is inarguably the best views of the Back Bay and an Art Deco-inspired design (rounded plush pink booths!) The retractable glass roof opens up in warm weather and the entire space turns sun-drenched at the right time of day, making it feel like you're sitting in a garden.
If the views don't make your date fall in love, the Italian cuisine surely will. You'll be treated to a focaccia basket while you survey the menu, which includes starters such as imported burrata, octopus, beef carpaccio, and veal meatballs served in a creamy mustard sauce.
The restaurant's signature dish, Bistecca Fiorentina, weighs in at a whopping 40 ounces and is meant to be shared by two people. But you and your date may find love in the butter chicken, veal Milanese, or the perfectly grilled branzino (European sea bass.)
Contessa also offers a Sunday brunch and a breakfast and lunch menu during the week.
Make sure that you save room for dessert – split the chocolate torte or the coffee gelato. And then be sure to get a jump on making a reservation for next year's Valentine's Day feast.
#2 - Most Romantic Restaurant in the Berkshires
30 Main Street, Stockbridge
413-298-5545
Breakfast: Wednesday – Friday: 7:30 AM – 10 PM; Saturday & Sunday: 7:30 AM – 10:30 AM
Lunch: Wednesday & Thursday: 12 PM – 2:30 PM; Friday – Sunday: 12 PM – 3 PM
Dinner: Wednesday, Thursday, & Sunday: 5:30 PM – 8:30 PM; Friday & Saturday: 5:30 PM – 9 PM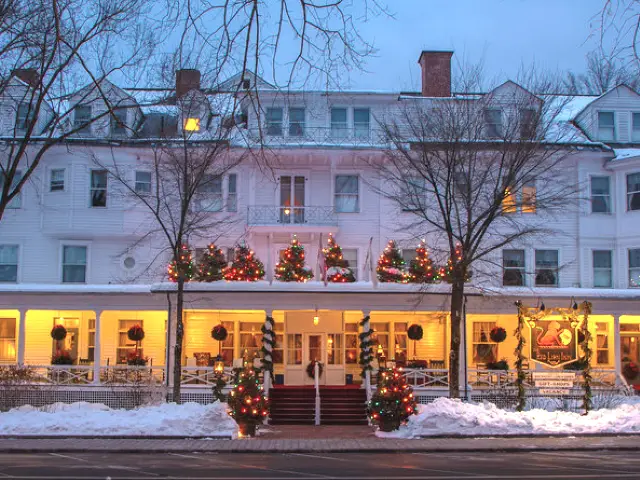 This Western Mass. mainstay is dripping with New England charm. Crystal chandeliers, colonial pewter, and antique china help set the scene in the main dining room which has been in operation for over a century.
You and your dining companion can begin by sampling the cheese and charcuterie board accompanied by any of the 300 selections on the wine list. One of the restaurant's specialties is its prime rib roast beef served with a rosemary popover and horseradish cream. The poisson et frites consists of pan-seared halibut, shaved Brussel sprouts, and malt vinegar potato chips.
The Inn offers a Valentine's Day menu that can be served a la carte or at a prix fixe. Selections for 2022 included oysters on the half shell, pan-seared scallops, duck breast, and strawberry mousse for dessert.
Best of all, the restaurant is in a hotel, making things super convenient if the meal puts you both in the mood.
#3 - Most Romantic Mediterranean Restaurant
25 Hammatt Street, Ipswich
978-356-0099
Sunday: 4pm – 7:30pm
Wednesday & Thursday: 4pm – 8:00pm
Friday & Saturday: 4pm – 9:00pm
Monday & Tuesday: Closed
With its crisp white tablecloths and fresh flowers, Ithaki sets a charming and homey scene. But you'll also fall in love with the modern Mediterranean menu, which leans heavily towards Greek delicacies.
Specialties at this hidden Ipswich gem include the Avgolemono soup, grilled octopus, youvetsi, moussakas, and short rib pappardelle. For more intimate small bites, try the oysters, sardines, or the pan fried cheese. All are prepared with care by a chef who says he's in love with food. For dessert, it doesn't get sweeter than sharing a little house-made baklava with your honey.
In a town known for its fried clam joints, Ithaki is perfect for that special occasion or if you want to make a stop on the way home from walking the beach together.
#4 - Most Romantic French Restaurant
223 Columbus Ave, Boston
617-867-9300
Dinner: Monday-Thursday: 5:30 PM – 9 PM
Friday & Saturday: 5:30 PM – 10 PM
Sunday: 5:30 PM – 9 PM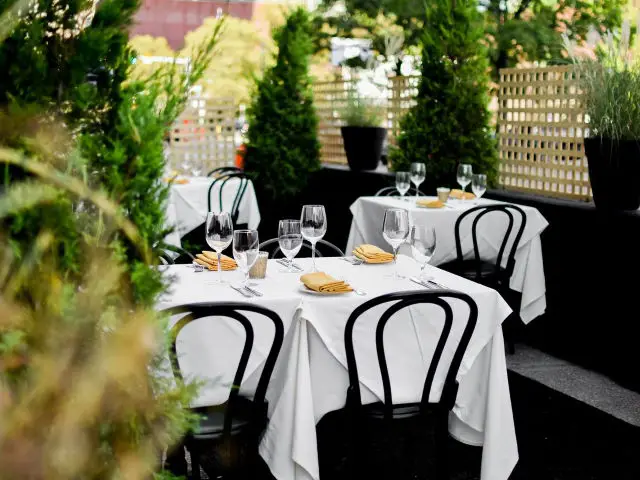 Few would argue that no one knows romance better than the French, which is why Mistral is high on our list of date night restaurants. This South End mainstay is considered one of the most romantic restaurants in Boston. The cuisine is quintessential of southern France, so there's a bit of a Mediterranean influence going on, especially in delicacies such as the pan roasted cod, black truffle macaroni, and the steamed mussels.
There are also plenty of classic French dishes to be found on the menu such as onion soup, escargots, and two kinds of foie gras. The decor reflects the feel of dreamy Provence, with stucco, stone, and iron used throughout the interior. The tall floor-to-ceiling windows ensure plenty of natural light.
Mistral isn't exactly for couples on a budget—the roast rack of lamb will set you back nearly $90—but isn't your love worth it? Be sure to cap off the night by sharing the chocolate profiteroles or classic creme brûlée.
Note: Mistral is also on our Best French Restaurants in Massachusetts list, so check that article out for more great French dining options!
#5 - Most Romantic Hidden Gem
44 Brattle Street, Cambridge
617-868-2255
Lunch Monday–Friday: 11:30 PM–3PM
Brunch Saturday & Sunday: 11 AM–3 PM
Dinner Monday-Thursday: 5 PM–9 PM
Friday & Saturday: 5PM–10 PM
Sunday: 5PM–8PM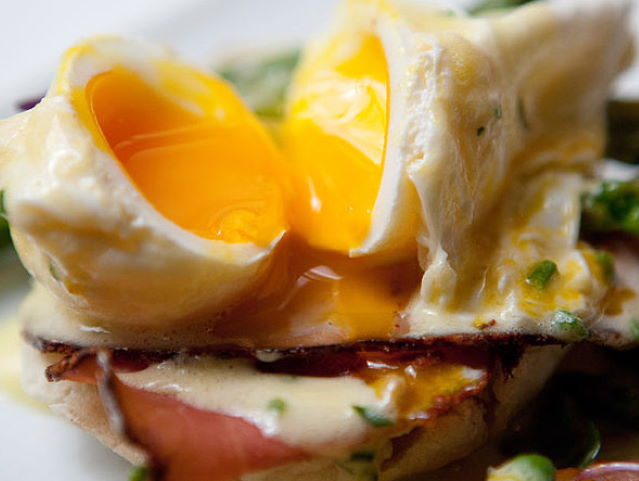 Harvest has been a Harvard Square fixture for nearly 50 years, although it is a bit tricky to locate. Look hard enough and you'll find it on the walkway. Once you discover the romantic ambiance and contemporary American menu, you just may want to keep the secret all to yourself.
First, there's the fireside outdoor dining on the patio that remains open through the winter, and the subdued interior lighting certainly sets a romantic tone. But it's the food that will set your heart on fire.
The creamy asparagus and nettle soup, lamb tartare, and salmon crudo are all a lovely way to start the evening. Next up are seductive dinner entrees such as lobster and shrimp mousseline ravioli with tarragon sauce, 12-ounce striploin, and seared rare tuna.
The pastry chef, who hails from the Food Network's Best Baker in America, is a master at creating the perfect sweet ending such as goat cheese cheesecake, citrus tart, hibiscus pavlova, and an assortment of housemade ice creams and sorbets.
#6 - Most Romantic Waterfront Dining
4 Oceanfront North, Salisbury
978-462-5800
Monday-Wednesday: 11:30 AM – 8PM
Thursday-Saturday: 11:30 AM – 9PM
Sunday: 10AM – 8PM
Seaglass is proof that you can't judge a book by its cover. Inside its austere, industrial storefront lies an oasis that offers up amazing panoramic views of the Atlantic Ocean.
Part of the Atlantic Hospitality Group, this award winning dining destination wows patrons with its tall windows, cracking fireplace, and live jazz during Sunday brunch. But even if it were lacking in ambiance, there's plenty to savor on the contemporary American menu. The New England clam chowder is traditionally thick and creamy, while the Maine lobster stew delivers a rich flavor profile thanks to the touch of sherry.
For the main event, don't overlook the braised short rib with garlic roasted risotto, duet of duck (one breast, one leg), and the braised heritage lamb shank. There are also plenty of casual options such as sandwiches, burgers, and fish tacos if you and your date prefer to hold your food.
Sunday's brunch offers the perfect ratio of sweet and savory dishes to choose from, including classic eggs Benedict, apple cider fritters, and the restaurant's signature jumbo crab cake.
After the meal, score some more date night brownie points by taking in a concert at the Blue Ocean Music Hall next door.
#7 - Most Romantic North End Restaurant
3 North Square, Boston
617-523-0077
Sunday-Thursday: 5pm – 9:15pm
Friday–Saturday: 4:30pm – 9:30pm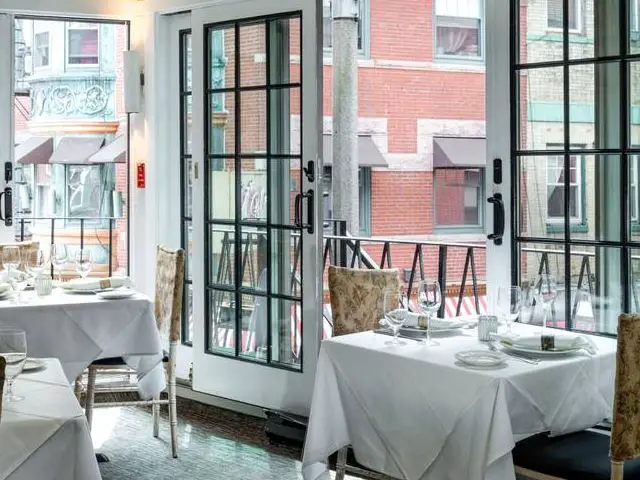 It's no secret that the most romantic restaurants in Boston can be found in the Italian North End neighborhood. However, one of our favorites—Mamma Maria—stands out with its historical surroundings and seasonal ingredients.
With five unique private indoor dining rooms set in a 19th century historic building overlooking the Boston skyline and the North End's cobblestone streets, this restaurant seems made for an intimate dining experience.
The menu reflects that of southern Italy during the summer months and shifts to food from the northern regions in the winter season. For the antipasti options, try the grilled octopus, baked oysters, carpaccio, or the buffalo mozzarella.
Can't decide on your pasta? One of the restaurant's specialties is its Pasta: Two Ways entree where veal tortelloni and mushroom ravioli share space on the same plate. You'll also find the Milanese delicacy pork Cotolleta, roasted Cornish hen, and osso buco.
Mamma Maria also offers a Valentine's Day menu, an impressive wine list, and a perfectly executed tiramisu. Now that's amore!
If you want to surprise your partner before the romantic dinner check out this page with selection of Boston attractions:
When I'm looking for a romantic place to eat near me, nice romantic dinner near me or places for anniversary dinner near me I prioritize a delicious dinner and a well-designed interior that creates a sense of seclusion when I'm dining. In our selection we chose a variety of restaurants to please every lover's palate. Among these restaurants, you can easily find those who have delicious cuisine, a wine bar, craft cocktails, great music and a cozy atmosphere.
As all of them are also close to nearby attractions such as the beach, music venues, and historical neighborhoods, you and your special person can totally make a day out of exploring the best the state has to offer.
Most frequent questions and answers
It's a combination of expertly prepared food and a beautiful interior design that lends a feeling of privacy when you're dining. When looking for a romantic place to eat choose one that isn't part of a family-friendly chain (the last thing anyone wants when trying to celebrate a romantic evening together is the disruption of kids.) An independently operated restaurant with private or semi-private dining areas is your best bet.
Other details that don't hurt include subdued lighting (and candlelight), a gorgeous view, and a glowing fireplace.
First impressions are still everything especially when it comes to meeting a potential partner, and what you eat in front to them can sometimes make or break the chances of getting a second date.
It's probably easier to answer this question by listing some of the foods you probably don't want to order versus what you should. Any kind of finger foods that tend to be drippy and messy are best avoided. That goes for chicken wings, barbecue ribs, sloppy Joes, and gigantic burgers.
Also, any kind of pasta that's swimming in a lot of sauce might be best set aside for when the two of you know each other better. That's because the noodles can splash liquid on you or the table when you try to eat them.
And if you like your date enough that you're hoping for a kiss, garlic bread or any kind of dish with a lot of garlic in it is a no-no!
Don't be shy, however, about sharing a (non-messy) appetizer or dessert!
Boston, and Massachusetts in general, have plenty of great date options! Besides dining out, you and your date may enjoy taking in the exhibits at the Museum of Fine Arts, checking out the giant shark and sea turtle tank at the New England Aquarium, or strolling through the Boston Public Garden. Don't forget to take your date on a swan boat ride while you're there!
During the warmer weather months, there are plenty of historical walking tours you can go on in and around the city where you can learn more about Boston's past and its role in the Revolutionary War.
More Great Resources About Eating in Boston