We are reader-supported (thank you)! When you buy through links on our site, we may earn an affiliate commission.
You might say that Boston has gone to the dogs. According to city data, the number of registered dogs in Boston jumped from 2,700 to over 7,000 in 2019, thanks in part to a growing number of pet-friendly restaurants, stores, and parks. Not to mention Boston is home to a lot of employers that allow dog owners to bring pet to work as well as neighborhoods that were practically designed for dog walking.
So before the dog days of summer slip away, we thought we'd take a look at the most pupular restaurants, breweries, and bars in town for hanging out with your best furry friend.
Quick Snapshot: We've compiled the dog friendly restaurants recommended on this page into a brief video which you can watch below. Then you can skip to the ones that have you rolling over and begging for more!
Our List Of The Best Dog-Friendly Restaurants in Boston
Toro – Savor-worthy small plates

Cambridge Brewing Company – Beer and burgers, no need to say more

Coppa – Italian with a few twists

Brendan Behan Pub – Where everyone knows your and your dog's name

Sweet Cheeks Q – BBQ with your BBQ

Liberty Hotel – Yappy hour awaits

J.P. Licks – We bark for ice cream

Area Four – Gourmet pizza in an unlikely place

Petit Robert Bistro – Where every dog is French

Lobstah on a Roll – One word: lobster
No. 1 - Best Tapas In Town
1704 Washington Street, Boston
617-536-4300
Sun – Thurs: 5 PM to 10 PM
Fri & Sat: 5 PM to 11 PM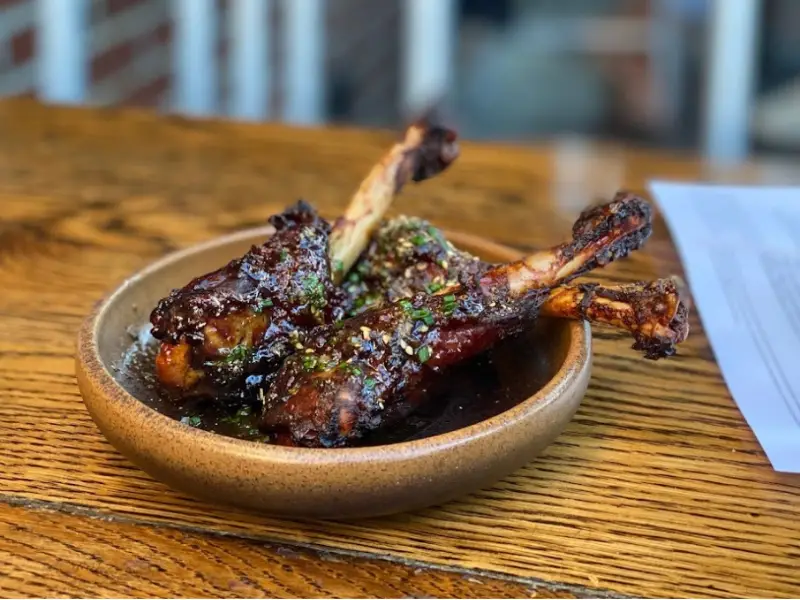 When you and your dog want to sample several menu items at once, nothing beats tapas. Few places in Boston do it better than Toro, which serves authentic Spanish dishes in the South End. Led by two James Beard award-winning chefs, the restaurant boasts such a strong selection of hot and cold dishes that you'll want to return again and again to taste them all.
Plates are divided on the menu by the main protein (tapas del mar, for example, feature seafood.) Jamon (dry-cured ham) and pintxos (small snacks such as olives and smoked eggplant) have their own section as well. Diner favorites include the bone marrow, patatas bravas, and burrata. If you arrive with a big appetite, you can go for the platos grandes (large plates) such as paella prepared two different ways.
Dogs are welcome on both the front outdoor dining area as well as the more extensive back patio, which has comfy loungers. Just note that you'll need to carry your dog through the restaurant to access the rear area.
No. 2 - Best Handcrafted Brews and Burgers
1 Kendall Square, Bldg 100, Cambridge
617-494-1994
Mon – Thurs: 11:30 AM – 9 PM
Fri: 11:30 AM – 10 PM
Sat: 11 AM – 10 PM
Sun: 11 AM – 8 PM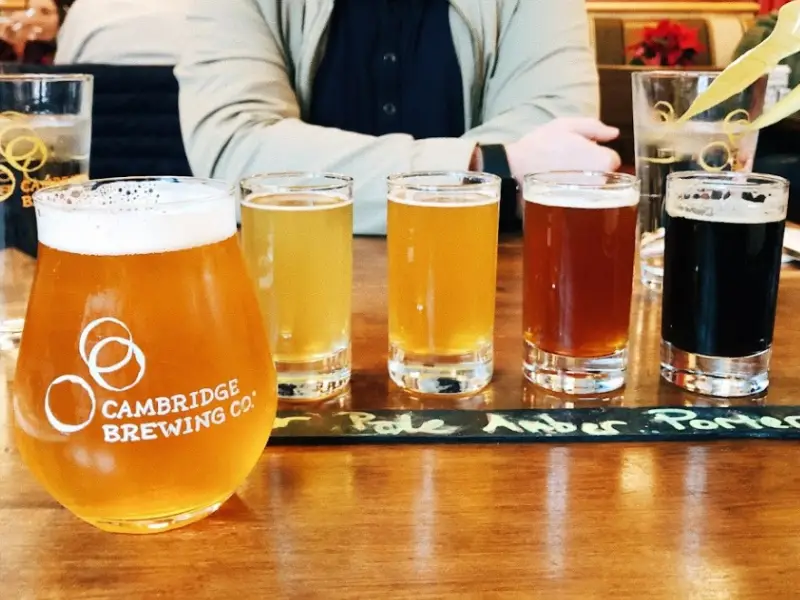 With its ice cold handcrafted beers and dog friendly patio, Cambridge Brewing Company makes for the perfect lunch or brunch stop after you've taken your best friend for a walk along the Charles. As the oldest brewpub in the Boston area (established in 1989) they know a thing or two about making great beer, and have a reputation for getting adventurous with flavors. The tap reflects that, with ginger peach shandy, ale with peppercorns, and sour ale with yuzu on the summer menu.
But the only thing better than a beer is enjoying some grub with it. The eggplant fries, kale Caesar salad, and crab cakes all make tasty starters. For burgers, you can't go wrong with the giant smashed patty double burger or proper cheeseburger, but the Thai curry fried chicken sandwich truly sings with spicy red cabbage, mango slaw, and citrus and ginger brined chicken thigh.
=>For connoisseurs of Thai cuisine we prepared selection of best Thai food restaurants in Boston.
As expected, beer is a key ingredient in some dishes like the marinated steak tips and pizza dough. The restaurant also offers a brunch on weekends which expands upon the menu to include breakfast items such as apple cider doughnut holes, breakfast tacos, and blueberry pancakes.
No. 3 - Best Inventive Italian
253 Shawmut Avenue, Boston
617-391-0902
Mon – Thurs: 5 PM – 9:30 PM
Fri: 5 PM – 10:30 PM
Sat: 3:30 PM – 10:30 PM
Sun: 3:30 PM – 9:30 PM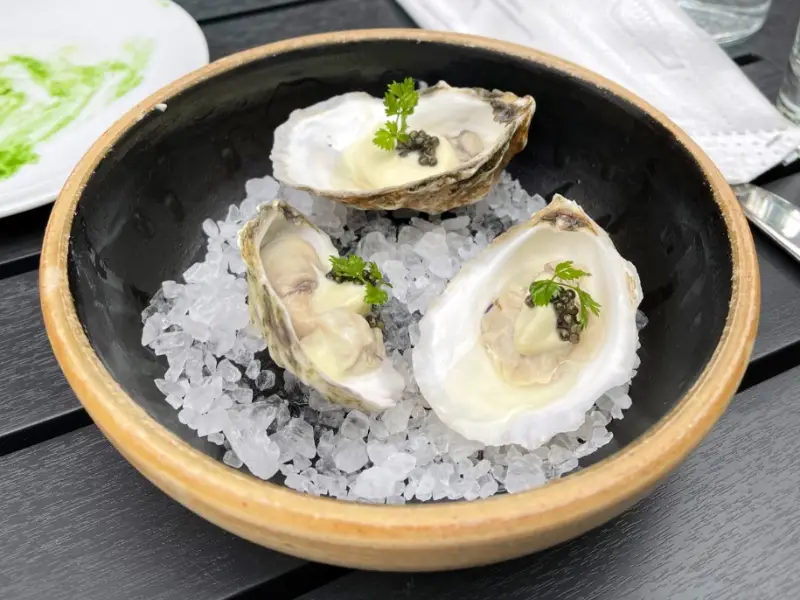 Sure, you can visit any number of traditional Italian restaurants in the North End, but Coppa—found in the opposite end of the city—is the place to go when you've grown tired of the same old gnocchi. Led by two James Beard award-winning chefs (Ken Oringer and Jamie Bissonnette), the Italian bistro features a seasonal menu that changes to highlight local and regional ingredients. And the outdoor dining area tucked away on a quiet street makes for the perfect dog friendly people watching spot.
They do Italian just a tad differently at this south end eatery. The Caesar salad is comprised of celery, not romaine lettuce. Craving pasta? The dark side beckons with squid ink fusilli featuring green crab brodo and nori breadcrumbs. Then there's the zucchini pizza with burrata and squash blossoms and a diner favorite: the fried soft shell crab sandwich served with chili ramp kimchi.
Lest these selections give you nonna a heart attack, rest assured there are traditional Italian dishes such as spaghetti carbonara, polpette, and arancini on the menu. Also the dessert options—tiramisu, olive oil cake, and gelato—are reminders that not everything is meant to be tampered with.
No. 4 - Best Dog Friendly Irish Pub
378 Center Street, Jamaica Plain
617-522-5386
Mon – Sun 12 PM to 1 AM
Brendan Behan Pub is one of the few places in Boston where dogs are welcome indoors, as the establishment does not serve food other than small bites (and burritos that are served up at 3 PM every Wednesday and Saturday.)
It's everything a neighborhood Irish bar should be: dark, conversation-friendly (there's no loud music, but live Irish music is performed each Saturday night), and Guinness, of course, leads the extensive pack of brews. And did we mention there's a great little dog friendly patio in the back? The place is cash only, but an ATM is available for those who forget this little detail.
Snap a photo and tag them on Instagram for a chance to win a gift card—a great excuse for you and your doggo to return.
1381 Boylston Street, Boston
617-266-1300
Mon – Thurs: 4 PM to 9 PM
Fri & Sat: 11:30 AM to 10 PM
Sun: 11:30 AM to 9 PM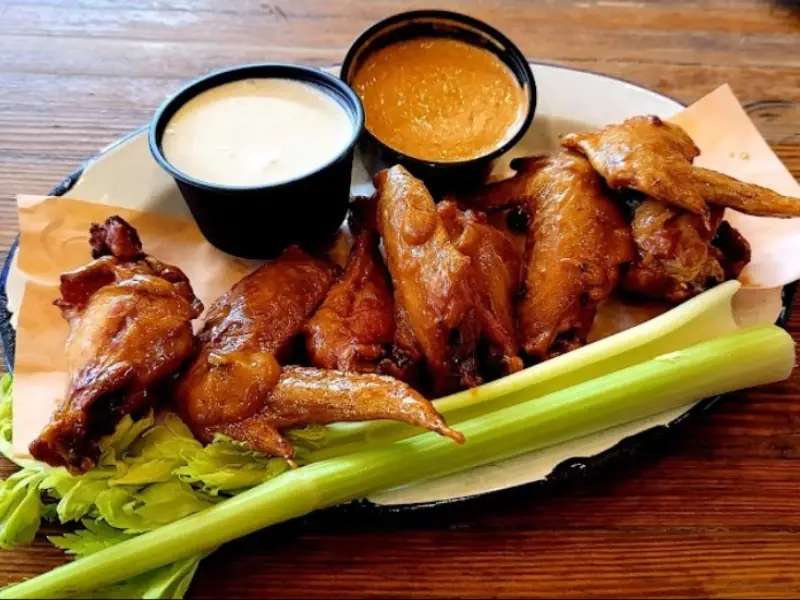 We've never met a furry friend that would turn down grilled meat. Luckily, dog lovers don't have to leave pest at home and deprive them of lip-smacking southern style barbecue. Well behaved dogs are welcome at Sweet Cheeks Q's outdoor seating area, which is like a little greenery-covered oasis in the bustling Back Bay.
No matter what kind of protein you prefer, starting with a world-famous buttermilk biscuit (with honey butter) is a must. The fried green tomatoes and pimento cheese served with Ritz crackers make other fine choices.
From there, the vegetarian options quickly get scarce. Sweet Cheeks specializes in trays of meat with your choice of two "scoops" (side dishes) that include potato salad, mac and cheese, collard greens, and coleslaw. Sliced prime brisket, half slab St. Louis pork ribs, all-natural pork belly, and buttermilk fried chicken tenders all grace the menu.
Don't forget to save room for the coconut cream pie.
No. 6 - Best For Swanky Pups
215 Charles Street, Boston
617-224-4000
Every Monday and Wednesday 5:30 PM – 8:00 PM April through October, weather permitting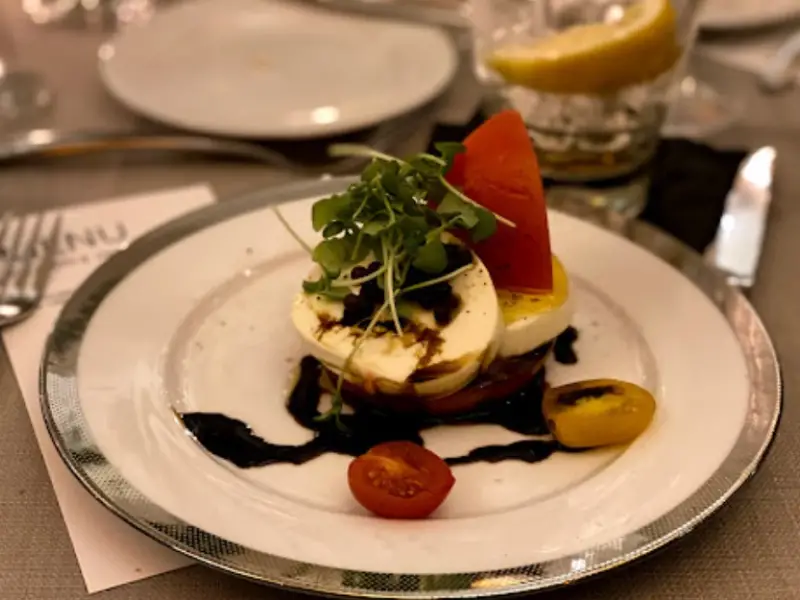 If you and your pooch are looking to mix and mingle, head over to the dog friendly Liberty Hotel on Monday or Wednesday after work for the hotel's seasonal Yappier Hour. Held on the property's private outdoor enclave, The Yard, this popular event has been going strong for over a decade. It's a great way for you and your dog to socialize while you enjoy doggie themed cocktails and appetizers from Clink while your pet enjoys complimentary dog treats.
Apps are likely to include tomato and mozzarella caprese, wagyu beef sliders, pork and ginger dumplings, and a selection of artisan cheeses. Clink's inventive hand-crafted cocktails tantalize with names like Birds and the Bees, This Drink Has No Name, and I Do What I Want.
The combination of cocktails and dogs bring out the best in people, so definitely make a point to visit before autumn leaves fall.
See more Boston's hotels reviewing here:
No. 7 - Best For a Sweet Treat
659 Centre Street, Jamaica Plain
617-524-6740
Open daily 7 AM to midnight
Located just up the street from Brendan Behan is a local ice cream shop that's become a legend: J.P. Licks. Although there are now 17 locations throughout the Boston area, the original is still here in Jamaica Plain. It's also one of the few ice cream shops that offers a dairy-free dog treat to its four-legged customers: peanut butter and honey cow paws, served with a dog biscuit.
Human customers can enjoy a wide selection of ice cream flavors such as fresh peach, fruity pebbles cereal milk, and oat milk butterscotch cookie batter. Both hard and soft serve yogurt is available at all locations, along with frappes and smoothies. J.P. Licks also roasts their own coffee and offers a variety of baked goods such as bagels, croissants, muffins, and waffles.
There's limited outdoor seating, so grab a place for you and your pooch if you can to savor dessert.
500 Technology Square, Cambridge
617-758-4444
Mon – Sat: 11:30 AM to 10 PM
It may be located in what is technically an office park, but don't let that put you off from paying Area Four a visit. Their pizza dough is fermented for at least 30 hours so that it becomes sourdough, then gets topped with hand-pulled mozzarella. There's also a fairly spacious outdoor patio for Fido to enjoy.
Wood fired pizza flavors include Wellfleet cherrystone clam and bacon, mushroom and fontina, carnivore, and white anchovy. The restaurant also serves a refreshing variety of salads such as Brussells sprouts and kale, and several "not pizza" items such as pita sandwiches, mac and cheese, and roasted chicken.
Best of all, the restaurant transforms the green space next to it into a dog friendly beer garden on select Saturdays during the summer and fall. Because nothing beats pizza, beer, and wagging tails.
480 Columbus Avenue, Boston
617-867-0600
Mon – Fri: 11 AM to 9:30 PM
Sat: 10 AM to 10 PM
Sun: 10 AM to 9:30 PM
Petit Robert Bistro may not among the top results if you find yourself searching for "dog friendly restaurants Boston", but rest assured this French restaurant boasts one of the best dog friendly patios in the city, particularly for people watching. They'll even bring your pup a fresh bol d'eau (bowl of water.)
The menus are classic French: escargots, chicken liver pate, assorted cheese, and cured meats all make fine starters. For entrees, you have several choices including moules or steak frites, boeuf bourguignon, salmon roti, and filet mignon. The coq au vin here is served with bacon and buttered pappardelle, and you can also enjoy a rack of lamb with mint pesto and couscous.
Petit Robert serves a brunch on the weekends higher fare such as eggs Benedict, croque monsieur (or madame), Parisien "hot dog" (garlic and provolone sausage), quiche, and French toast pudding. And as expected, the wine and cocktail list is far from skimpy.
Refresh your palate with creme brûlée, chocolate mousse, or the sorbets du jour for a truly magnifique dining experience!
No. 10 - Best For Lobster Roll Lovers
537 Columbus Avenue, Boston
617-424-7067
Tues – Sun: 11:30 AM to 7 PM
Closed Monday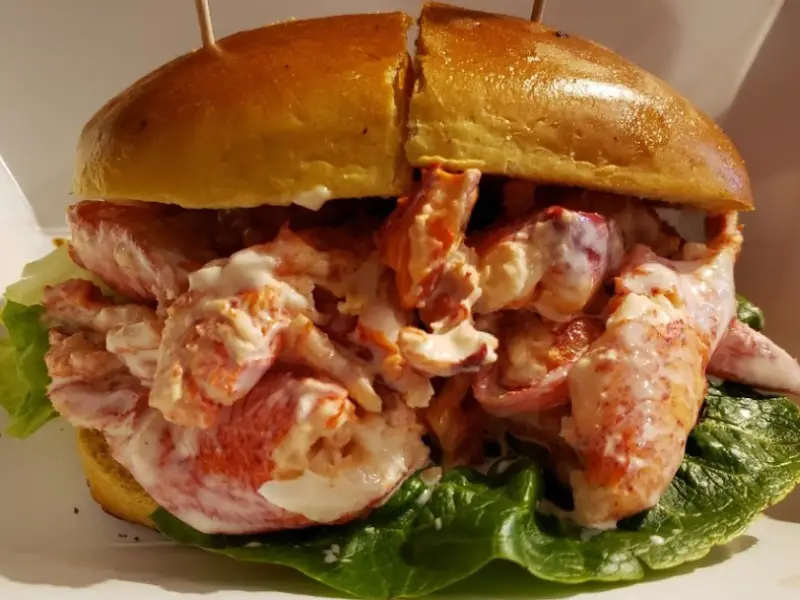 There's a myth that creating the perfect lobster roll and cup of clam chowder is best left to the multitude of seafood shacks and restaurants that dot the state's North shore. Lobster on a Roll, however, is bucking that belief. Its two locations—one on Columbus Avenue, one on Newbury Street—are thick in the urban jungle, yet boast one of the best belly busting lobster rolls outside of Essex.
And although your canine companion may not be into fish, this is a dog friendly restaurant. You can treat your bud to the dog biscuits available on the counter, and try to grab a table in the limited outdoor seating area.
Rolls are available in two sizes: the four-ounce Bostonian and the six-ounce New Englander, but both are brioche rolls generously stuffed with hot buttered claw and tail meat. They also offer a variety of tempting fried seafood dinner plates of clam strips, scallops, shrimp, fish and chips, or the G.O.A.T. which is a combination that includes—you guessed it, more lobster.
Fries, onion rings, and beer are all a given as is clam and lobster chowder. They also make a lobster mac and cheese and lobster tacos, as well as several non-seafood sandwiches and a variety of fruit flavored shaved ices for dessert.
As you can see, your dog doesn't have to stay home and miss out on all the fun if you're planning on dining in Boston. From pet-friendly cafes to breweries and bars, there are plenty of dog friendly restaurants near you. To be on the safe side, we do recommend checking with a restaurant about their dog policy before you bring your pet.
Dog-Friendly Restaurants FAQs
A. When it comes to dog friendly cities in the U.S., Boston comes in at number 11 out of 50 and is graded A according to the Swiftest Dog-Friendly Cities Index. This index looks at the number of available dog parks, dog trails, pet sitters, and more, and Boston is certainly plentiful in all of these amenities as well as dog friendly restaurants and hotels.
A. While Boston loves canines, dogs are not allowed inside any establishment that serves food. One exception on our list is Brendan Behan Pub, which serves mainly alcohol.
A. Boston has so many dog friendly attractions. The South End's SoWa open market, held on Sundays, is a great place to stroll with your dog and check out locally made goods and pet treats. Harvard University's lush Arnold Arboretum welcomes leashed dogs. You can also take your dog for a walk along the Charles or the Rose Kennedy Greenway. And both the Public Garden and Boston Common allow dogs—the latter now has two designated areas where dogs are allowed to romp off-leash. Throughout the city you'll also find dog parks where your pup can make friends with others.
More Great Resources About Eating in Boston