Garages, Cell Phone Waiting Lot, Park And Fly
Logan Airport Parking: At The Airport
We are reader-supported (thank you)! When you buy through links on our site, we may earn an affiliate commission.
Boston Logan International Airport (BOS) is the primary airport serving Boston, Massachusetts. It is located in the East Boston neighborhood of the city. Boston Logan Airport handles both domestic and international flights.
There are a variety of Boston International Airport parking options (economy parking, covered parking Logan airport, Boston Logan offsite parking) depending on your particular needs.
Logan Airport (Boston's main airport) has a large central parking garage which contains both short-term (under 4 hours) and long-term parking options.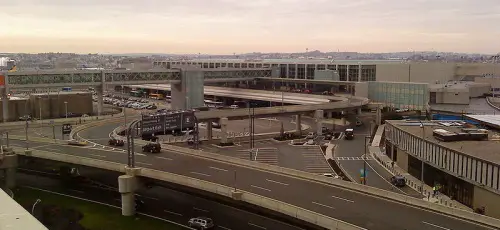 From the central parking garage, you can get to any of the airport's terminals via undercover walkways with moving sidewalks. Just make sure to watch for signs to your terminal so you don't end up taking the scenic route!
FYI, if you happen to be going to terminals B or E, they do have their own, closer economy parking garage.
If you are going to be parking for a while, you can park at the airport's less expensive option, their cheap Boston airport parking area which has free shuttle connections to the terminals.
Logan Cell Phone Lot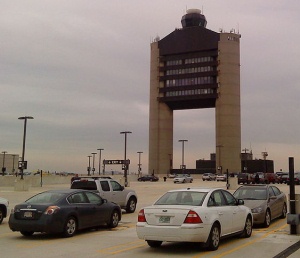 And, if you are picking people up and know they'll be out relatively soon, there's also the Logan Cell Phone Lot. Basically, you can park here and hang out at your car until you get "the call" from your visitors to say they're ready for pick up. You get up to 30 minutes of free parking and the coolest part is that they've even "greened" the lot by giving it porous pavement to help manage water runoff. Only warning: You have to stay at your car or you'll be ticketed and towed.
Accessible Parking
They're also well set up for accessible parking if you have a valid HP plate or placard.
Need Help or More Information?
The Massport Parking Office has people available 24 hours a day to answer questions about Boston Logan Airport parking, including current parking conditions. They can be reached at 1-617-561-1673.
And, if you're already on the way to the airport, you can even listen to Logan Radio 1650 AM for up-to-the-minute updates on parking conditions.
Now, personally, I would never be that organized, but on Tuesdays, Wednesdays and Thursdays there can be a reasonable amount of parking overflow, so it can help to know what's going on. Fortunately, there are also message boards along the road that give you instructions on what to do when it's this busy.
FYI, none of the terminals allow curbside parking.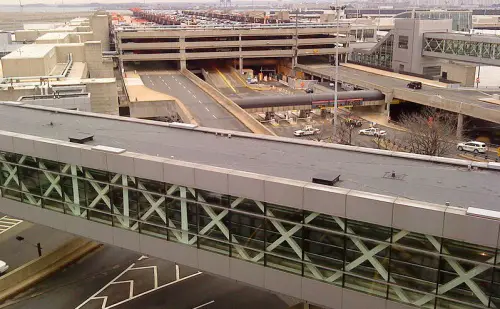 Leaving The Airport

Make sure to bring your parking ticket with you when you head inside as you'll need to pay for it before you get back to your car. Just look for the Exit Express Parking Pay Stations. They're located in the terminals as well as garage lobby areas, and they take cash and credit card.
Logan Airport Parking: Near The Airport
If you want to avoid parking at the airport altogether, an easy (and often less expensive) option is to use a "park and fly" service.
There are two basic options of offsite parking BOS (I've listed companies that provide these services below the descriptions):
1. Park at a private parking lot and be shuttled (with your luggage, of course) to your terminal. Park and ride Boston airport is a great option for those looking to save on parking costs at Logan Airport. There are several Logan airport park and ride lots located near the airport, providing convenient access to all terminals. Prices vary depending on the lot, but all offer competitive rates compared to parking in the airport itself.
2. Stay the night at a nearby hotel and be shuttled to your terminal. Your car will be waiting for you when you return from your trip. This can be a particularly good option if you have an early morning flight.
If you're looking for budget-friendly parking, Logan Airport economy parking is a great option. This type of parking is typically located further away from the airport terminals, but it offers more affordable rates. And, with regular B
oston Logan Airport
shuttle service to and from the terminals, you can easily get to your flight on time. So, if you're looking to save some money on parking, Boston Logan economy parking is a great option.
We hope our article will help to choose the best option for cheap parking at Logan airport.
And whichever variant of airport parking Boston cheap, more expensive one or economy parking Logan you select, it will bring convenience and comfort!
If you've just landed at Logan Airport and don't know where to stay, we've put together a list of the best hotels near Boston Airport for you! And if you intend to stay near Fenway Park, our page will definitely help to choose the best hotel in this area!
Articles You Might Also Enjoy:
A few more pages of ideas as you plan your vacation…