We are reader-supported (thank you)! When you buy through links on our site, we may earn an affiliate commission.
If you're looking for the most historic Boston bars, the good news is it's nearly impossible to venture anywhere in the city without bumping into one. Boston was founded in 1630 and at one time had plenty of taverns where patriots and founding fathers secretly gathered to plot independence from British rule over a pint or two.
One thing you'll notice if you visit each establishment's website is that so many of them claim to be the oldest bar in the city. We recommend doing due diligence, checking out the year they opened, and deciding for yourself. It seems the Warren Tavern and Bell in Hand Tavern both want the title, yet the Warren Tavern opened 15 years earlier. And the Green Dragon Tavern that operates today is not the original pub, but a new version that opened in the 1990s.
No matter. While none of the taverns on our list go back to the 1600s, all of them offer a glimpse into Boston's history and many have their original interior details intact. Drinking your way through history was never so fun!
Quick Snapshot: Embark on a fascinating journey through Boston's oldest bars and taverns with our captivating two-minute video overview. Get ready to immerse yourself in the rich history and vibrant atmosphere of these iconic establishments.
The 10 Best Historic Boston Bars:
Warren Tavern: Colonial charm in Charlestown

Bell in Hand Tavern: Best 18th-century retirement project

Green Dragon Tavern: Not the original, but just as good

Union Oyster House: Seafood fare on the Freedom Trail

Amrheins: Come for the hand-carved bar; stay for the food

J.J. Foley's Cafe: It runs in the family

OAK Long Bar + Kitchen: Keeping it classy

Harvard Gardens: The heart of Beacon Hill

The Tam: Your trusty neighborhood dive

Cask 'n Flagon: Sports fan hangout
#1 - Oldest and Best Non-Touristy Watering Hole
2 Pleasant Street, Charlestown
617-241-8142
Sun – Fri: 11 AM to 1 AM
Sat: 10 AM to 1 AM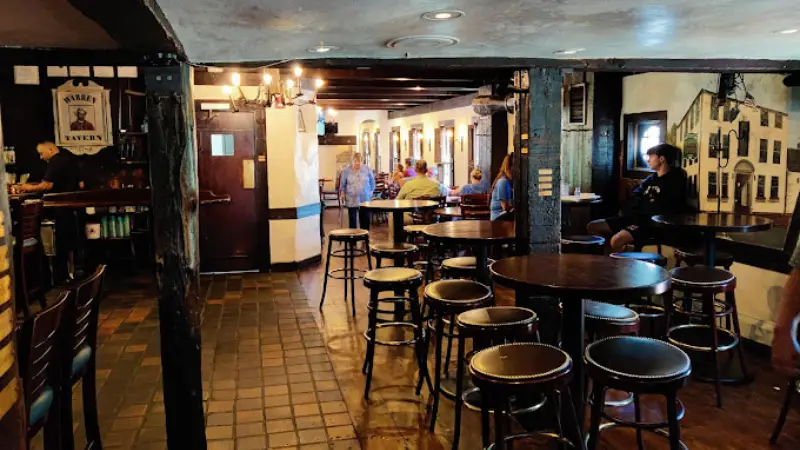 We kick off this list with what is widely believed to be the oldest tavern in Boston and Massachusetts, the Warren Tavern. Established in 1780 and named after Dr. Joseph Warren—a general who fought in the Battle of Bunker Hill—this bar counts President George Washington, Benjamin Franklin, and Paul Revere among its notable patrons.
The tavern oozes Colonial charm with its painted fireplace depicting scenes of Boston's waterfront. The hardy bar fare, of course, has been brought into the modern age. Customers rave about the New England clam chowder, oysters, and broiled scallops. The Warren Tavern also serves brunch each Saturday and Sunday and has local beer on tap.
A bonus is that this famous watering hole is in Charlestown, away from Boston's tourist traps, yet still close to local attractions such as the nearby Charlestown Navy Yard and Bunker Hill monument. You're guaranteed to be accompanied by plenty of Charlestown natives as you sip your beer, as well as a ghost or two from Boston's historic past.
#2 - Most Famous Alehouse
45-55 Union Street, Boston
617-227-2098
Open daily 11 AM to 2 PM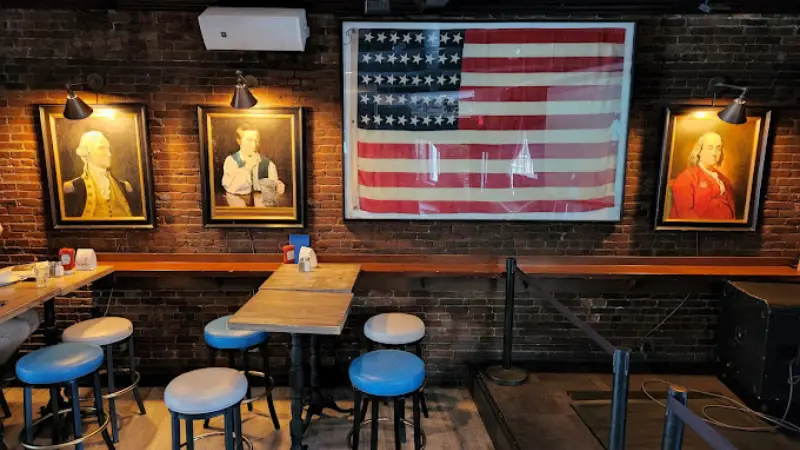 Competing for the title of oldest tavern in Boston is the Bell in Hand Tavern, which began serving customers in 1795. The tavern was a retirement business for Jimmy Wilson, the city's official town crier for 50 years who paid homage to his career with the bar's name. Legend has it that the Bell in Hand Tavern served a mix of Bostonians including lawyers, journalists, city leaders, and founding fathers.
Up until 1919, the Bell in Hand was primarily a famous alehouse; Jimmy wasn't a fan of anything stronger, perhaps because he was an eyewitness to too many public brawls fueled by hard liquor. Today's patrons will be happy to know the tavern has expanded the beverage selection to include the usual libations. On the menu, the chicken wings, P.E.I. mussels, and fish and chips get rave reviews.
On weekend nights, the tavern transforms into a dance floor that tends to attract the younger college crowd but it still continues to be a gathering place for people from all walks of life.
#3 - Best Reincarnated Historic Pub
11 Marshall Street, Boston
617-367-0055
Open daily 11 AM to 2 AM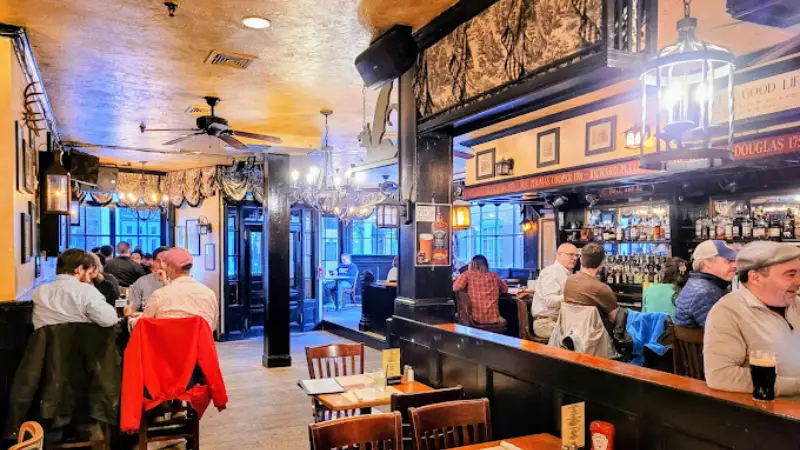 It's important to note that the Green Dragon Tavern found on Marshall Street isn't the original. The first Green Dragon Tavern opened in 1670 on what is now Union Street. It was where rebellious patriots secretly plotted the Boston tea party and served as the secret meeting place for the Sons of Liberty, whose members included John Hancock and Paul Revere.
That building was demolished in 1832. The "new" Green Dragon Tavern was constructed on Marshall Street in 1993 and pays homage to its ancestor with its long wooden bar, tall windows, and a statue of a British redcoat standing guard out front. Inside, the atmosphere and food are delightfully Irish, with bangers and mash, shepherd's pie, and clam chowder fries among the favored menu items.
The Green Dragon Tavern's bartender has been there for several years and knows how to pour the perfect pint. You can catch a cover band here from Tuesday through Saturday night. Plan on getting there early, because on live music evenings, it's usually popular with the college crowd.
#4 - Oldest Restaurant in Boston
41 Union Street, Boston
617-227-2750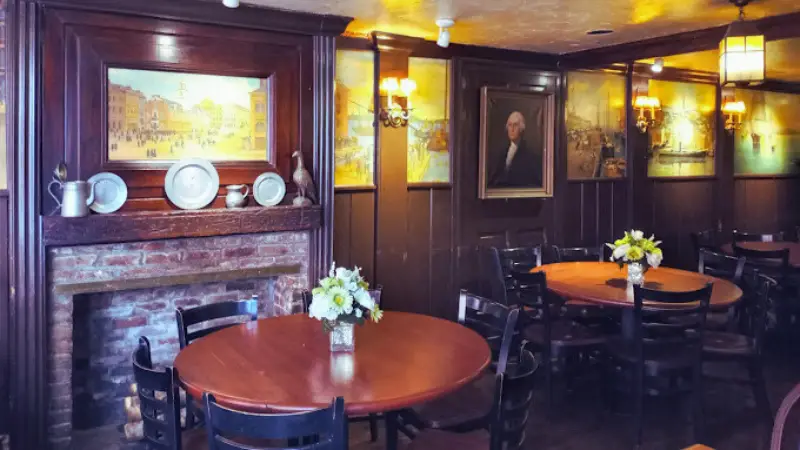 Located on the Freedom Trail and near Faneuil Hall and City Hall, Union Oyster House claims to not only be the oldest restaurant in Boston but in all of the United States (the owners of the White Horse Tavern in Newport, Rhode Island, however, may dispute that claim.) The interior has changed little since its opening in 1826, and that's definitely a large part of the restaurant's appeal. President John F. Kennedy loved dining here so much that there's a booth named in his honor, and legend has it Daniel Webster stopped by nearly every day for an oyster meal washed down with brandy.
Yes, the bar here is an oyster bar, but that doesn't mean you can't enjoy drinks and menu items as well. The restaurant specializes in perfectly cooked fresh seafood. House favorites include broiled Boston scrod, ye olde seafood platter, and homemade lump crab cakes.
And of course, they make a clam chowder so good we included Union Oyster House on our Best Clam Chowder in Boston list.
#5 - Oldest Bar in South Boston
80 West Broadway, Boston
617-268-6189
Mon – Wed: 5 AM to 2PM
Thurs – Sat: 5 AM to 10 PM
Sun: 6 AM to 9 PM
Moving up about a half-century on Boston's tavern timeline, we arrive at Amrheins which opened in 1890 and claims to be the oldest bar in South Boston. It also features the oldest hand-carved bar in America and Boston's first draft beer pump.
As beautiful as the ornate carved figures and designs overlooking the bartenders are, at Amrheins the food steals the show. They make a pasta bolognese that rivals anything you'll find in the North End, lobster Mac and cheese (made with three types of cheeses), and a variety of jaw-stretching, juicy burgers. They also serve a standard American breakfast and brunch every morning but Saturday.
We recommend visiting during the fall to catch the seasonal pumpkin risotto served in a small pumpkin bowl paired with a draft beer.
#6 - Oldest and Most Authentic Irish Bar in Boston
117 East Berkeley Street, Boston
617-728-9101
Mon – Sat: 11 AM to 1 AM
Sun: 12 PM to 12 AM
A family-owned business for over 100 years, J.J. Foley's is the most popular South Boston bar on St. Patty's Day—but it's worth a visit here any time of the year.
The necktie-wearing staff delivers an authentic Irish bar experience with friendly service, Guinness on tap, and mouth-watering bar fare such as curry chips, loaded nachos, grilled reuben, baked haddock, pizza, and burgers. Bartenders are happy to offer beer samples if you can't decide on what you want.
It's also the perfect lunch stop after you've perused the nearby SoWa vintage market on a Sunday.
138 St. James Avenue, Boston
617-585-7222
Open daily 7 AM to 12 AM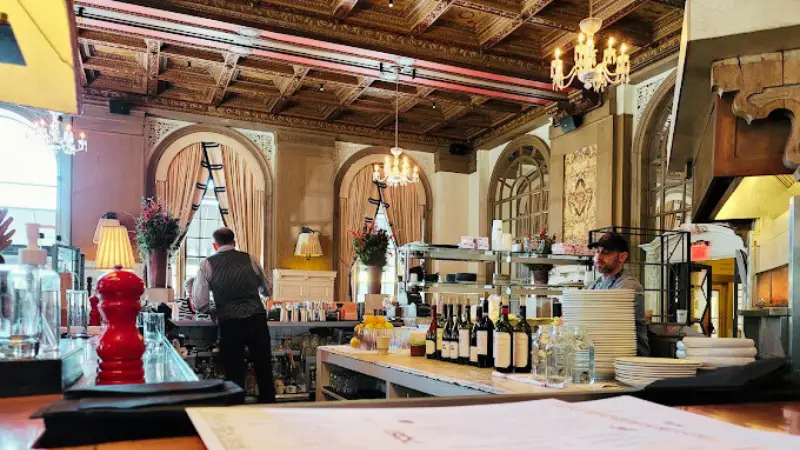 Located inside the Fairmont Copley Plaza, the OAK Long Bar + Kitchen has had several names since its opening in 1912 and even housed a merry-go-round at one point. It was eventually renovated in 2011 to reflect the hotel's jazz age roots. The award-winning gilded bar is frequented by Back Bay professionals and remains a place to be seen.
Instead of the usual little stools found in most bars, OAK treats its patrons to oversized, comfy chairs at the high-top tables. This gives you the perfect excuse to settle in and sample several items from the menu. The warm heart-baked bread with honey is a favorite starter, as are the shishito peppers and blue hill mussels. From there, the grilled octopus, Maine lobster roll, and cider-brined chicken all make fine dinner choices.
OAK also serves breakfast during the week and a weekend brunch, and operates a dog-friendly patio during the warmer months so your furry friend can enjoy themselves, too.
#8 - Best Old Time Neighborhood Bar
316 Cambridge Street, Boston
617-523-2727
Tues – Sat: 11:30 AM to 1 AM
Sun: 10:30 AM to 12 AM
Mon: 11:30 AM to 12 AM
"The Heart of the Hill" as it's called was one of the first Boston restaurants and bars to secure a liquor license after prohibition. A Beacon Hill landmark since 1930, it originally attracted doctors and nurses from nearby Mass General Hospital but is now known as a friendly neighborhood bar—the kind where you don't feel out of place dining by yourself.
The all-day menu features standard American fare including salads, burgers, wings, and pizza. The French onion soup oozes with plenty of melted cheese and the rueben sandwich is packed with tasty, tender corned beef.
222 Tremont Street, Boston
857-277-0636
Mon – Fri: 10 AM to 2 AM
Sat & Sun: 11 AM to 2 AM
If you're looking for a no-nonsense, neighborhood dive bar, The Tam is the place to go. It dates back to the 1940s and serves only drinks, no food (although there is a vending machine on the premises.)
Beer, ale, and cider are on tap and every Tuesday The Tam hosts a comedy night for up-and-coming comics to try their jokes out on the crowd.
#10 - Best Old Sports Bar
62 Brookline Avenue, Boston
617-536-4840
Sun – Thurs: 11:30 AM to 12 AM
Fri & Sat: 11:30 AM to 2 AM
A Fenway Park fixture in the shadow of The Green Monster, the Cask'n Flagon has been catering to the city's sports fans for over 50 years. It's where most Red Sox fans gather before a game, whether it's inside watching the screens or, in good weather, on the outdoor patio.
But you don't have to be into baseball to appreciate the food here. The sliders, nachos, chicken wings, and fish tacos are all home runs.
Ready to drink up Boston's tavern history? A bar hopping session of at least some of these pubs is a great way to spend some time in the city.
Most Historic Boston Bars FAQ
A. According to the year it opened, that would be the Warren Tavern in Charlestown which was founded in 1780. Although other taverns opened earlier, they are no longer in operation. The Warren Tavern has continuously served patrons since the 18th century.
A. The White Horse Tavern in Newport, Rhode Island has earned the title of being the oldest continuously operating bar in the U.S. and has served guests since 1673. Much of the original interior details are intact, and the restaurant and bar have been recognized as a national historical landmark.
A. J.J. Foley's in Southie is a family-run Irish pub that opened for business over a century ago and is still going strong—particularly on St. Patty's Day.
Explore a Wider Array of Dining Choices in Boston