We are reader-supported (thank you)! When you buy through links on our site, we may earn an affiliate commission.
For a Major League Baseball stadium that has one of the smallest seating capacities in the country with just under 40,000 seats (37,755 to be exact), Fenway Park offers a remarkable variety of seating options to fit every attendee's budget and needs.
In fact, the choices can be overwhelming to sort through—especially if you're visiting for the first time—but the good news is that means there's a suitable seating section for just about everyone.
Each seating area comes with its own pros and cons to consider. Some are close to concessions and restrooms while others come with obstructed views. But they all have one thing in common: in a stadium this size, they make for a more intimate experience which is why people from all over the country travel to Fenway Park to watch a Red Sox game.
Our comprehensive guide will help you sort through all your potential choices to make "smart" decisions about which seats to buy at Fenway Park and get the most bang for your buck.
What You Need to Know Before Buying Seats at Fenway Park
The first thing you need to know about choosing seats for a Fenway Park Red Sox game or concert is that it's not as simple as springing for what appears to be the cheapest seats or the closest ones to the field and hoping for the best.
If you're not familiar with all the seating sections, this is the worst thing you could do. Unfortunately, just because an area seems like it would have a good view of the action doesn't always mean that it does.
You could find yourself with a pole blocking your view, people walking past your row, or your seat facing an odd angle and not the home plate. Or you could end up baking in the sun all day and go home with a nasty sunburn.
Believe it or not, all of these seating scenarios exist at Fenway Park! That is why it's so important to do your research before dropping a chunk of cash on tickets. Hindsight is everything and we don't want you to be disappointed, especially if it's your first time attending.
Fenway Park is Old...So Are Some of the Seats
The other thing to keep in mind is that Fenway Park is old, and that affects the comfort in some of the seating sections. Did you know that it's our nation's oldest ballpark? It opened its doors in 1912 just days after the sinking of the Titanic, to give some historical perspective.
Why is this important? Because it means some of the seats and seating configurations are outdated for the 21st century. Some sections have narrow seats and minimal legroom that isn't suitable for larger and/or taller body frames. Some seats are hard, made of wood or metal, and have obstructed views because of poles and supports.
Now some people like an old-time baseball experience with original details and historical charm. There is certainly nothing wrong with that, but if you want to make sure your seats are also comfortable enough for a game or show that is hours long, you'll want to get acquainted with Fenway Park's seating chart before you spring for tickets.
List of Seating Sections at Fenway Park
We're going to go ahead and list all of the seating sections. Don't let this (long) list intimidate you—this is just to help you get acquainted with the names of each section and see the scope of your options when you're purchasing tickets online. We'll get into the detailed description and location of each section in a moment!
Dugout Box Seats: Up Close and Personal

Field Box Seats: Second Best

Loge Box Seats: a Nice Compromise for the Price

Green Monster Seats: The Ultimate Fenway Park Experience

Dell Technologies Club (also called EMC Club Seats): Country Club Perks

Pavilion Box Seats: Under the Coca-Cola Sign

Right Field Box + Upper Box Seats: a Quirky Seating Arrangement

Right Field Roof Box Seats: Green Monster Views

Right Field Roof Deck Seats: Sitting On Top of the World

Grandstand Seats: Old School

Bleacher Seats: Actually Not Quite Bleachers

Standing Room Areas: For Those with Stamina
Yes, this is a lot to take in especially if you've never visited Fenway Park before, but once you see where each is located in the ballpark they'll start to make a lot more sense. And that's why we're going to talk about the importance of viewing Fenway Park's seat map next.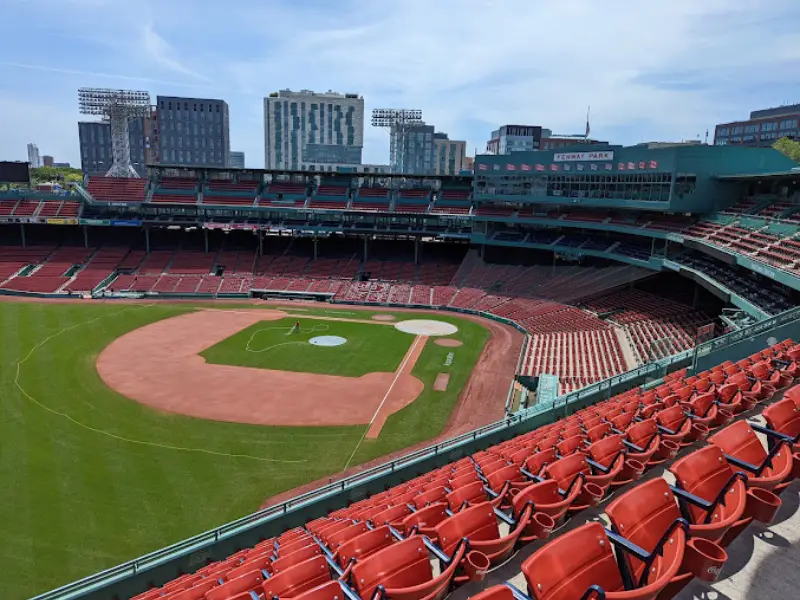 Start With the Fenway Park Seat Map and Layout
Before you even consider purchasing tickets for a Red Sox game or concert at Fenway Park, we highly recommend taking some time to get acquainted with the handy, interactive Fenway Park Seat Map on the Red Sox site and study where every section is in relation to the field (or stage.)
It helps to think of the seating sections in relation to the field like the rings inside a tree, where the bases and field are more or less in the center and the "rings" of various seating sections surround the playing area.
What we love about the official seat map is you can mouse over any section in any of the seating areas and an image of what the view of the field looks like from the selected area immediately pops up. That includes any poles or supports found in that particular section that can obstruct your view.
Even better, you can select a specific section, row, and seat number at the top of the seat map and click on "View in seat map" to get an idea of what your view would look like from that very seat. You can also zoom in and out on the map.
This is also the seating map that will reflect any changes due to renovations or other modifications made by the stadium management. Even though there are other sites that display the Fenway Park seating chart, we recommend consulting with this official version to make sure you're viewing the most up-to-date version.
Other Helpful Fenway Park Seating Charts
However, one thing the Fenway Park Seat Map lacks is a view from any seat with other fans present. So to really get an idea of what your line of vision may be like, we recommend checking out a few other sites that provide the perspective and feedback of other fans.
One of these is A View From My Seat which includes not only a seating chart and list of seating sections for Fenway Park, but photos uploaded from actual visitors along with their comments.
SeatGeek is another good resource for fan-uploaded Fenway Park seat photos and other insider info. We especially like the Pano feature where you can select a section from the dropdown menu and be presented with a full-screen rendered panoramic view of what your view from that seating area looks like.
RateYourSeats is another site packed with useful information and insider tips from fans that have attended games and concerts at Fenway Park.
So definitely explore Fenway Park seating charts on other sites in addition to the one on the MLB site to get the best idea of what each section has to offer for viewing the action.
How Fenway Park Seat Rows Are Numbered
There's one more important bit of info to know when perusing Fenway Park seats to buy: if you're facing the field, seat number one is always on the right of each row. (Conversely, if you were standing on the field and facing the seats, seat one is on the left of each row.)
Now that we have the basics down pat, it's time to dive into all Fenway Park seating sections and their perks (and downsides.)
Where to Sit at Fenway Park: All the Sections and Seating Options
Now that you're acquainted with the seating chart and the names of all sections, here is a detailed description of each. We've tried to list these in general order from those that are closest to the field to the ones that are farthest away.
The Red Sox dugout box seats are inarguably some of the best seats at Fenway Park, offering up an up close and personal experience on the infield. They only take up three rows and because of that and their close proximity to the action, they go for a pretty penny.
The high price, however, comes with so many perks. All dugout box seats feature in-seat wait service (so no waiting in long lines at the concessions) and access to the Clubhouse, which is climate-controlled and features HDTV screens.
Valet parking, padded seats with warmers, and private restrooms are other tempting reasons to splurge on this section. The first row in sections 39-50 also has a TV monitor on the ground to catch replays.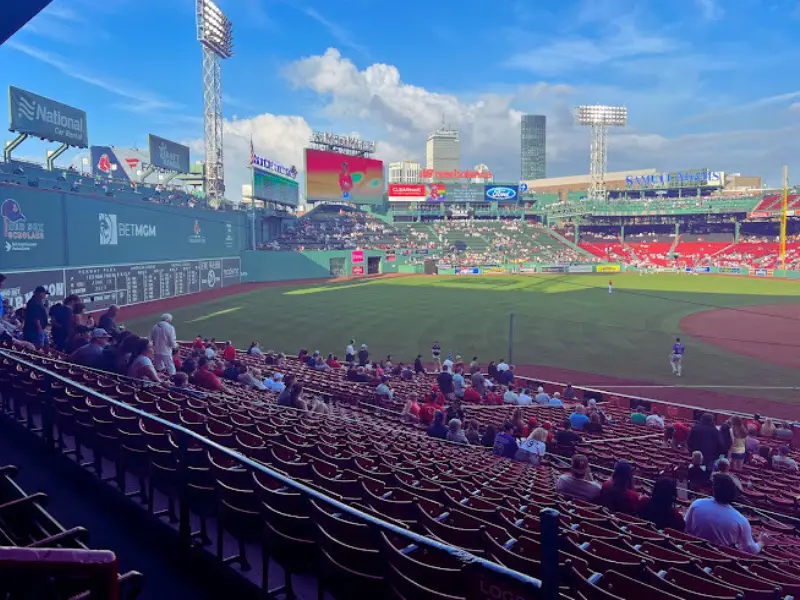 Just about all field box seats are winners for the price. These cushioned red seats offer incredible, unobstructed views of the pitcher's mound, first base, and the Green Monster (other than netting to prevent balls from striking this section) and are right next to an entry tunnel should you need a quick reprieve from the heat or refreshments.
These seats don't offer any protection from the sun, but they are close enough for you to appreciate the sounds of baseball up close: the crack of the bat when it strikes the ball, or the hard thud of a ball landing in a mitt. While you're also close enough to see the Red Sox players returning to their dugout, this section may make it tough for younger fans to watch the game as they're at field level.
Legroom also tends to be a bit tight. Please note that these seats shouldn't be confused with right-field box seats, which offer inferior comfort and views.
Sun protection, terrific views, and unobstructed views are the definite pluses of the loge box sections.
Because these seats wrap around the field in front of the Grandstand sections, you won't have to worry about poles in the way. The seats near the third base will get shade before the seats near the first base do, but in general, once the sun starts to shift you won't find yourself in the firing line of UV rays.
Loge box seats also tend to be more affordable than field seats but with the same great game views.
So what are the downsides to this section? Well, there's a walkway that runs right in front of row AA and it can be distracting to see people going by when you're trying to watch the game. We recommend getting seats a little higher so it's less of a concern. Each loge box section has less than 15 rows.
As the name implies, these seats are in front of the right field and they are among the cheapest unobstructed seats at Fenway Park. They're close enough that you can smell the grass and perhaps chat with one of the players.
Their main downside, however, is that a majority of them face the left-center field and not the home plate. It tends to get worse the closer the seats get to "Pesky's Pole" (the right field foul pole). This is one of those design quirks that make Fenway stand out from other ballparks, although not in the most flattering way.
This means you're going to be twisting your neck or body for hours to catch the action, and that can be extremely uncomfortable. Trust the warnings from reviewers of these seating sections that said their back was sore the following day.
They also receive full sun exposure so there is zero relief from the sun's rays unless you go on a cloudy day. If you are going to choose a right-field box seat we recommend one in a section closer to the field so you can see some of the plays without having to contort your body for hours.
Right Field Roof Box Seats
Honestly, these are not much better than the right field box seats because of the same awkward seat angle, despite being higher. They're also fully exposed to the sun.
However, the food and bathroom lines for these sections tend to be lighter and these seats will give you a great view of the Green Monster. There are only eight rows per section in the right field roof box, which makes access to your seat relatively easy.
Right Field Roof Deck Seats
A newer seating addition to Fenway, the right field roof deck is also known as the Ultimate Deck. It sits above the retired player numbers section in the right field and features picnic tables with seating for four and a drink rail with stools.
There's also a full bar and covered concessions area which offers relief from the sun, which is definitely a perk considering the roof deck gets full sun exposure. But at least because these seats are high, there's less cranking your neck to catch every play.
This is also where you'll find a small section of 14 seats named the 502 Perch that cost a bit more. However, they are on par with sitting in the upper bleachers and cost more.
Pavilion Box Seats and Pavilion Reserved Seating
Pavilion Box seats are a pretty decent buy considering they're less than Loge Box seats yet offer up fantastic views on each side of the Pavilion seating at club level. They're also ideal for someone that needs more legroom and the highest rows have a roof which is useful on drizzly game days.
Pavilion Reserved seats are three rows of high seats under the Coca-Cola sign in left field, right next to the Green Monster. They come with a private concessions area and picnic tables. Their major downside is they're pretty far away from the action. There is also standing room only in this area, in a section called the Lansdowne Pavilion.
At this level, you'll also find the glass-walled private Pavilion suites that can accommodate between 12 and 25 VIP guests. They fall under the "if you have to ask, you can't afford it" category and most fans are not going to be interested in them.
Personally, we think nothing beats being amongst other fans and singing along to "Sweet Caroline" with them, but the suites are there if you have the budget.
Despite their name, the field bleachers at Fenway Park don't fit the definition of true bleachers, which are typically long benches where it's a free-for-all when it comes to finding a seat. Fenway's bleachers are made up of individual seats with a chair back (but no armrests.)
As they're situated far from the bases, they are usually among the most affordable seating options at a Red Sox game or concert yet offer up a terrific view of the field. There are also no obstructed view seats here and the seats tend to be more comfortable than some of the grandstand seats.
In 2022 the ballpark opened up a new open-air concourse area behind sections 39, 41, 42, and 43 of the bleachers called the Truly Terrace. Encompassing nearly 9,000 square feet of space, the Truly Terrace offers food and beverage stands, barstools, standing-room areas, and restrooms.
The major downside to sitting in the bleachers is that they offer zero protection from the elements, so this is something you need to consider. On sunny days a hat, sunglasses, and sunscreen is a must.
In years past the bleachers tended to attract rowdy ball fans but since the overall cost of attending a game has gotten more expensive, this section has become a bit more family-friendly. Some fans swear that it's the best place to take in a game if you're on a budget.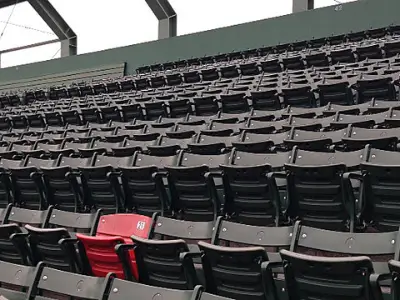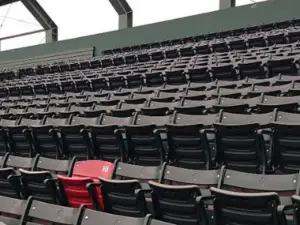 The Bleachers is also where you'll find the infamous lone red seat—a seat painted red in 1984 to commemorate the spot where Ted Williams' famous 1946 home run ball landed. You'll find this seat among a sea of green seats in Section 42, Row 37, Seat 21 if you're hoping it will bring you some good luck.
The upper bleachers are among the cheapest seats at Fenway Park, but we don't recommend them (unless you're really on a budget) as the cons definitely outweigh the price tag.
For starters, you'll be sitting about 600 feet away from the home plate—so far away that the sound of the bat striking the ball will be delayed for a second before it reaches you. And unfortunately, the Jumbotron will be useless here because you're sitting underneath it, so you won't be able to rely on looking at the large screen to catch details and replays.
For these reasons, they're likely to be the section with the most empty seats at Fenway Park but they're there if you need them. If you really want to sit here, we recommend bringing a pair of binoculars with you.
Dell Technologies Club Seats
The Dell Technologies Club (also known as the EMC Club) is an enclosed, members-only section perched at the pavilion level above the home plate that features a climate-controlled restaurant (that serves lobster rolls) and three full-service bar areas. Of course, there are also individual reserved seats overlooking the field and the Boston skyline. A dress code is required here.
As the name implies, these club seats are only for Dell Technologies Club members. If you're interested in acquiring a membership, you can scroll to the bottom of the page on the Red Sox website and click on "request information."
It's obviously only for those with a generous budget, but it's tough to beat the perks that include an amazing view of the playing area plus early entry two hours before a game starts.
State Street Pavilion Club Seats
This is also a members-only section, although the vibe is a lot more casual. The State Street Pavilion Club offers views of the field from the Green Monster down to Pesky's Pole. Padded seats, a parking pass, and in-seat wait service are definitely top perks along with the view along with private restrooms, and HDTVs. The seats here offer more legroom than most other sections in the ballpark.
The club here features a brunch menu and a la carte options. You can purchase a membership for 20 games, 40 games, or a full season.
For the longest time, Fenway's iconic left field wall (the Green Monster) served no other purpose than to display a scoreboard, block home run balls, and shield the ballpark from the public streets.
That all changed in 2003 when Fenway Park's management decided to add seating and standing areas atop the Green Monster for just under 250 fans. As you can imagine, these are among some of the most coveted spots to watch a game or a show.
Heckling is pretty much useless from this area, but the stunning bird's eye view of the field is hard to beat. Reserved seats come with a metal barstool and a ledge to enjoy your drinks and food that you can buy from the nearby concession stand and bar.
But it isn't necessarily better up this high—be prepared for sun exposure, wind, and the lack of a scoreboard view. The Green Monster section also has a designated standing-room-only area.
These seats are also notoriously difficult to score. Your best bet is to subscribe to the official Red Sox newsletter which occasionally alerts subscribers when Green Monster tickets are available to buy.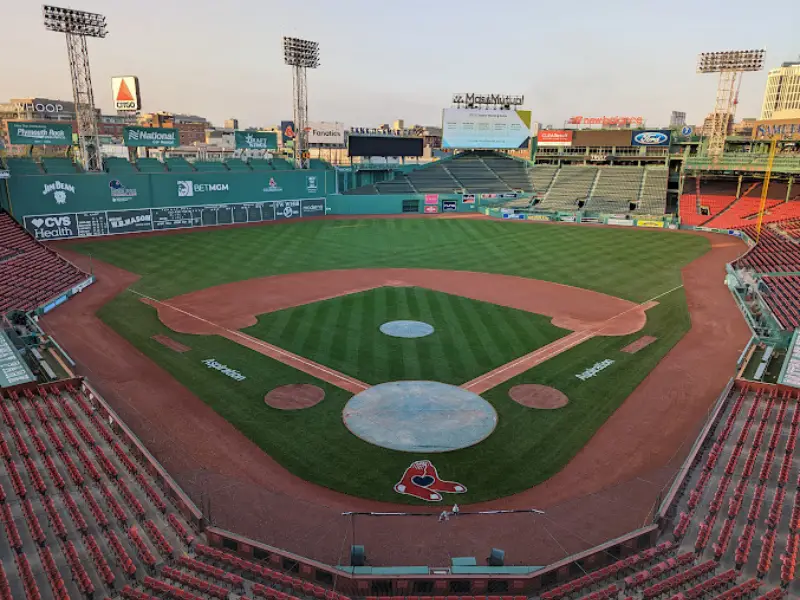 Located behind the home plate and extending down the baselines, the Grandstand seats make up one of the most affordable sections and offer up great views of the game. Unless you happen to be stuck behind support or pole, which brings us to the biggest downside to buying tickets in this seating area: obstructed view seats.
Not every seat in the grandstand sections is blocked by support or pole, but several are. Unfortunately, Fenway Park's management wants to sell as many tickets as possible so they won't block seats with obstructed views from being sold, but will mark them with "OV". And for a seat to even earn the OV warning, the blocked view has to be pretty obvious.
But that's why we told you about alternative seating charts. We highly recommend searching for the view from a specific seat in the grandstand section to make sure it doesn't have support in your line of vision.
The other thing to consider is that this seating section isn't exactly the most comfortable. The seats are wooden and date back to the 1930s. They are only 15″ wide, with armrests (if you can call them that) that only about an inch of space. If you're six feet tall or close to it, you're probably going to feel like you're being tortured sitting in this section for hours.
With tight, hard-on-your-butt seating and the risk of having your view blocked, you may be wondering why anyone would want to sit in the Grandstand section. They're actually ideal for anyone seeking an old-timey baseball game experience as they've remained virtually unchanged since before WWII. Also, the overhang protects spectators from the rain on drizzly game days and the sun (in sections seven and up) on bright ones.
And, they're among the cheapest seating option at Fenway Park.
Lastly, Fenway Park has several standing-room-only areas and if you're up for standing several hours for a ballgame or concert, some (but not all) of these designated areas may help you save a few bucks. There are SRO areas throughout the park in the following sections:
Roof Deck
Right Field Roof Boxes
Green Monster Seats
Pavilion
Lower Level Standing Room (first and third base lines near Grandstand seats)
According to ESPN data, the Green Monster standing-room section is the best place to nab a home run ball if you're lucky.
The nice thing about standing room only is that you're free to leave the area and roam (to a certain extent) other areas of the ballpark. If you're lucky, you may even be able to snag an empty, unsold seat.
How to Avoid Obstructed Views Seats at Fenway Park
Much has been said about obstructed view seats at Fenway Park, but they're really only a problem if you're sitting in the Grandstand section. There are 26 poles throughout the 33 Grandstand sections that hold up the upper deck. That's a lot of support poles, but luckily it doesn't mean every Grandstand seat has an obstructed view.
The first thing to know is that sections 19 and 21 of the Grandstand don't have any obstructed views. So if you want to sit in the Grandstand, try to find tickets in either of these sections first.
We wish we could tell you that the poles are placed so that they block the same rows and numbered seats in every Grandstand section, but that isn't the case. We recommend referring to this enormously useful guide created by Headspin Software that breaks down the obstructed views in every Grandstand section using a key that shows you exactly which seats have obstructed views and how much of the playing field is blocked.
Also, when you're searching for tickets avoid buying any marked as OV. Fenway likes to fill as many seats as possible and won't mark every obstructed seat with OV, so you can rest assured a ticket designated as such really won't be a fun experience.
What Are the Cheapest Seats At Fenway Park?
So which seats at Fenway Park are the cheapest? That would be the Bleachers and the Grandstand seats. However, depending on the time of year and the visiting team, these are not the only sections that feature affordable seats.
Sometimes you can score a great deal on tickets in a more desirable section on the same day as the game. It depends on who the opposing team is (Red Sox versus the New York Yankees is always going to be a high-demand match, for example).
Sometimes even the weather is a factor. In April and early May, when a Boston spring tends to be cool and fickle, you may be able to find a nice price because less fans want to attend when it's cold out. Sometimes the secondary ticket market has some decent deals for Boston Red Sox tickets.
There's an awful lot to cover when it comes to purchasing Boston Red Sox tickets, so visit our ticket-buying guide for a lot more tips.
Best Seating For Families and Those With Accessibility Needs
Fenway Park may be the nation's oldest ballpark, but luckily it has undergone improvements through the years to make it more family-friendly and accessible to fans that use a wheelchair or have hearing and/or vision impairments.
Non-Alcohol and Family Friendly Sections
There was a time when attending a ball game at Fenway Park with kids in tow wasn't such a great experience, but in recent years the stadium has taken steps to make the stadium more family-friendly, at least for ballgames.
Sections 32 and 33 of the Grandstand are designated CVS Family Sections where alcohol isn't allowed. If you're a parent that's concerned about rowdy drunk fans ruining the game for you and your kids, you may want to consider getting tickets in these sections. Fenway security strictly enforces the no alcohol policy here.
These two sections are down the left-field line and are fairly close to the field. They're also conveniently close to a family restroom which is important when you're attending a game with young children.
While other sections may be hit or miss for kids, it helps to stay away from the "party" areas such as the decks and sections that come with bars and sit in the lower sections such as the field, loge, and dugout. People who choose these seats are more likely to be there to actually focus on the game versus looking for a reason to drink.
Visit the Kids Concourse and Wally's Clubhouse
No matter where you sit in Fenway Park, if you bring kids to a baseball game they're bound to get bored and antsy. So let them burn off some energy in the Kids Concourse, which is located behind the right field grandstand sections. It has its own gate—Gate K (for kids!)—for children aged 14 and younger to enter when accompanied by an adult.
The Kids Concourse features batting cages and child-friendly snacks (think chicken fingers, hotdogs, goldfish crackers, and more.)
Then there's Wally's Clubhouse where you're likely to run into the Green Monster himself along with his sister, Tessie. The Clubhouse features games, face painting, and other fun activities.
The Kids Concourse also features family restrooms located near the L.L. Bean mural.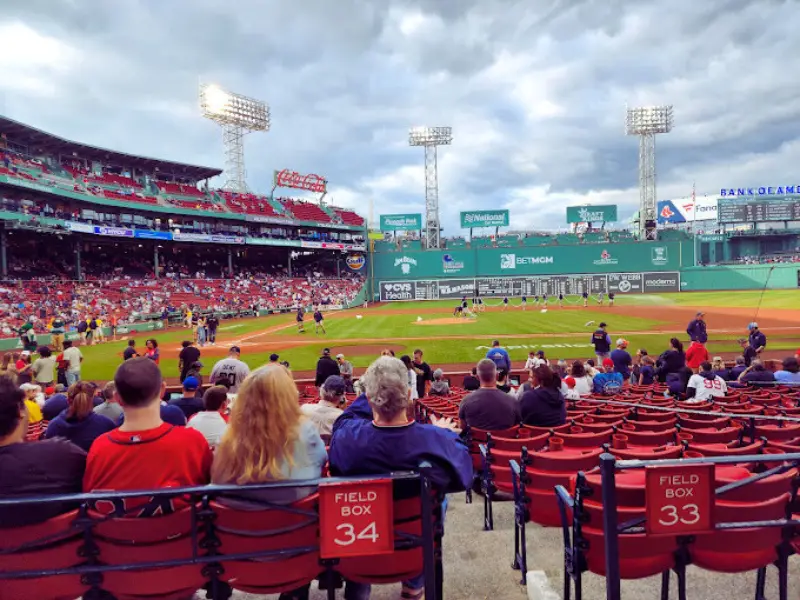 For fans that use a wheelchair, Fenway offers several wheelchair spaces located in the Grandstand, Bleachers, Green Monster, Right Field Roof Deck, Loge Box, Field Box, Infield and Right Field Boxes, Dell Technologies Club, and the State Street Pavilion Club. All gates are accessible for fans in wheelchairs.
Elevators can be found at Gates B, D, and E. You're allowed to bring a certified service dog with you into the stadium.
Fenway Park has a team of Mobility Assistance members that will happily provide wheelchair escort service to anyone that needs a wheelchair to safely get to and from their seat.
These wheelchairs are only for ticket holders that need them to reach their seats. Fans that need to be in a wheelchair for the duration of a game should bring their own with them.
Additionally, Fenway has several designated accessibility parking spaces, mostly located on Jersey Street—that are within close proximity to the stadium.
Five Quick Tips for First-Time Fenway Park Attendees
So it's your first time at Fenway Park? You're in for a treat! We'll cover more of these in another post, but if you're attending Fenway Park for the first time, these five tips can help make your first visit as positive and glitch-free as possible:
Take Public Transportation
Trust us, you don't want to fight Boston traffic on game day. Take the MBTA—it's stress-free and the price is so much cheaper than paying for Fenway parking.
You have a few options. You can take the green line to Kenmore Square or Fenway Station, or take the purple line from South Station to Landsdowne Station. All are a short walk to the stadium. Once the game is over and throngs of fans exit the stadium, you'll be glad you didn't take the car.
Eat Before the Game
There are tons of terrific bars, restaurants, and outdoor food vendors along Landsdowne Street, Boylston Street, and Brookline Ave where you can grab a bite to eat before the game. We especially love The Bleacher Bar, which is located underneath—you guessed it—the bleachers, giving you an amazing view of the field. Be sure to get there early!
As tempting as enjoying a Fenway Frank during the game may be, this is a much cheaper alternative because food, snacks, and beverages inside the ballpark are pricy.
Keep in mind that you won't be allowed to bring food with you inside Fenway Park (bottled water is OK) so try to get there early to allow time to fortify yourself before entering the stadium. And don't forget to bring your ID if you plan on purchasing alcohol inside the stadium.
Take Pictures With the Greats
Go behind Fenway Park on Van Ness Street where you can take photos with the Teammates statue and statues of Boston Red Sox greats Carl Yastrzemski and Ted Williams.
Don't Forget Sun Protection
If your seat is in the sun, you'll definitely want to bring sunglasses, a hat, and sunscreen with you for protection.
Have Fun
Don't forget to have fun! Explore the park and soak it all in. There is nothing else quite like a Fenway Park Experience!
Explore Your Best Seating Options: Fenway Park
As you can see, there is a lot to cover when it comes to the Best Seating Options at Fenway Park. We hope this comprehensive guide cleared up some of the confusion and helps you find the best seats for your budget for a Red Sox game or Fenway Park concert!