We are reader-supported (thank you)! When you buy through links on our site, we may earn an affiliate commission.
When I signed up for a Boston TV & Movie Sites Bus Tour, I figured they'd show me the bar from the hit TV series Cheers, some of the key locations from Good Will Hunting and, hopefully, where parts of Ben Affleck's recent film The Town were shot. If that's all there was, knowing for sure that I was seeing the actual filming locations, I confess I would have been quietly fulfilled.


The reality: Within 30 seconds of starting the tour I was staring at, even walking on the patch of the Boston Common where scenes from The Departed and The Company Men were filmed.
At that point I was told to expect a view of over 40 filming locations before the three-hour tour was done. Very early, the scene was set (pardon the pun) for a fabulous experience.

Our tour guide, Dave, was a Massachusetts native with the on-demand accent to prove it! His fabulous sense of humor would be reason enough to take this tour.
All guides for these tours are trained actors, meaning you get inside knowledge of the industry and the people in it.

Dave knew what films were currently shooting in New England and where they were filming, as well as which stars had recently purchased what properties in the area.

The tour bus was only a short-walk from the tour starting point and its air-conditioning was a welcome relief from the hot Boston day.


Multiple TV screens showed carefully edited clips from the various films. We would watch a clip with some guided commentary and then look out the window at the exact place it was filmed.

From the moment we boarded the bus, there were three filming locations visible and, from there, it was a constant highlight of Boston TV and movie sites.

In almost no time at all we were looking at locations from Ally McBeal, Witches of Eastwick, The Firm, Fever Pitch and Blown Away.

The bus size was perfect for accessing secret filming sites in the smaller back streets of Boston, yet big enough to feel on the luxurious side.
A short while into the tour we were handed a sweet treat to stave off any possible hunger pangs – something extremely tasty and relevant to the theme! This was an unexpected but welcomed event as there's no specific lunch stop during the tour. (If you're someone who needs to eat at regular times I'd suggest bringing a snack with you.)

A couple of particularly exciting highlights for me:


We got to sit at Matt Damon's and Ben Affleck's bar table (yes, the exact one!) from Good Will Hunting
We actually walked in Leonardo DiCaprio's steps from The Departed
With so many highlights on offer, this Boston tour is a great way for tourists and locals alike to explore beyond the 'regular' Boston, and it's perfect for anyone with even a slight interest in film or TV!

FYI, if you're short on time or prefer a walking tour, On Location Tours also offer a Boston Movie Mile Walking Tour which runs for about half the time of the bus tour.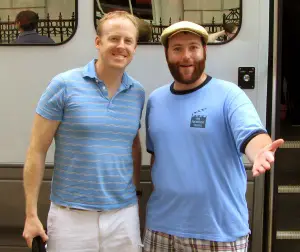 See more Boston attractions here:
Check out more helpful resources:
Discover more captivating shopping destinations within Massachusetts:
This post is contributed by Boston Dad