Boston Sightseeing Attractions
We are reader-supported (thank you)! When you buy through links on our site, we may earn an affiliate commission.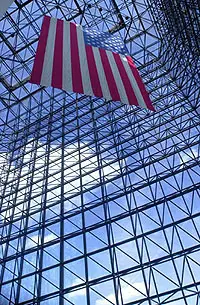 The JFK Museum holds a particularly special place in my heart. The story goes… My grandfather grew up almost directly across the street from the Kennedys and the boys played together as kids. One day the boys threw a baseball right through the Kennedys' window. Apparently JFK's mom was super cool about it and simply said, "Boys will be boys!" How All-American is that?


This is the way to get to know the heart and soul of the famous Kennedy era. The museum has great permanent and special exhibits, and the library is one of only 13 Presidential Libraries administered by the National Archives and Records Administration. They have an introductory film (narrated by JFK) upon arrival; The final one of the day starts at 3:55pm.


Savvy Ways to do the JFK Library & Museum
If you're into boats, JFK's 26′ sailboat, Victura, hangs out at the edge of the Boston Harbor (on the museum grounds) between May and October.
Family Programs: They have programs on throughout the year ranging from music, dance and theatre to family guides for temporary exhibits.
Logistics
John F. Kennedy Presidential Library and Museum
Columbia Point, Boston


T Stops: Red Line to JFK/UMASS Station. Take one of the free buses marked 'JFK' (they come by every 20 minutes).


Admission: $18, $12 Seniors and Students with ID, $10 Ages 13-17, FREE for kids 12 and under.