Blink! A Faneuil Hall Boston Christmas Tradition
We are reader-supported (thank you)! When you buy through links on our site, we may earn an affiliate commission.
Blink! is a six-week long Faneuil Hall Boston Christmas celebration. The annual tradition kicks off the holiday season with music, performances and a tree lighting extravaganza.


Blink! launched for the first time on November 17th, 2012 with loads of enthusiasm from both Boston locals and tourists, and we were stoked to be among them.


We arrived just in time to hear a brief narration of the story of the Nutcracker. The story-time was presented by the Boston Ballet and performed with musical accompaniment by four of the Boston Ballet's orchestral members.


Our eldest, Siena, received a "crown" with Clara on it which made her extremely happy. They also played some tradition Christmas music which brought a fun atmosphere to the Quincy Marketplace rotunda.


It happened to coincide nicely that Blink!'s official launch was just days before the Boston Ballet was to present their brand new version of The Nutcracker in honor of the ballet company's 50th birthday.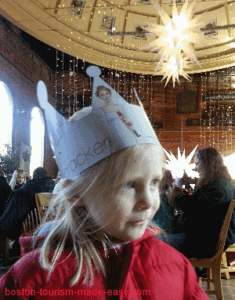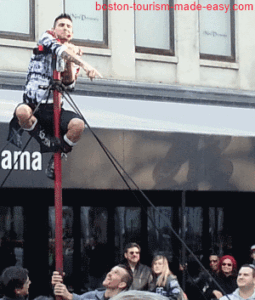 After story-time, we took a peak at Santa and danced together to the jazz/funk band playing out front of Quincy Market before heading back inside for lunch. It was packed and chaotic but fun and easy with kids.


Post lunch, we stumbled upon an outdoor holiday dance performance. This was right up Siena's alley and she was captivated by the young dancers, their dancing and their sparkly costumes.


We watched an Aussie daredevil contortionist for a while as he taunted the crowd and juggled with a working (and running) chainsaw.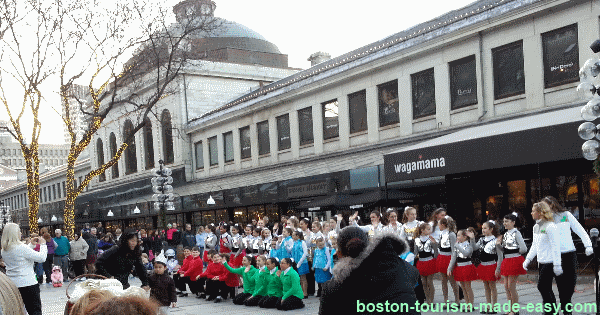 Being at Faneuil Hall Marketplace, the event was also a great opportunity to get a few presents handled. A fun and very unique wine glass from the Funusuals store for my grandmother's 90th birthday and two Boston sports t-shirts for our baby cousins in Australia.


After wandering for a while and filling our tummies sufficiently, it was getting close to time for the big light show. We spent time in the crowds enjoying a variety of musical performances (starting with Boston's very popular Holiday Pops orchestra) and then the countdown began.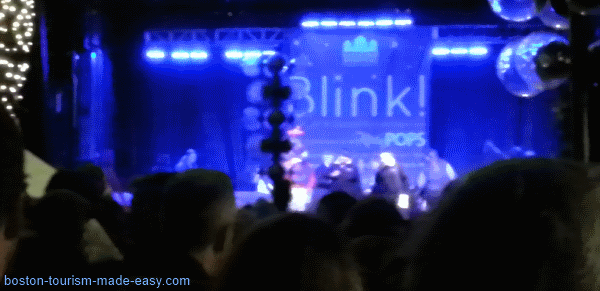 Fortunately, after several attempts to hold my four-year-old high enough in the air for her to get a good view, a very nice man offered to hold her high up for the show. This served two excellent purposes: (1) She could have fun and take it all in and (2) I could get a video of the whole thing for you (see below)!
Fun Facts and Logistics
Did you know? Faneuil Hall Marketplace was America's first open marketplace.
That's a lot of lights! Blink! Uses over 350,000 LED lights in carrying out this magical extravaganza.
Nightly shows: Begin at 4:30pm and run every half-hour until 10:00pm (i.e. 12 total shows per night – each different, so it's worth staying a while!).
Blink! Event Duration: The Faneuil Hall Boston Christmas celebration runs for six weeks ending on December 31st.
Parking: They have arranged discounted parking with the 75 State Street Garage. This year it was $10 (after 5pm on weekdays and all day Saturdays and Sundays) with a validation coupon that you could get from any retailer you purchased something from in the marketplace.
Important Note: The entrance to the parking garage is not actually at 75 State Street. If you're using a GPS, plug in 5 Broad Street, Boston, MA 02109.
Video Of The Faneuil Hall Boston Christmas Tree Lighting Extravaganza
Check out this video – it was the first ever light show of the annual Faneuil Hall Boston Christmas holiday six-week long extravaganza. Just a warning – it's a little blurry at the beginning, but I did figure out that I needed to zoom out just a few seconds into the video. Enjoy!