Little Italy Boston and Other Favorite Italian Restaurants in Boston
We are reader-supported (thank you)! When you buy through links on our site, we may earn an affiliate commission.
If you're looking for great Italian food in Boston, North End restaurants are your answer. The North End is the Little Italy of Boston. Here you'll find not only great food, but a real sense of Italian culture.
In the North End, you can play bocce (Italian lawn bowls) at Langone Park, indulge your taste buds at one pastry shop after another, take a moment to relax with a cappuccino or gelato, and then move onto a history lesson.
The North End is Boston's oldest residential neighborhood. So it's no great surprise that three stops on the freedom trail are located here, including the Paul Revere House.
Given how small it is (1/3 mi²), you can wander the narrow streets with ease, exploring the neighborhood, its various tourist attractions, and its approximately 100 eating establishments.
But we're all about food on this page, so whether you're looking for homestyle Italian pasta, an espresso done just right, or delectable Gelato, check out our favorite North End restaurants below. And if you find your own gem during your North End wanderings, please let us know!
Buon appetito!
Not gonna make it to any North End restaurants? Check out the bottom of this page for a list of other favorite Boston Italian restaurants.
T Stops For North End Restaurants: Orange Line: Haymarket, Green Line: Haymarket or Government Center, Blue line: Government Center
Where to Find the Best North End Restaurants, Caffes and Bakeries
Modern Pastry
Boston: North End
257 Hanover Street, Boston, MA 02113
781-396-3618


Let's talk dessert first. My stepdad is the most avid pastry connoisseur I know, and he's made it clear that the best pastry bakery in Boston's North End is Modern Pastry. The Modern Pastry Shop is family owned and offers a stunning variety of sweets and treats. For a true Italian treat, they fill their canolis on-site, and they serve great espresso as well.


Mike's Pastry
Boston: North End
300 Hanover Street, Boston, MA 02113
617-742-3050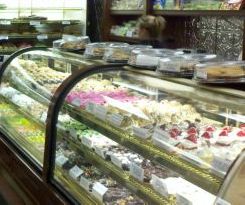 Many people, including my Uncle Jim, would argue with my stepdad that Mike's Pastry is the best pastry shop in the North End. In other words, there's some fierce pastry competition going on in Boston's Little Italy. Mike's Pastry has table service at the front of the shop and, despite the busy atmosphere, it can be a great place to relax with a cappuccino and 'canolo' pondering the meaning of life. Absolutely everything is made fresh on site; And, if you're having a special occasion, they make seriously unique custom cakes, many of which can be seen on their website. One warning about Mike's though… Depending on your timing, you might find yourself in line halfway down the block, but they keep it moving and it's worth the wait!
Taranta Restaurant
Permanently closed
Boston: North End
210 Hanover Street, Boston, MA 02113
617-720-0052
Taranta Restaurant in Boston's North End offers a unique and beautiful blend of Italian Peruvian food. If you're looking for a fun adventure, and can get a medium sized group together, they offer group cooking classes, North End cooking challenges, as well as cooking class plus North End tour combinations.
Ristorante Limoncello
Boston: North End
190 North Street, Boston, MA 02113
617-523-4480
Ristorante Limoncello is a great restaurant for larger parties. They serve delicious classic Italian meals and have good sized portions. Limoncello is located just a few doors down from the Paul Revere House on the Freedom Trail (in case you're looking for a nice place to stop on your "big walk").
The Daily Catch
Boston: North End
323 Hanover Street, Boston, MA 02113
617-523-8567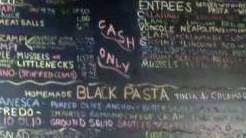 If you're looking for a trendy, upscale dining experience, the Daily Catch is not going to be your choice of North End restaurants. But if you're looking for simply excellent Italian food and seriously fresh seafood, this place is a goldmine. With only twenty seats, you won't have to wait long for your homemade black pasta or your calamari meatballs, and your taste buds will leave happy. There are two other Daily Catch locations at Fan Pier and in Brookline. FYI, they accept cash only.
Carmen
Permanently closed
Boston: North End
33 North Square, Boston, MA 02113
617-742-6421
With only nine tables, Carmen's is a great place for a romantic night out or a cozy meal with close friends. This quaint restaurant serves amazing, authentic Italian food truly representative of what Boston's Little Italy is all about. Given its size, reservations are definitely recommended.
Pizzeria Regina Boston
Boston: North End
11 ½ Thacher St, Boston, MA 02113
617-227-0765
Pizzeria Regina (officially Regina Pizzeria) is a landmark as far as North End restaurants go. Since the opening of this North End pizzeria in 1926, Pizzeria Regina has turned into a favorite Boston pizza chain. They provide a fun and casual atmosphere, offering pitchers of beer and soda to go with the scrumptious pizza. There's a good chance you'll have to wait outside for a table when visiting their North End location, but it's worth it! FYI, many of their locations offer "curbside to go". This means you can order online or by phone, and when you get to the restaurant they'll bring your pizzas right out to your car.
Giacamo's Northend
Boston: North End
355 Hanover St, Boston, MA 02113
617-523-9026
Giacamo's Northend serves great Italian food at wallet friendly prices. The food is authentic and you'll find all of the southern Italian favorites. They have two locations; their Back Bay location (called Giacamo's Southend) has less of a wait (if any). Cash Only and no reservations.
Great Italian Restaurants Outside of Boston's North End
If you're looking for some great Boston Italian restaurants, and are not going to be in the North End, here are a few more of our favorites. As we've written about them on other pages, please click on the link to find their full descriptions. Enjoy!
Back Bay: Giacamo's Southend
Beacon Hill Grotto
South End: Stella Permanently closed
Allston: Ecco Pizzeria Permanently closed
More pages you might want to check out…
See more interesting places to eat in Boston:
Check out more pages about Massachusetts shopping:
Do you love the glamour of Hollywood?
Read our review of
Boston's TV & Movie Sites Bus Tour
and learn how to get the tour at a discount!