We are reader-supported (thank you)! When you buy through links on our site, we may earn an affiliate commission.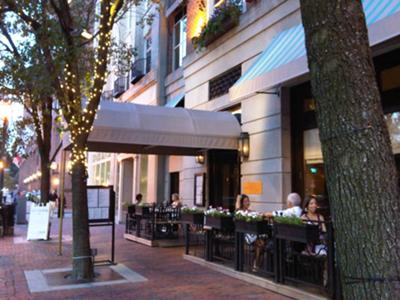 The Heritage on the Garden
272 Boylston Street
Boston, MA
617-426-7878
We had dinner at Bistro du Midi a few nights ago. We're not usually big restaurant spenders, but in this case we were meeting friends who routinely eat in nice restaurants. In short, we all had a wonderful time.
Though it is definitely an upscale place, the staff was not at all pretentious or stuffy. In fact, they were fun and enthusiastic, while providing excellent, attentive service.
Our party especially enjoyed the roast chicken for two, duck, and monkfish. The favorite appetizers were marinated octopus with olives, fried artichokes, and beet salad. Everyone raved over the hazelnut milk chocolate cake with salted caramel ice cream.
Also unqualified successes were our wines, a white Châteauneuf-du-Pape (not the super expensive bottle) and the Bordeaux from Pomerol. The prices of the wines were much more than we usually spend, but they were wonderful. They have a very large wine selection, so it is possible to get good wines in all price ranges.
This is a place for special occasions. If you choose wisely, you can have a memorable meal without breaking the bank.
Bistro du Midi is located in an elegant area, across the street from the Swan Boats in the Public Gardens and very close to Arlington Station on the Green Line. My husband was glad we went by T, because he took advantage of the great wine!
See more Boston Dining reviews.
Return to the Boston Tourism Made Easy home page.
This post is contributed by Bess