Logan Airport Transportation
MBTA, Buses, Boats, Taxis, Limos & Rental Cars
We are reader-supported (thank you)! When you buy through links on our site, we may earn an affiliate commission.
You'll find no lack of Logan Airport transportation options when you arrive in Boston.
You can take a taxi, the subway, a bus, a limo or possibly even a boat, depending on where you're going.
You'll find some information on each of your options below. Have a great time in Boston!
If you've planning visit to Boston click here to learn more about Logan Airport hotels.

Logan Airport Transportation: Taking The T
There are two subway style options to and from the airport. Note: I've bolded the advantages of each below.
The Silver Line (SL1):
was created as Boston's first rapid transit bus line
converts from bus to train (or vice versa) mid-trip
runs from 5:30am to 12:30am everyday
travels conveniently between South Station and Logan Airport
goes right to the airport terminals
The Blue Line:
is a traditional MBTA subway line
runs from 6:00am to 12:30am everyday
is a faster ride than the Silver Line
requires you take a free shuttle bus to get to the actual terminals
can be a hassle at rush hour, especially if you have a reasonable amount of luggage
If you want more information about riding the T, you can find it on our Boston Public Transportation page.
Logan Airport Transportation: Hiring A Limo
There are a number of private limousine services, easily found online. It's worth contacting them beforehand to discuss prices and make a reservation, especially if you have a large party and/or a lot of luggage. You can generally do this through their websites.


It's also worth finding out their tipping policy. Some may automatically add a gratuity (e.g. 20%) and others may leave it up to you. Either way, check if it's already part of the quote or if you should be adding that on in your decision making.


Here are a couple of Logan Airport limo companies that we're happy to recommend:


Webb Transportation Services
Phone: 1-978-750-6666
Open Weekdays 24 Hours


Webb Transportation Services was very highly recommended to our family by a friend who uses them repeatedly. They service all of Boston and north to Manchester, NH, including Cape Ann.


They're known for being extremely reliable and having good cars and intelligent, personable drivers.


In our personal experience, they went out of their way to accommodate family members who had made a reservation but never got back to the company with their final flight details! We were impressed with and appreciative of their efforts.


Able Limousine
Phone: 1-508-435-3903, 800-499-3903 (toll free)


We used Able Limousine when we first moved back to Boston. We had a LOT of luggage and they found a way to fit us and our luggage into one vehicle.


Our driver was extremely patient and friendly as we took pictures and got our toddler's car seat set up.


And, once we were in, he offered us our choice of an assortment of snacks and drinks, including some good ol' American beer if we were so inclined (don't worry – he was clearly not drinking!). It was a very appreciated welcome after a LONG journey across the world!
Logan Airport Transportation: Taking A Taxi
You'll find taxis at all of the Logan Airport terminals at all times of day or night. Just follow the airport signs to the nearest cab rank and there will be someone there to help you out.
For more information on taxi services in Boston, check out our Boston Taxis page.
If you're looking for an alternative taxi service, click here to check information about popular ride-sharing/transportation network companies Lyft and Uber.
Logan Airport Transportation: Renting A Car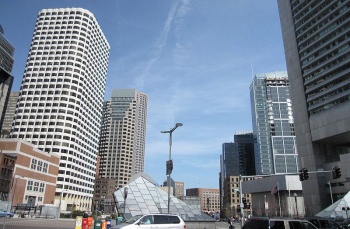 If you're planning on renting a car for your time in Boston, you'll find several options of rental car companies that service Logan Airport.
For a full list of Logan Airport car rental companies, click here.
The airport has rental car courtesy phones available in every terminal.
A quick note if this is your first time driving in Boston…

Boston drivers are infamous for their, let's say, erratic driving. At times they can be wonderfully courteous and patient. However, what they're better known for are things like taking left turns from far right lanes, honking unabashedly, and speeding up when the light turns yellow. The main thing I'd say is to never assume they're going to act as you would expect!
To learn more about driving in Boston, click here!
Logan Airport Transportation: By Boat
If you want to get right out onto the water when you arrive in Boston, you have two options from Logan.
In both cases, you'll need to take the free airport shuttle (Massport shuttle bus #66) from your terminal to the Logan dock which takes about 15-20 minutes.
Once there you can:
take the MBTA (public transportation) commuter boat down to Quincy or Hull, or
take a water taxi to one of a variety of destinations offered in the Boston area.
For more information, including water taxi costs, on both options, check out this Water Transport page from Massport.
Logan Airport Transportation: By Bus
There are also a variety of buses that travel to and from the airport on a regular basis.
You can take the Logan Express non-stop between Braintree, Framingham, Peabody or Woburn and the airport (it stops at all terminals).
Each of these trips take about 35-40 minutes on a good day. Given that the buses are subject to Boston traffic, however, it's worth giving yourself extra time heading to the airport to avoid pre-flight anxiety!
Each location offers secure paid parking, and the cost for the ride is very reasonable. They can also provide wheelchair accessible buses given 24 hours notice.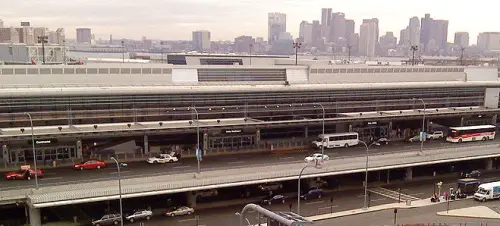 There are also a number of private bus lines that travel between the airport and a variety of destinations throughout New England.
This list should give you a good start:
Finally, you can take MBTA city bus Routes 448 & 449 to or from Marblehead and Route 459 to or from Salem. They all serve Logan Airport Terminal C. From there, you can take one of the free Boston airport shuttle buses to any other terminal.
Enjoying what you see? Here's some more interesting info: