Great Barrington Restaurants
We are reader-supported (thank you)! When you buy through links on our site, we may earn an affiliate commission.
To make this part of your trip nice and simple, here are our family's favorite Great Barrington restaurants.

For an evening of living like the locals, you'll want to head to Zagat rated Castle Street Cafe for dinner, and follow it up with a show at one of Great Barrington's historic landmarks, the Mahaiwe Performing Arts Center. The Castle Street Cafe has been around for over 20 years, has consistantly been a local favorite, and is located at 10 Castle Street (phone: 413-528-5244).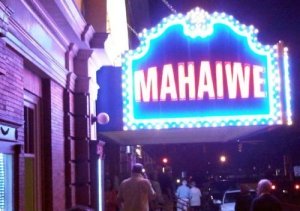 Virtually right next door, the Mahaiwe theater offers a huge variety of showings. As I'm writing this, you can choose between seeing performances by Peter Yarrow (of Peter, Paul & Mary), the Paul Taylor Dance Company, FRANKENSTEIN live in HD with London's National Theatre, and Voice VIII: An Afternoon of A Cappella, among many others.
Here are a few more of our favorite Great Barrington restaurants/eateries for your Boston day trip or weekend getaway:
Cafe Adam is a definite family favorite. With locally grown organic produce, homemade smoked salmon and consistently delicious food, it's hard to go wrong. We've got a full review of Cafe Adam here. Enjoy!
Cafe Adam, 325 Stockbridge Rd, Suite 4, Great Barrington, MA 01230, (413) 528-7786
Baba Louie's has sourdough wood fired pizza that both locals and tourists rave over. It's family-friendly and can also be a great place for a relaxed dinner with a nice glass of wine. The restaurant really doesn't need any more publicity, because there's a wait pretty much every night during July and August and on weekends the rest of the year. They don't take reservations. Keep this in mind if you're really hungry or need to be somewhere in a hurry.
Once you're seated, however, service is quick and efficient. Baba Louie's is close to SoCo's (see below) and the Maihawe Theater, so if you time things well you can easily do a night of great pizza (or soup, salad, and/or pasta), great ice cream and a great show. Baba Louie's is open for lunch with a variety of sandwiches as well as pizza and pasta.


Baba Louie's, 286 Main Street, Great Barrington, MA 01230, (413) 528-8100
Great Barrington's Riverbend Cafe (previously Uncommon Grounds) is an organic cafe with a variety of veg and vegan options. It's got a rustic feel, reasonable prices and, best of all, stunning views out over the river.


Riverbend Cafe, 403 Stockbridge Rd, Great Barrington, MA 01230, (413) 528-0858, Open Daily 8am-5pm


We hope that provides you with a great start for your eating pleasure in Great Barrington!
In case you missed it, here's the beginning of our Great Barrington MA section


Or check out our entire Berkshires and Tanglewood section by starting here.
Check out more great places to eat in Massachusetts: