We are reader-supported (thank you)! When you buy through links on our site, we may earn an affiliate commission.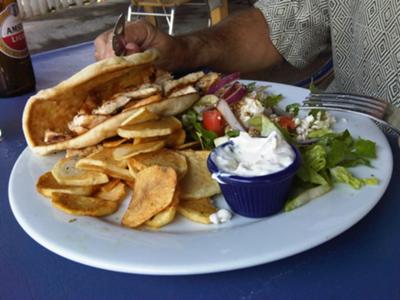 Aegean Breeze is a medium-priced Greek restaurant offering an extensive selection of salads (made with locally grown, organic vegetables), hot and cold appetizers, pasta dishes, and traditional Greek and grilled entrees. Sandwiches and omelets are also offered on the lunch menu.

A good-size covered patio is available in addition to indoor seating, in case you feel like dining outdoors.



We stopped at Aegean Breeze for a noon meal as we arrived in the area for the weekend. After finishing his Chicken Souvlaki with homemade flat Greek fries, my husband announced, "I would definitely have that for lunch again. It was delicious!" My shrimp and scallop wrap was well prepared and reasonably priced.

The next evening we were back again for dinner, this time with friends. Instead of the usual bread basket, the meal was preceded by extremely tasty toasted pita triangles.

Unfortunately, I can't tell you firsthand about several different dishes from this visit, because each couple split a moussaka dinner. We all shared the Greek salad for four. I CAN tell you that our friend Malcolm spontaneously offered that it was the best moussaka he had ever had, and he doesn't normally care for the dish.

My husband and I chose the lemon potatoes to go with the moussaka. They were delicious and a bit unusual. Our friends had the rice pilaf. The Greek salad was abundant and fresh, with plenty of tomatoes.

Being on our best behavior after some sugar indulgences in the afternoon, we passed on dessert. Not that we wouldn't have enjoyed the traditional Greek delicacies of baklava and galaktoboureko, or several other choices.

My husband appreciated that the beer wasn't expensive. The decaf coffee was delicious.

Our waitress was gracious about each couple sharing an entree, and one of the less expensive ones at that. The staff were uniformly friendly and welcoming.

"Entirely pleasant," was Sandy's candid assessment as we left the restaurant.

Aegean Breeze
327 Stockbridge Rd (Route 7)
Great Barrington, MA 01230
(413) 528-4001

See more Great Barrington Restaurant reviews.

Or, check out these Boston Dining reviews.

Return to the Boston Tourism Made Easy home page.
This post is contributed by Bess