We are reader-supported (thank you)! When you buy through links on our site, we may earn an affiliate commission.
Moved to new location. Check it out here
➜ Check out our review of Boston's Best French Restaurants!
➜ Check out our review of Boston's Most Romantic Restaurants!
➜ Don't miss our picks of the Best Restaurants in Massachusetts!
Last Friday was a special anniversary for my husband and I.
In our usual fashion, we talked for several weeks in advance about going out for dinner to celebrate, but never actually planned anything.
So, just as the babysitter arrived we started calling around to see where we could get in.
The places we had in mind were either booked or only available for a late dinner (not an option in our world at the moment).
So I searched OpenTable.com. My eyes landed on Petit Robert Bistro Brighton and we decided to give it a go.
It was perfect for us.
We drove up to the mini "Tour Eiffel" (lit up by white Christmas lights) and left our car with the free valet parking – bonus!
Once inside, we were greeted with a friendly, "Bon soir," and brought right to our table.
We decided to start the evening with a Lambic Framboise (a delicious raspberry beer that even non-beer-lovers are bound to enjoy). And, after a few sips of beer, we relaxed enough to notice that while it's too big a space to consider "cozy," the dim lighting and romantic French music do a fabulous job of creating an intimate atmosphere.
The service was prompt but not rushed and they patiently answered any and all questions we had.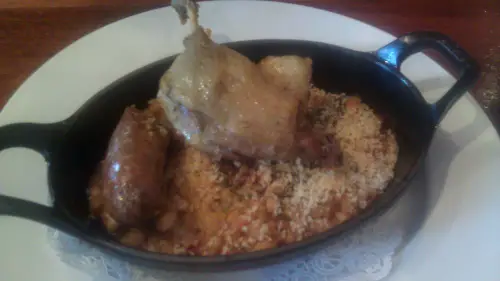 Both of our meals (the Cassoulet and the Steak-Frites) were great, but the stand-out was the Escargot Bourguignon (which was perfectly garlicked).
And as my husband drank his post-meal hot cocoa, he literally said, "I feel like I'm back in France."
Insider's tip: To avoid looking silly as you enter the restaurant, ignore the instinct to walk towards the "main" door. The pot plant blocking it from the inside really is there to block it. The real entrance is through the restaurant's bar area to the right of the dining area. My theory is that they've done this purely to keep the staff entertained ;).
FYI, Petit Robert Brighton will be open on Christmas Eve & Day as well as New Year's Eve & Day, so it could be the perfect place if you've got someone special to romance.
And, if you've got a bigger group, they recently announced that they're offering catering services. Lobster Bisque anyone ;)?
See more Boston Dining reviews.
Check out more useful information for residents and visitors of Boston:
Return to the Boston Tourism Made Easy home page.