We are reader-supported (thank you)! When you buy through links on our site, we may earn an affiliate commission.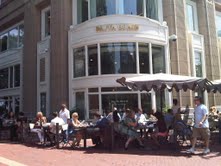 Information
30 Rowes Wharf
Boston, MA 02110
(617) 439-6900
http://pastabeachrestaurants.com/


We had lunch at Pasta Beach, a delightful Italian restaurant located about halfway between Downtown Crossing and the North End. A pathway next to the restaurant leads to the Harbor Walk a short distance away. There was ample seating both indoors and out.


In short, we so enjoyed our shared Gamberi salad (with delicious, fresh shrimp) and irresistible lunch-size Margherita pizza that my husband commented on what a lovely restaurant it was something like three more times that afternoon.


Among other items on the menu were many wonderful-looking choices of pasta and pizza, a number of salads, and some fish, chicken, and beef dishes.


Pasta Beach nicely combines an upscale feel with reasonable prices. It's a winner!
This post is contributed by Mama Bess (Boston)