We are reader-supported (thank you)! When you buy through links on our site, we may earn an affiliate commission.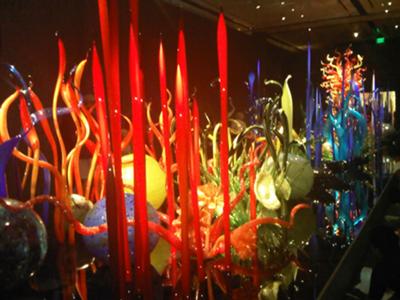 Mille Fiori – Means One Thousand Flowers (and fills up an entire room)
Having visited the MFA (Museum of Fine Arts in Boston) from time to time for many years, I am truly overwhelmed by what a magnificent museum it is. Not that it hasn't always been world class, but with wonderful renovations over the years, especially the spectacular new American Wing, and, first and foremost, its incredible art collection, even a tepid art lover like myself can't help but rave.

Especially today because my husband and I went to see the Chihuly glass exhibit (which is at the MFA until August 7, 2011). I've seen Chihuly in several venues before, including major exhibits in botanic gardens, but I was really blown away by the amazing beauty and creativity of this exhibit.
As a former Boston resident for much of my adult life, I felt some pride when I read that this exhibit featured more of Chihuly's chandeliers than any other to date (no credit to me). I'm uploading a few pictures that I took, but they don't begin to capture the magic (and size) of the actual pieces.


We also looked around in the European Decorative Arts and Sculpture gallery (http://www.mfa.org/node/3988) and saw some really gorgeous ceramics, including Meissen porcelain pieces.


There was a display of a table setting that I found intriguing because not only were there exquisite dishes, but also a good-sized collection of fine porcelain figurines doing dances and the like in the center of the table. The plaque explained that in the 18th century a big part of the company dinner for the upper class was a very fancy dessert. The chefs used sugar paste and food coloring to make all sorts of fantastic creations, like intricate gardens. In the middle of the table they put figurines, exemplified by the ones in the display, lit up by candlelight, to provide "entertainment." I was imagining biting into one of those desserts and thinking that I would have found it a shame to eat something so beautiful that had taken so much work. Though I'll bet it was delicious.


Speaking of which, one of the highlights of the day was lunch in the Garden Cafeteria, which is downstairs. We always head there because you can get light meals (as well as delicious-looking caloric stuff) and the prices are reasonable. There is a set price per ounce for some of the food, which includes some hot choices as well as the salad bar. There are also entrees and other items priced separately. Most important to us, they serve Starbucks coffee and nice dessert items.

What would a visit to a museum be without at least a cup of coffee and a little bite of something to hold you? What would a visit anywhere be without them?


Learn more about the Boston MFA including tips and logistics for your visit.


See more Boston Attractions reviews.


Return to the Boston Tourism Made Easy home page.


Join in and write your own page! It's easy to do. How? Simply click here to return to Boston Attractions.
This post is contributed by Bess