We are reader-supported (thank you)! When you buy through links on our site, we may earn an affiliate commission.
The Paul Revere House, located in Boston's North End and part of the Freedom Trail, is a great place to go to while visiting Boston.


The house is two stories tall, and takes about a half hour to walk through (it could be done in less, but I enjoy reading all the placards).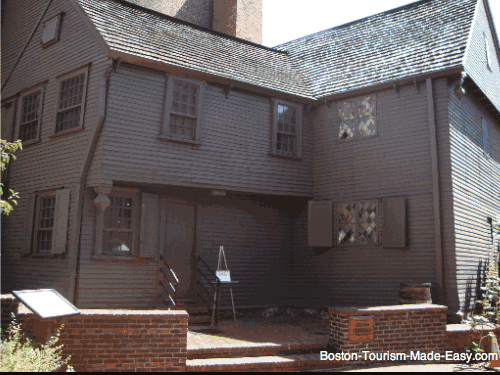 On your way into this historic "house museum", you pass through a beautiful courtyard. There you will see the Pierce Hichborn House, built in 1711, and a large bell made by Paul Revere & Sons. FYI, this will be your last chance to take pictures as photography is not allowed inside the house itself.


When you first enter, you come into the kitchen, which is modeled after how the house would have looked when it was originally built in the 17th century. The rest of the house is modeled after how it looked when Paul Revere lived there, in the 18th century.
After the kitchen, you come to a dining/living room area and then you make your way upstairs to the bedroom.


Interestingly, the appearance and layout of the rooms have changed drastically over the centuries. After Paul Revere sold the house in 1800, it became a tenement house for several people and families, and the first floor contained many small shops. Fortunately, they have now been remodeled to look as they would have when Paul Revere lived there.


Although the house has changed its appearance, including its roof and window styles, many times over the years to match the neighboring houses, 90% of its weight-baring timbers are still original, and 40% of the other woodwork from the walls and floor are original. The furniture is also historically accurate.


If you're someone who likes to get into the details, you'll be happy to hear that a staff member stands on each floor to answer questions and explain the history.


The Paul Revere house is downtown Boston's oldest building, and one of the few remaining from the colonial era. Having opened in 1908, it is one of America's oldest historic house museums.


Video of Historic Boston
Enjoy this 25-second video taken in the courtyard of the Paul Revere House in Boston.