Boston Freedom Trail Tours
We are reader-supported (thank you)! When you buy through links on our site, we may earn an affiliate commission.
There are a variety of Boston Freedom Trail tours. I most recently enjoyed the Walk Into History Tour which takes you to 11 of the Freedom Trail's 16 sites located in downtown Boston.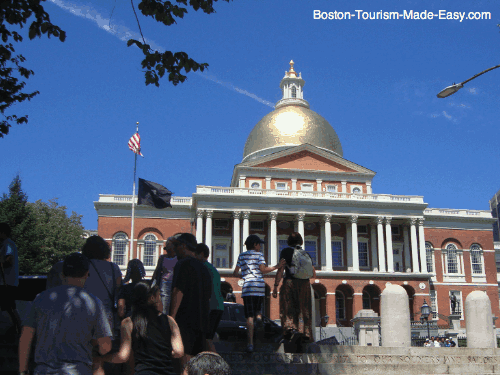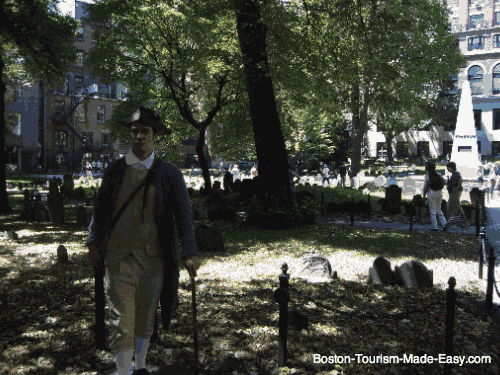 If you don't know about this historic walk, it connects many of the locations and events that were integral in shaping our nation throughout the American Revolution.
It is about 2.5 miles long and is mostly connected by a red brick path. As you walk the trail, you will find yourself in a number of Boston's landmarks and popular locations including the Boston Common, North End, and Faneuil Hall.
The Freedom Trail itself is free to explore, and many sites are free with markers explaining its historical significance, but some stops along the way, such as the Paul Revere house, do have an admission fee.
The Walk Into History Tour is a 90-min walking tour that starts in the Boston Common (there is also a reverse tour that ends there). A guide dressed in revolutionary-era clothes will meet you outside the visitor center, and take you around 11 of the 16 Freedom Trail sites, sharing Boston's history.
If you'd like to learn more about doing a self-guided tour, you can find loads of useful information on our Boston Freedom Trail page. Otherwise, stick with me here while I tell you about the Walk Into History Tour (and how to get it at a discount).
The Walk Into History Tour goes from the Boston Common to Faneuil Hall (there is also a reverse walking tour from Faneuil Hall to Boston Common). Freedom Trail sites are below; the starred ones are part of the walking tour.
Boston Common *
Massachusetts State House *
Park Street Church *
Granary Burying Ground *
King's Chapel and Burying Ground*
Ben Franklin statue and Boston Latin School *
Old Corner Bookstore *
Old South Meeting House *

Old State House *
Boston Massacre site *
Faneuil Hall *
Paul Revere House
Old North Church
Copp's Hill Burying Ground
USS Consitution
Bunker Hill Monument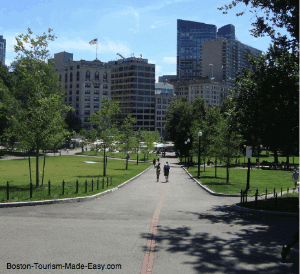 I found the tour very informative and entertaining, but it is important to wear comfortable shoes, as there is a lot of walking! It is also important to note that while there were people with strollers on the tour, there are areas with steps, so consider that before hand.
I wouldn't recommend it to families with young children, as there is a lot of walking and it is 90 minutes long. I witnessed many children melting down during this tour. However, it is great for older children and adults, and for tourists interested in learning more about Boston's history.
Learn more about Boston attractions here: