Being a Boston Sports Fan
Curse of the Bambino, Len Bias, Team Hoyt
We are reader-supported (thank you)! When you buy through links on our site, we may earn an affiliate commission.
Being a Boston sports fan is not always an easy job. It's filled with tense moments and broken-hearts. So why do it?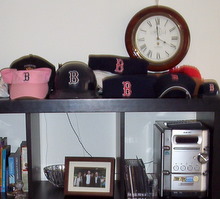 If you really want to know what Bostonians are about, it's worth at least trying on a "Boston sports fan cap" for your visit. Many Boston tourists never take it off!

Being a Boston sports fan, you'll experience drama and excitement… passion and inspiration… a sense of belonging, and above all, the belief that truly ANYTHING IS POSSIBLE!


We've been through it all. We've seen sporting events turn around on a dime (sometimes for better, sometimes for worse). And somehow, even when our hearts get dragged through the mud, we end up loving it all even more!


As you get into the sports scene in Boston you'll find passionate rivalries, world-renowned competitions, as well as unique sporting events (a hockey game in a baseball park?!?).

People all around the world watch our games and events with extraordinary devotion. So if you're looking for someone to cheer with on gameday, you're likely to find similarly passionate Boston sports fans almost anywhere on the planet.
Being a Boston Sports Fan – A Few Examples
Here's a taste of what it's been like being a Boston sports fan over the past few decades…


The Curse of the Bambino

In December 1919, Babe Ruth was traded from the Boston Red Sox to the New York Yankees (Boston's arch rivals). Babe Ruth 1918It took 86 years for the Red Sox to win another World Series Championship.

 

Many Boston fans referred to this as The Curse of the Bambino. And whether or not we really thought it was a curse, we were traumatized as we came close to winning, and then lost the plot time and time again. It was exhausting, and often depressing, but we couldn't help but come back for more; Every year believing that "maybe this is the year."



Thankfully, as of October 2004 (after a literally unbelievable playoff-series against the Yankees), many longtime Red Sox fans can rest peacefully in their graves. And the rest of us? Well, we'll continue on the Red Sox rollercoaster, but with a new belief buried deep in our souls that really anything is possible!



Boston Marathon Inspiration



On that note… when Bob Hall finished the race in less than three hours competing in a wheelchair, the Boston Marathon became the first ever major marathon to add a wheelchair division in 1975.

Taking that opportunity to a new level, father-and-son-duo, Dick and Rick Hoyt (known as Team Hoyt), are one of the highlights at the annual Boston Marathon. Soon after his birth, Rick was diagnosed as a spastic quadriplegic with cerebral palsy. It was recommended to his parents that they insitutionalize him, because he would never live "a normal life."



Rick's parents refused, and have supported him to live a full life. After years of fighting the system, Rick was admitted into public school at age 13. He went on to complete a degree in Special Education at Boston University.



What Rick and his father Dick are best know for, though, are their extraordinary efforts and participation in a multitude of competative sports events. These include marathons, duathlons and triathlons. And the Boston Marathon is their absolute favorite. In fact, in 2009, the Boston Marathon was their 1000th official race!



The Len Bias Tragedy

I loved being a Boston sports fan in the '80s. And, the Celtics would have to be named the team that brought Boston fans the most joy. Year after year, I would sit in front of the tv "doing my homework" as the Celtics led us into yet another NBA Championship.

 

In the early 1980s, the Celtics had become a total powerhouse team. With Larry Bird, Kevin McHale and Robert Parish (all future hall of famers known together as the "Big Three") leading the team, they won the Eastern Conference title in 1981, 1984, 1985, 1986 and 1987. And they won the NBA Championship in 1981, 1984 and 1986.



In 1986, the Celtics drafted Len Bias. The belief was that he would help carry the torch of the Celtics dynasty of the early '80s, particularly as Larry Bird got closer to retirement. Unfortunately, 48 hours after he was drafted, Len Bias overdosed on cocaine at a party and died.



For many Boston fans, the tragedy of Len Bias' death hit as hard as assassination of John F. Kennedy. And you might say it took 22 years for the team to recover; The Celtics didn't win their next NBA Championship until the 2007-2008 season.



ALMOST and… Almost again!

1985-1986 was an exhilirating and devastating time for being a Boston sports fan. In addition to the tragic passing of Len Bias:Me, being a Boston sports fan, in the 80s (he, he!)

 

The Red Sox came within one strike of breaking the Curse of the Bambino against the Yankees… and lost! The tension was so high during this post-season that I have vivid memories of hearing an entire Boston building erupt in cheers of excitement when the Sox turned around the what looked to be a sure loss in the playoffs (and the end of the season for them) with a two run homerun against the California Angels.



The New England Patriots made it to the Super Bowl (yippee!) for the first time in my lifetime… and lost to the Chicago Bears… 46-10. Ouch!



Super Bowl Magic – It's All About Team



This Super Bowl was played quite early in my relationship with my husband. It was his first real taste of what being a Boston sports fan is all about. To put it lightly, I'm pretty sure he saw a whole different side of me as we watched this NFL Championship game together.



Fortunately, that was an overall positive thing. And even better, it was such an awesome game that he came to appreciate "American Football" (or "Gridiron" as some people call it) to a whole new level.



In the 2001-2002 season, the Patriots made it to the Super Bowl for the third time ever. The custom before the game was to have each team announced player-by-player as they came onto the field. This time, the Patriots' coach, Bill Belichick, decided to have them announced as a team as they came out (something he had to fight NFL officials to be allowed to do).



That one decision set the tone and outcome for the entire game. The Patriots were expected to lose by 14 points, and it truly was an 'act of team' that brought them to victory against the St. Louis Rams. And, not only did the New England Patriots win their first Super Bowl, but for the first time in NFL history, the game was won, literally, on the very last play – just slightly stressful/



As you can see, being a Boston sports fan is not always easy, and sometimes it's not even all that much fun… But it's in our blood, and we wouldn't trade it for the world!