We are reader-supported (thank you)! When you buy through links on our site, we may earn an affiliate commission.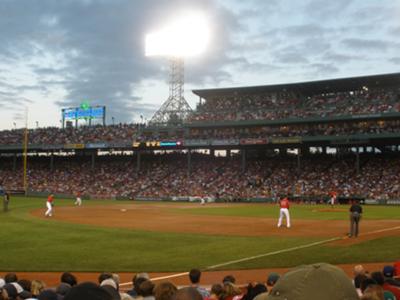 Fenway Park
In July 2009, my girlfriend and I got the chance to visit Boston for a couple of days during a whirlwind trip of the northern hemisphere.
Having not been able to do too much research on what to do while we were there, we found possibly the most touristy and easiest way to get a quick run-down of the city – a Boston duck tour! – and loved every minute of it. It was a great chance to see around the city while getting a running commentary by a young (self-proclaimed) comedian from both land and water.
After enjoying some Massachusetts clam chowder for lunch, we went to a bar and tested the Samuel Adams Boston Lager, before spending the night at the beautiful Fenway Park.
Being a basketball fan (and a Boston Celtics supporter at that!), I didn't have a whole lot knowledge of baseball and wasn't sure if I could get into it. I couldn't have been more wrong!
While the fantastic seats we had helped, the atmosphere and spectacle was incredible. We ate hot dogs and pretzels, sang 'take me out to the ball game…', and I got to hear one of my favourite songs, "Shipping out to Boston". And to top it off, the Red Sox won.
It was a shame we only got to spend limited time there, but it's somewhere I will definately be re-visting next time I'm on the US east coast, hopefully during the winter to see it under snow…..and the Celtics playing!
This post is contributed by Sam (Sydney, NSW)
Uncover Fenway Park's wonders in our other remarkable articles: