Boston Museum of Modern Art
We are reader-supported (thank you)! When you buy through links on our site, we may earn an affiliate commission.
Initially named the Boston Museum of Modern Art, the museum became the Institute of Contemporary Art Boston (ICA) in 1948. In December 2006 they opened their current building which has massively lifted their attendance and profile in the Boston area.
Some have criticized this Boston art museum for having too many exhibits geared towards less experienced art fans, but overall it's been getting rave reviews from enthusiasts of all ages and backgrounds.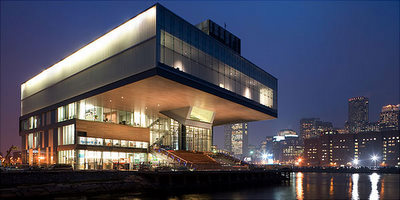 Savvy Ways to do the ISGM
Performances: Awesome music, dance, theater – even adventure circus acts. And very reasonable ticket prices. Check ICA Boston website for schedule details.
Family Play Dates: These can include films, live performances, art-making activities, gallery tours, and more. Last Saturday of each month. FREE for families (up to two adults) with children 12 and under – includes general museum admission.
Exhibitions: The ICA's dynamic visual arts program features major thematic exhibitions, surveys of leading contemporary artists, and new commissions, and introduces emerging artists in first-ever solo museum shows.
ICA Logistics
The Institute of Contemporary Art Boston
100 Northern Avenue on Boston's waterfront
(adjacent to Anthony's Pier 4 restaurant)


T-Stop
Red Line to South Station and transfer to the Silver Line Waterfront. The ICA is short walk from either World Trade Center Station or Courthouse Station. For directions from the stations click here.


Admission: $15, $13 seniors, $10 students, FREE youth 17 and under