The Boston Children's Museum
We are reader-supported (thank you)! When you buy through links on our site, we may earn an affiliate commission.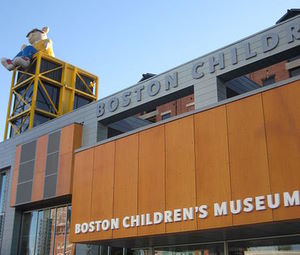 The Boston Children's Museum has always been known for being super hands-on; giving kids an opportunity to learn about many aspects of the world they live in. In 2007, they added to this opportunity by becoming the first Green Museum in Boston!

If you're trying to decide which day to go, the Museum's Calendar of Events gives a thorough sneak peak at what's on.

In addition, the museum holds several annual events in their East Asia Program such as their Chinese New Year Festivities which are free with museum admission. Here's a quick rundown of what's on offer:
January: Japanese New Year
February: Chinese New Year
April: Sakura Matsuri – Japanese Cherry Blossom Festival
June: Dragon Boat Festival on the Charles River
July: Tanabata – Japanese Star Festival
August: Hiroshima and Nagasaki Peace Memorial
September: Mid Autumn Moon Festival
Savvy Ways to do the Boston Children's Museum
Target $1 Friday Nights: $1 entry every Friday evening from 5-9pm.
KidStage: (free with museum admission) Kids get a chance to experience the spotlight while exploring topics varying from fitness to history. The museum calendar says which show is on each day.
Milk Anyone?
The Hood Milk Bottle is an ice cream stand and snack bar located in front of the museum. Originally built in 1933, it was one of America's first fast-food drive-in restaurants. The Milk Bottle has been standing in front of the museum since 1977 and is sometimes used for museum events.


I'm particularly fond of the Hood Milk Bottle because it always reminds me of my grandfather who was a truck driver for Hood for the better part of his life. We miss you, Big Jim!
Logistics
Boston Children's Museum
Children's Wharf at 308 Congress Street, Boston

T Stops: Red Line to South Station or Silver Line Waterfront to Courthouse Station. For directions from the stations click here.

Admission:
$17: Adults & Children 1-15 years
Free: Members & Children 0-12 months

Discounted Admission:
Did you know…? You can visit the Children's Museum at a significantly discounted price if you have a Boston discount card. Admission to the museum is available on both the GoBoston Card and the GoSelect Boston pass. So, if you're planning on visiting even one other attraction, you don't need to pay full price.