Which Boston Bed and Breakfast?
We are reader-supported (thank you)! When you buy through links on our site, we may earn an affiliate commission.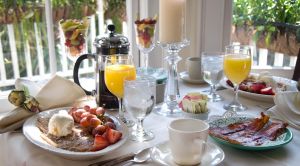 Prices start from around the $60 mark for a Boston bed and breakfast and of course the top-end rates are a moving target. It's worth sharing with you that we've heard mainly lousy feedback about what you get for $60. No doubt there are bargains out there at the lower end of the discount spectrum, but we've chosen to share only those Boston B&Bs that we'd be willing to stay in ourselves.
FYI, some of the B&Bs listed here are probably more accurately labeled hotels. We've chosen to mention them here because breakfast is automatically included in the costs of your stay.
Boston Bed and Breakfasts – The List
The Milner Hotel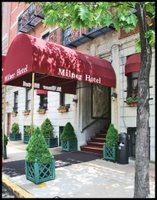 Described to us as a "quaint little place, a little squashy but in a fabulous location and a great price", The Milner Hotel is a true no frills Boston bed and breakfast.
It's in the theater district, being right next door to the Charles Playhouse. It's a two-block walk to Boston Common, though being at the southern end of the park means a bit more exercise to get to many of the Freedom Trail stops.
Pricing is extremely affordable for the smaller rooms, and remains very reasonable for the larger rooms. For a comfortable stay for two with a bit more space you'll want to go for the mid-range rooms.
Boston Hotel Buckminster
Sitting somewhere in the middle on the Boston B&B pricing scale, the Boston Hotel Buckminster will appeal to most tourists. With a quirky feel to it, and somewhat of an architectural study in itself, the amenities are quite adequate and the breakfast has been described as "fine for a continental!"
You'll find even more appeal if you're touring with kids or pets (see kid and pet friendly Boston hotels). The Kenmore Sqaure location is little more than half a mile to Fenway Park, and pitches you at the southern end of fabulous Newbury Street.
Commonwealth Court Guest House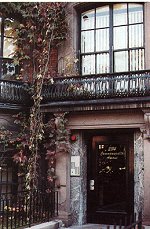 We heard about this bed and breakfast option as being in a brilliant location yet affordable.
It's true that the Commonwealth Court Guest House is in a brilliant location, the Back Bay area, no more than 2 minutes walk from Newbury St. It's an easy stroll to the Green Line (Hynes Convention Centre T-stop) and only a few blocks to the Prudential Center and Copley Square.
What didn't match the initial description we were given is that breakfast is actually not provided at this Boston bed and breakfast. An in-room coffee-maker and sachets are the only provisions. The rest is a do-it-yourself job in the kitchenette.
The rates are very reasonable, starting as low as $80 through to a maximum of $140, depending on the room and the season. So, downside is breakfast is not inlcuded, but upside is that leaves room in the budget to lash out on breakfast at any one of the fabulous breakfast options available minutes away on Newbury St.
The Charles Street Inn
The Charles Street Inn is a Boston bed and breakfast option to suit those with more room in the budget than budget in the room… this bed and breakfast is the best value of the high end choices that we know of.
A night's stay will start from around $250 in low season and can be over $500 in high season, dependant on the specific room. Kids are charged as adults as soon as they hit age 10, but the beautiful antique furnishings, in-room whirlpool tubs and working fireplaces make the accommodations more of and adult experience anyway.
The location's great being only a few blocks north of the entrances to both Boston Common and Boston Public Garden. You're also a two-block walk to the banks of the Charles River and the walking/cycling tracks around the Longfellow Bridge.
While the rooms are an experience in themselves, the dining options will equally impress. As a nice touch of class, breakfast is served in each guest room and you're spoiled for choice. For other meals, again location's a plus. A gentle stroll of no more than two blocks will offer enough choices to satisy almost anyone's tastes.