We are reader-supported (thank you)! When you buy through links on our site, we may earn an affiliate commission.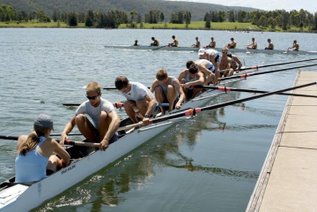 Growing up in Boston, crew (a type of rowing also known as a head race) was very popular starting in high school. Truthfully, I never really understood the people in my life who consciously chose to be out of bed, on the freezing cold water at 5am every morning – but they loved it!

And, luckily, they weren't alone. Boston's Head of the Charles (aka HOCR or HOTC) is one of the most popular and exciting Boston sporting events of the year.

The Head of the Charles is the largest two-day rowing event (or regatta) in the world. It attracts competitors of all different ages, ranging from total amateurs to Olympians.

First organized in 1965, the regatta is held over one weekend in October each year on the Charles River in Boston.

As you'd expect, given the crowds, there's activity all along the river banks (largely to do with food and drinks). Information on most of what's happening gets posted on the Head of the Charles official website as the race draws near.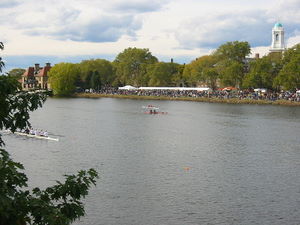 Just a reminder, while it's held in Boston's beautiful autumn month of October,
that doesn't mean it can't snow (like it did it 2009), so check the weather forecast before you head out for the day!

Given the mass crowds and road closures, I'd take public transportation if you can. You can take the Red Line to the Central or Harvard T-stops, or the Green Line B-train to BU Central.

If you're trying to decide where to plant yourself, here's the course map. And, if you want to move around during the weekend, the regatta provides a free shuttle service throughout the race course.

See more Boston Events reviews!

Return to Boston Tourism Made Easy homepage.